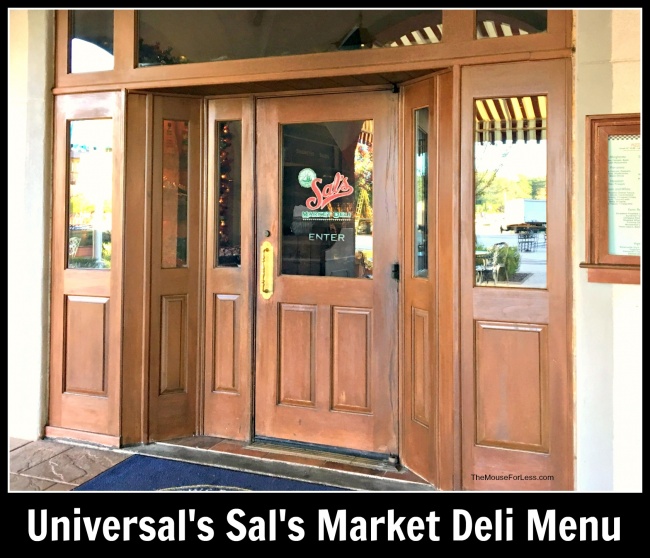 Sal's Market Deli offers a variety of  Italian meats, cheeses, antipasto, fresh fruit, fresh baked pizzas, and salads.  Grab something to go and enjoy a view of the harbor.
Sal's Market Deli is located in the Loews Portofino Bay Hotel.  Find more Universal Orlando dining locations on our Universal Orlando Resort menus page.
Open daily: 11:00 am – 11:00 pm
Sal's Market Deli Menu – Lunch & Dinner
Menu Date 02/2020
Appetizers

Garlic Bread Sticks – 3 for $4.99
Fried Mozzarella – 6 for $8.99
Cheese Plate – $8.99
Soup of the Day – $5.99
Pizza
Small (12″) – $16.99 | Large (14″) – $18.99
Farm Pesto
Shredded Roasted Chicken Breast, Sundried Tomato, Chopped Red Onions, Roasted Whole Garlic, Fontina Cheese, Mozzarella Cheese, Pesto Sauce, Basil Chiffonade
Green and White
White Ricotta Cheese Sauce, Green Olives, Caramelized White Onions, Chopped Crispy Bacon, Topped with Baby Arugula, Black Pepper Vinaigrette
Margherita
Roma Tomato, Basil, Fresh Mozzarella
Salvatore
Sweet Italian Sausage, Pepperoni, Mushrooms
Primavera
Roma Tomato, Peppers, Onions, Mushrooms, Black Olives
Prosciutto
White Ricotta Cheese Sauce, Caramelized Onion, Prosciutto, Shaved Parmesan
Hawaiian
Ham, Fresh Pineapple
BBQ Chicken
Diced Chicken Breast, Mozzarella, Cheddar, BBQ Sauce, Scallions
Traditional Cheese Pizza
Small – $14.99 | Large – $16.99
Additional Toppings
Pepperoni, Sausage, Bacon, Anchovies, Jalapeño, Onion, Tomatoes, Chicken, Ham, Pineapple, Prosciutto, Olives, Peppers, Meatballs – $2
Salads
Mista Salad
Mixed Greens, Shaved Carrots, Peppers, Cucumber, Cherry Tomato – $8.99
Antipasto Salad
Italian Meats, Tomato, Mozzarella, Marinated Olives, Mushrooms – $11.99
Chicken Caesar Salad
Crisp Romaine Lettuce, Croutons, Parmesan Cheese – $15.99
Iceberg Wedge
Blue Cheese, Chopped Bacon, Cherry Tomatoes, Olives and Blue Cheese Dressing – $8.99
Sal-Zones
Signature
Ricotta Cheese, Shredded Cheddar Cheese, Diced Pepperoni, Mushroom, Green Olives. Served with Pomodoro Sauce – $15.99
Vegetables Time
Ratatouille Style Zucchini, Yellow Squash, Eggplant, Onion, Pepper, Parmesan Cheese, Fresh Mozzarella. Served with Pomodoro Sauce – $15.99
Meat and Cheese
Sliced Pepperoni, Italian Sausage, Meatballs, Parmesan Cheese, Shredded Mozzarella. Served with Pomodoro Sauce – $15.99
Sandwiches
All sandwiches are served with homemade potato chips. Additional upgrades available.
Salmon Melt
Olive Oil Poached Salmon Salad, Melted Swiss Cheese, Thick Brioche, Pickled Zucchini, Baby Arugula – $12.99
Creole Shrimp Po Boy
Crispy Medium Shrimp, Julienne Lettuce, Tomato, Creole Remoulade, Crispy Capers – $12.99
Sal's Classic Italian
Ham, Salami, Capiccola, Aged Provolone, Tomato, Lettuce, Pepperoncini, Red Wine Vinaigrette, Kalamata Olives – $12.99
Toscano
Turkey, Fontina, Mustard Mayo – $12.99
Emilia
Prosciutto, Mozzarella, Roasted Peppers, Pesto Basil – $12.99
Caprese
Fresh Mozzarella, Marinated Tomato, Basil – $12.99
Chicken Parmagiana
Crispy Chicken Breast, Pomodoro Sauce, Mozzarella Cheese – $12.99
Meatball Parmagiana 
Meatballs, Pomodoro Sauce, Mozzarella – $12.99
Sausage & Peppers
Spicy Italian Link, Peppers, Onion – $12.99
Deconstructed Veggie Platter
Balsamic Portobello, Roasted Pepper, Artichoke, Tomato, Hummus, Feta Cheese, Baby Arugula and Italian Garlic Bread – $12.99
Additional Sides
Fruit Salad – $5.99
Marinated Olives – $5.99
Pasta Salad – $5.99
Caprese Salad – $5.99
Mixed Green Salad – $5.99
Desserts
New York Style Cheesecake  – $5.50
Chef Selection Cupcake – $ 4.25
Carrot Cake – $5.50
Tiramisu – $5.50
Cookies – $4.00
Sal's Market Deli Menu – Kid's Menu
Menu Date 02/2020
Uncle Sal's Entrees
Children 9 and under. Beverage sold separately.
Cheese Or Pepperoni Pizza – $6.95
Spaghetti and Meatballs  
Beef & Pork Meatballs – $6.95
Ham and Cheese Sandwich & Fries – $6.95
Turkey Sandwich & Fries – $6.95
Chicken Fingers & Fries – $6.95
Grilled Cheese & Fries – $6.95
** Sal's Market Deli Menu Prices are Subject to Change Without Notice **