Universal Orlando | Universal Studios Florida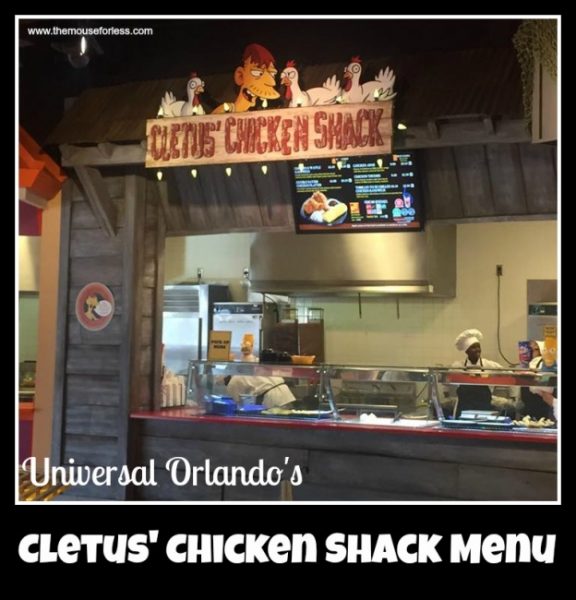 Cletus from The Simpson's serves up fried chicken even better than home cookin'. Cletus' Chicken Shack menu offers variations on everyone's favorite bird.  You can choose from different kinds of sandwiches, wings, tenders, or a platter.
Open daily 11:00 am – park close.
Universal dining plan participant.
Cletus' Chicken Shack Menu
Menu Date 8/2017
Entrees
Apple sauce or fresh fruit is available to substitute as a side.
Combo with Regular Shake or Buzz Cola.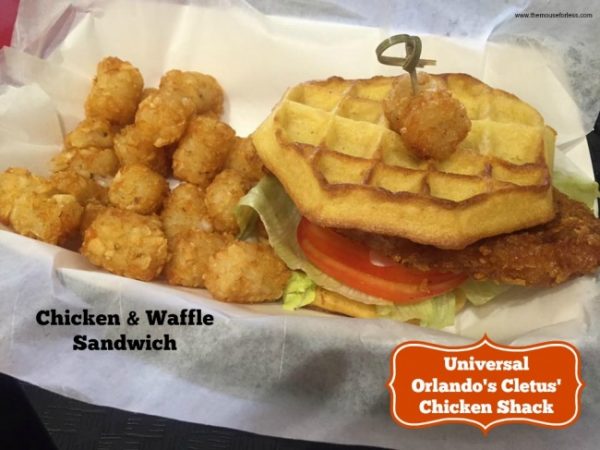 Chicken & Waffle Sandwich
Double battered, extra crispy fried chicken breast between two waffles with maple syrup mayo, and tater tots – $11.99
Combo – $14.99
Double Batter Chicken Platter
Corn flake crusted, battered fried chicken with mashed potatoes, corn on the cob, and coleslaw – $11.99
Combo – $15.49
Chicken Arms
Choice of 6 Buffalo or BBQ wings with bleu cheese, celery, and tater tots – $9.99
Combo – $13.49
Chicken Thumbs
Fried chicken tenders with tater tots and choice of BBQ sauce or honey mustard – $9.99
Combo – $13.49
Thrilled to be Grilled Chicken Sandwich
Grilled chicken with lettuce and tomato on a specialty bun with tater tots – $10.99
Combo – $14.49
Beverages
Fountain Beverages
Coca-Cola, Coca-Cola Zero, Diet Coke, Sprite, Fanta Orange, Barq's Root Beer, Hi-C Poppin' Lemonade – $3.29
Buzz Cola
Zero Calorie, Cherry Flavored Soda – $3.99
Milkshake
"100% Mammal Milk", Chocolate or Vanilla
Regular – $3.99
Large – $4.59
***Cletus' Chicken Shack Menu Items and Pricing are Subject to Change***