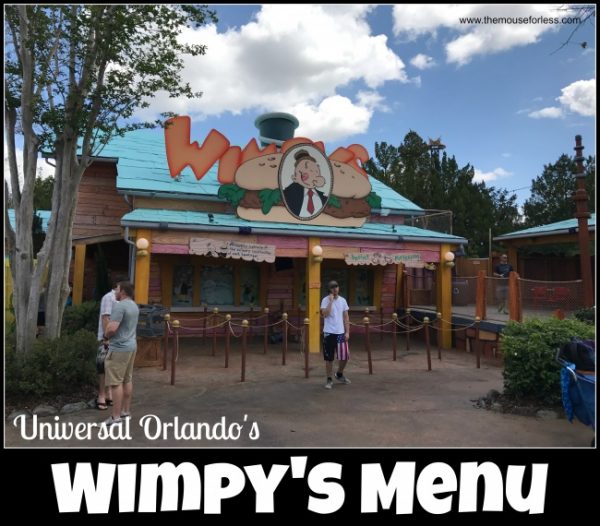 Since Popeye's friend, Wimpy, knows burgers better than anyone else, he decided he needed his own casual restaurant. With his name on the line and face on the sign, Wimpy watched over the creation of each item before it was added. Wimpy's menu offers his favorite food (burgers) of course, but you can also choose from chicken fingers, wraps, hot dogs, and apple pie.  Popeye did not get to add anything to the menu here though, so you won't find spinach as an option for a meal or a side. You can wash it all down with your favorite soda, or for adults, you can choose from a selection of beers.
Wimpy's is located in the Islands of Adventure Theme Park. Find more Universal Orlando dining locations on our Universal Orlando Resort menus page.
Hours of operation vary. Visit location or see Guest Services for times.
Wimpy's Menu – Lunch and Dinner
Menu Date 03/2023
Entrees
Served with Curly Fries
Wellington Cheeseburger Platter
cheddar cheese, tomato, lettuce, pickle, onions, mayo ketchup – $16.49
Vegan Supreme Cheeseburger Platter
plant-based burger, vegan cheese, tomato, lettuce, pickle, onions, veganaise – $14.49
Chicken Fingers Platter – $12.49
Sides & Desserts
Curly Fries – $4.49
Chips – $3.49
Dole Whip Pineapple Sorbet
Cup – $3.99
Cone $4.49
Vanilla Soft Serve
Cup – $3.99
Cone $4.49
Drinks
Fountain Soda
Coca-Cola, Coke Zero Sugar, Diet Coke, Sprite, Minute Maid Lemonade, Fanta Orange – $4.19
Powerade
Mountain Berry Blast, Fruit Punch – $5.50
H2O+ Premium Bottled Water – $5.50
Beer
Coors Light – $9.50
Heineken – $10.50
White Claw – $10.50
***Wimpy's Menu Items and Prices are Subject to Change***