Universal Orlando | Islands of Adventure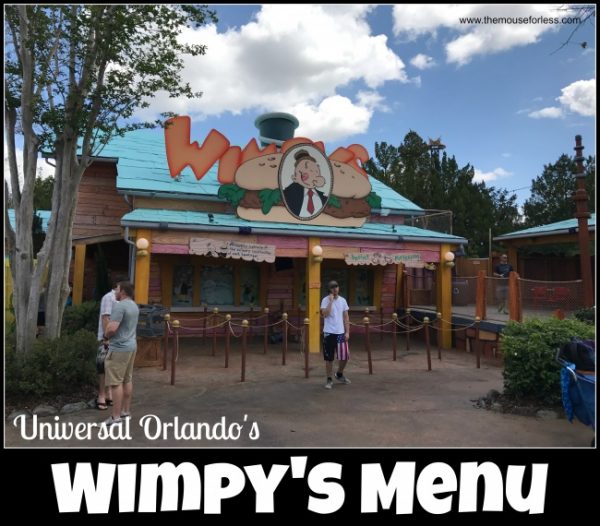 Since Popeye's friend, Wimpy, knows burgers better than anyone else, he decided he needed his own casual restaurant. With his name on the line and face on the sign, Wimpy watched over the creation of each item before it was added. Wimpy's menu offers his favorite food (burgers) of course, but you can also choose from chicken fingers, wraps, hot dogs, and apple pie.  Popeye did not get to add anything to the menu here though, so you won't find spinach as an option for a meal or a side. You can wash it all down with your favorite soda, or for adults you can choose from a selection of beers.
Open daily 11:00 am – 5:00 pm
Wimpy's participates in the Universal Dining Plan.
Wimpy's Menu – Lunch and Dinner
Menu Date 02/2019
Entrees
All combos served with fries and a regular shake.
Bacon Cheeseburger Combo – $16.49
Specialty Burger Combo
spinach, special sauce, topped with a sunny side egg – $18.99
Grilled Fish Pita Combo
blackened cod, lettuce, caramelized onions, pineapple salsa, and citrus mayo – $17.49
Foot Long Hot Dog Combo
onions, sauerkraut, jalapeños – $16.49
Caprese Salad – $11.49
Fruit Plate – $8.49
Sides
French Fries – $3.49
Chips – $3.49
Mango Slaw – $3.49
Raspberry Whoopie Pie – $3.49
Drinks
Fountain Soda – $3.69
Powerade – $5.00
Bottled Water – $5.00
Beer
Miller Lite – $7.99
Coors Light – $7.99
Heineken – $7.99
***Wimpy's Menu Items and Prices are Subject to Change***