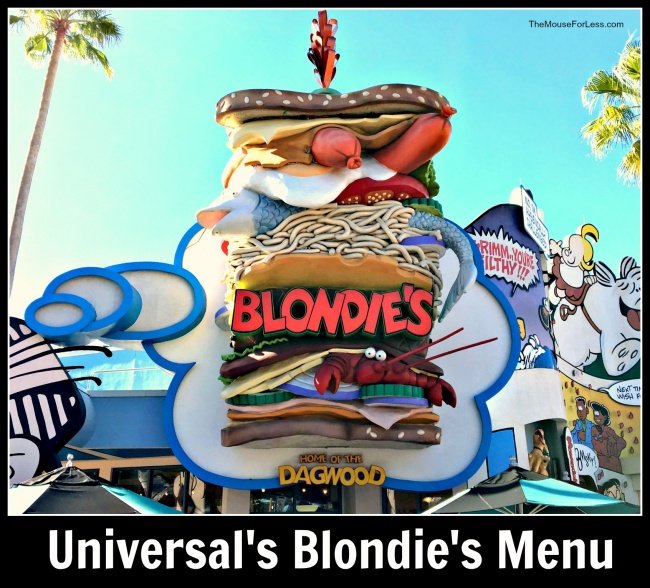 Enjoy a lunch that would make Dagwood proud. Blondie's menu offers hot dogs and sandwiches (including the famous Dagwood sandwich) for a quick bite while stepping into a beloved comic strip. If you're looking for something a little lighter, you can always choose a "Midnight Snack" much earlier in the day.
Blondie's is located in the Islands of Adventure Theme Park. Find more Universal Orlando dining locations on our Universal Orlando Resort menus page.
Open during park hours.
Universal Dining Plan Participant.

Planning a Universal Orlando Vacation?
For a Free no-obligation quote, contact our sponsor
The Magic For Less Travel
. The Magic For Less Travel is an Authorized Disney Vacation Planner and has been helping guests plan magical vacations since 2002. Receive the best prices and free travel planning services. Their fee-free services will help you save time, money, and stress while planning a vacation designed around you and your needs!
Blondie's Menu
Menu Date 02/2020
The Dagwood
Our Famous Dagwood Sandwich Combo
Freshly baked onion & poppy seed bread piled high with baked ham, turkey, roast beef, American and Swiss cheese, topped with lettuce, tomatoes, mayonnaise, and mustard. Served with chips – $13.69
Made-To-Order Sandwiches
Baked Ham Combo
Choice of white or multi-grain sub roll, served with cheese, fresh toppings, pickle, potato salad and chips – $13.49
Baked Ham Platter
Choice of white or multi-grain sub roll, served with cheese, fresh toppings, pickle and potato salad  – $10.49
Smoked Turkey Combo
Choice of white or multi-grain sub roll, served with cheese, fresh toppings, pickle, potato salad and chips – $13.49
Smoked Turkey Platter
Choice of white or multi-grain sub roll, served with cheese, fresh toppings, pickle and potato salad – $10.49
Roast Beef Combo
Choice of white or multi-grain sub roll, served with cheese, fresh toppings, pickle, potato salad and chips – $13.49
Roast Beef Platter
Choice of white or multi-grain sub roll, served with cheese, fresh toppings, pickle and potato salad – $10.49
Tuna Salad Combo
Choice of white or multi-grain sub roll, served with cheese, fresh toppings, pickle, potato salad and chips – $13.49
Tuna Salad Platter
Choice of white or multi-grain sub roll, served with cheese, fresh toppings, pickle and potato salad – $10.49
Hot Dogs
Nathan's Famous Foot Long Dog Combo
Served with crinkle cut fries and a brookie dessert – $13.79
Nathan's Famous Foot Long Dog Platter
Served with crinkle cut fries – $10.99
Chili Dog Combo
Foot Long Hot Dog topped with chili cheese sauce and diced onions. Served with crinkle cut fries and a brookie dessert – $14.79
Chili Dog Platter
Foot Long Hot Dog topped with chili cheese sauce and diced onions. Served with crinkle cut fries – $11.99
Chicago Dog Combo
Foot Long Hot Dog with sliced tomatoes, diced onions, sport peppers and celery salt. Served with crinkle cut fries and a brookie dessert – $15.79
Chicago Dog Platter
Foot Long Hot Dog with sliced tomatoes, diced onions, sport peppers and celery salt. Served with crinkle cut fries – $12.99
Midnight Snack Desserts
Chili Cheese Fries – $5.99
French Fries – $3.49
Chips – $3.49
Jumbo Chocolate Chip Cookie – $3.29
Brookie
Chocolate chip filled brownie – $3.29
Fruit Cup – $4.29
Side Dishes
Potato Salad – $1.99
Cole Slaw – $1.99
Unlimited Refill Souvenir Cups
Coca-Cola freestyle Souvenir Cup
Unlimited self-serve refills on your favorite Coke products with over 100 combinations. Discounts available when purchasing multiple cups – $16.99
Extra day of refills for Coca-Cola freestyle Souvenir Cup
Add an extra day of free refills to your previously purchased Coca-Cola freestyle Souvenir Cup – $9.99
Beverages
Fountain Soda
Coca-Cola, Coke Zero Sugar, Diet Coke, Sprite, Hi-C Lemonade, Root Beer – $3.99
Powerade
Mountain Berry Blast, Fruit Punch – $5.00
H2O+ Premium Bottled Water – $5.00
Minute Maid Juice
Choice of apple or orange – $2.89
Milk – $3.29
Bottled Beer
Choice of Coors Light, Miller Lite or Heineken – $8.49
** Blondie's Menu and Prices are Subject to Change Without Notice **