Islands of Adventure | Toon Lagoon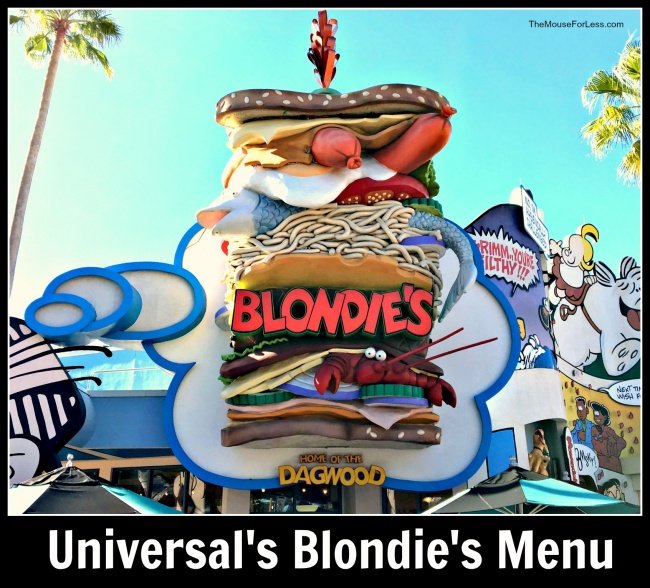 Enjoy a lunch that would make Dagwood proud. Blondie's menu offers hot dogs and sandwiches for a quick bite while stepping into a beloved comic strip.
Open during park hours.
Restaurant info: American
Universal Dining Plan Participant.
Blondie's Menu
Menu Date 10/2018
Beverages
Fountain Soda
Coca-Cola, Coca-Cola Zero, Diet Coke, Sprite, Hi-C – $3.29
Powerade
Mountain Berry Blast, Fruit Punch – $4.49
H20+ Premium Bottled Water – $4.50
Milk – $2.69
Bottled Beer – $7.99
Midnight Snack Desserts
Jumbo Chocolate Chip Cookie – $2.99
Brookie
Chocolate chip filled brownie – $3.29
Chips – $3.49
Fruit Cup – $4.29
Chili Cheese Fries – $5.59
Made-To-Order Subs
Choice of white or multi-grain sub roll. Combos served with cheese, fresh toppings, pickle, potato salad, and chips.
Baked Ham Combo – $13.49
Smoked Turkey Combo – $13.49
Roast Beef Combo – $13.49
Tuna Salad Combo – $13.49
Our Famous Dagwood Sandwich Combo
Fresh baked onion and poppy seed bread piled high with baked ham, turkey, roast beef, American and Swiss cheese, topped with lettuce, tomatoes, mayonnaise and mustard – $13.49
Side Dishes
Potato Salad – $1.69
Cole Slaw – $1.69
** Blondie's Menu and Prices are Subject to Change Without Notice **