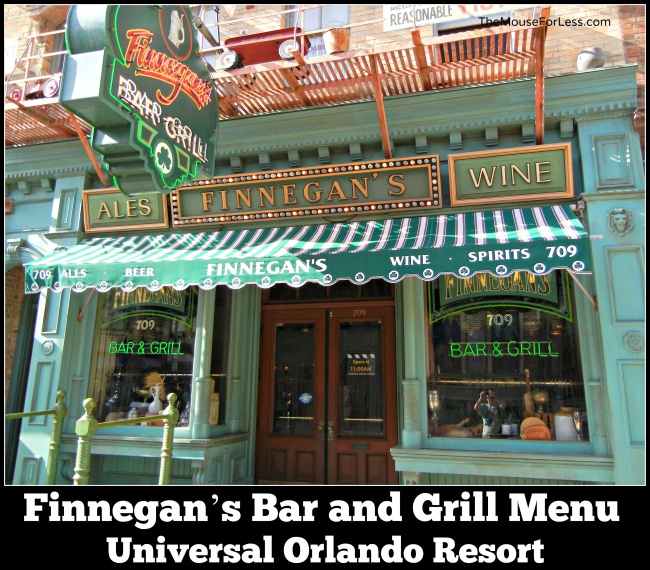 At Finnegan's Bar and Grill, take a break from the park's New York streets and enter a traditional Irish-American pub where the food, drink, and music takes you back to the Emerald Isle. Finnegan's Bar and Grill is both a lively pub and a full-service restaurant.
Finnegan's Bar and Grill is located in the Universal Studios Florida theme park. Find more Universal Orlando dining locations on our Universal Orlando Resort menus page.
Open Daily: 11:00 am – Park Close
Universal Dining Plan Participant

Planning a Universal Orlando Vacation?
For a Free no-obligation quote, contact our sponsor
The Magic For Less Travel
. The Magic For Less Travel is an Authorized Disney Vacation Planner and has been helping guests plan magical vacations since 2002. Receive the best prices and free travel planning services. Their fee-free services will help you save time, money, and stress while planning a vacation designed around you and your needs!
Finnegan's Bar and Grill Lunch and Dinner Menu
Menu Date 02/2020
Starters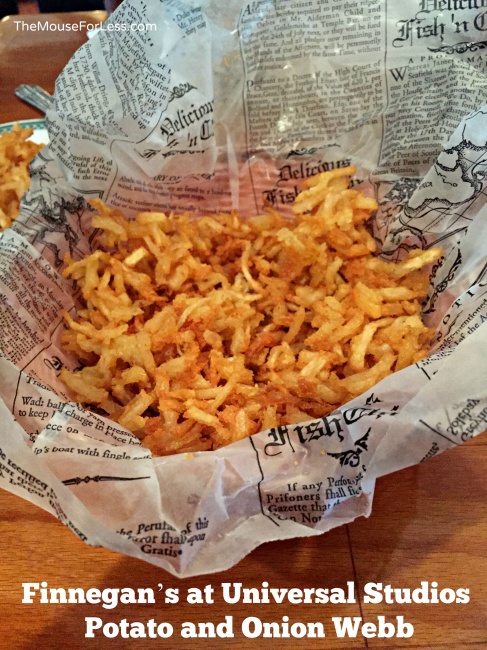 Finnegan's Potato and Onion Webb
Thinly sliced potatoes and onions, hand dipped in beer batter, crisply fried golden brown & served with malt vinegar – $9.99
Scotch Eggs
Hard-boiled egg wrapped in pork sausage, dusted with bread crumbs and fried. Served with apple beet salad and mustard sauce – $10.99
Chicken Goujons
Lightly and fried breaded chicken tenders, tossed in Buffalo sauce. Served with celery sticks, blue cheese dressing, and your choice of spicy or mild sauce – $12.99
Reilly's Chicken Wings
Fried and tossed in Buffalo sauce, served with celery sticks, blue cheese dressing and your choice of spicy or mild sauce – $12.99
Irish Loaded Chips
Seasoned wedge fries topped with corned beef, Leicester cheese, caramelized onions, killarney gravy – $10.99
Guiness Warm 3 Cheese Dip
Served with fresh baked soft pretzel, tangy mustard sauce – $9.99
Soups & Salads
Celtic Chicken Club Salad
Grilled chicken breast, bacon, aged cheddar cheese, diced tomatoes and julienne squash over a bed of lettuce, garnished with our famous Potato and Onion Webb. Choice of dressing – $14.99
Pistachio Crusted Salmon Salad
Filet of salmon served on a bed of baby greens, roasted root vegetables, tomatoes, onions, Havarti dill cheese with homemade mustard ale vinaigrette – $19.49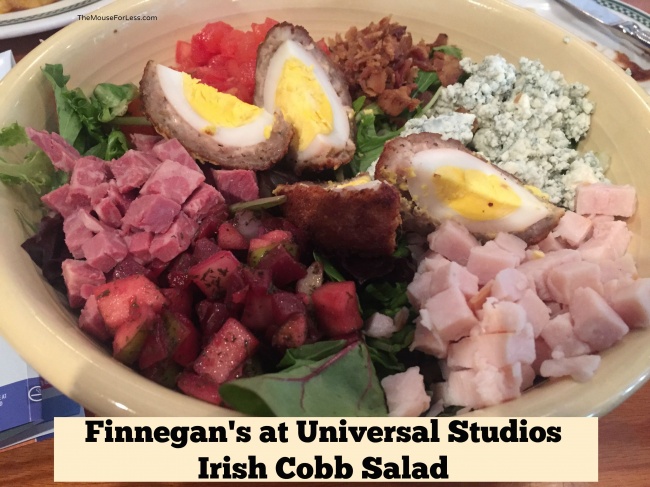 Irish Cobb Salad
Diced corned beef, turkey, bacon, diced tomatoes, apple beet salad, blue cheese crumbles, Finnegan's Scotch eggs served over mixed baby greens – $15.99
Homemade Misty Isle Potato and Leek Soup (V)
Our rich, creamy soup is made fresh in our kitchen daily – $6.99
The Leprechaun's Rainbow (V)
A colorful array of fresh fruits served with raspberry sorbet – $14.99
Split Pea and Ham Soup
Traditionally made fresh in our kitchen every single day – $6.99
Finnegan's Favorites
Add a side salad to your entrée for only $3.99
Irish Fish & Chips
North Atlantic fresh cod fish in ale batter with wedge fries. Served with a side of malt vinegar & tartar sauce – $18.99
Beef Tenderloin 
Pan seared filet medallions with red wine sauce, garlic mashed potatoes, Brussels sprouts, carrots, and garnished with Potato & Onion Webb  – $25.49
Bangers & Mash
Country pork & beef sausage with homemade roasted garlic mashed potatoes & root cellar vegetables – $15.99
Finnegan's Chicken
Grilled chicken breast topped with peppercorn butter garlic mashed potatoes & root cellar vegetables – $16.99
Country Cork Corned Beef and Cabbage
Tender corned beef with red bliss potatoes and root cellar vegetables – $16.99
Guinness Beef Stew
Country fare stew brimming with beef, carrots & pearl onions in a Guinness infused gravy surrounding a stack of mashed potatoes – $17.49
Kilkenny Pot Pie
In a fresh pastry crust filled with chicken, mushrooms, carrots and leek served with root cellar vegetables – $14.49
Grilled Filet of Salmon
Lightly seasoned, topped with fresh dill butter and fried leeks on a bed of garlic mashed potatoes. Served with steamed broccoli, Parmesan crusted baked tomato – $24.99
Shepherd's Pie
Seasoned ground beef and mushrooms with a crust of potatoes and cheddar cheese. Served with root cellar vegetables – $17.99
Finnegan's Pork Loin
Marinated center cut with Finnegan's bordelaise sauce, served with garlic mashed potatoes, Brussels sprouts, carrots, garnished with Potato & Onion Webb – $17.99
North Atlantic Baked Cod Fish
Fresh filet of cod lightly covered with seasoned bread crumbs, baked golden brown & topped with a tomato slice & lemon wheel. Red bliss & root cellar vegetables – $20.99
Beyond Vegan Shepard's Pie (V)
Green peas, carrots, celery, onion, mushrooms baked in casserole topped with vegan red bliss mashed potatoes – $17.99
Sandwiches
Served with your choice of wedge fries or a side salad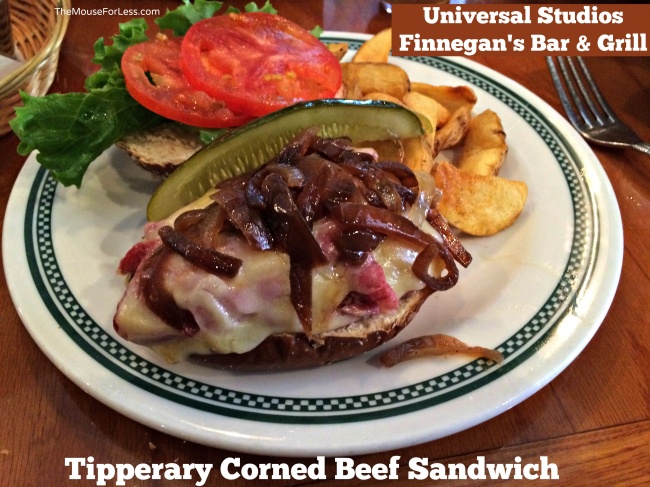 Tipperary Corned Beef Sandwich
Fresh baked pretzel roll with warm corned beef topped with sautéed onions, Swiss cheese, lettuce, tomato, & pickle. – $16.49
Dublin Chicken Sandwich
Marinated grilled chicken breast with aged cheddar cheese & apple-smoked bacon on a toasted bun with lettuce, tomato, & pickle.  – $15.49
Grand Ole Burger
Half pound all beef burger on a toasted bun with bacon and your choice of cheddar, Swiss or American cheese, lettuce, tomato & pickle. – $16.49
Reuben
Tender corned beef, freshly shaved cabbage, thousand island dressing, pickle, & Swiss cheese grilled on fresh marble rye. – $15.49
Fried Cod Fish Sandwich
Ale battered fried codfish on a toasted bun with lettuce, tomato, pickle, & tartar sauce. – $16.49
Webb Burger
Half pound all beef burger piled high with tender corned beef & Swiss cheese served on a warm pretzel bun and topped with crispy Potato & Onion Webb, lettuce, tomato, & pickle.  – $18.99
V- vegetarian option

** Finnegan's Bar and Grill Menu and Prices are Subject to Change Without Notice **