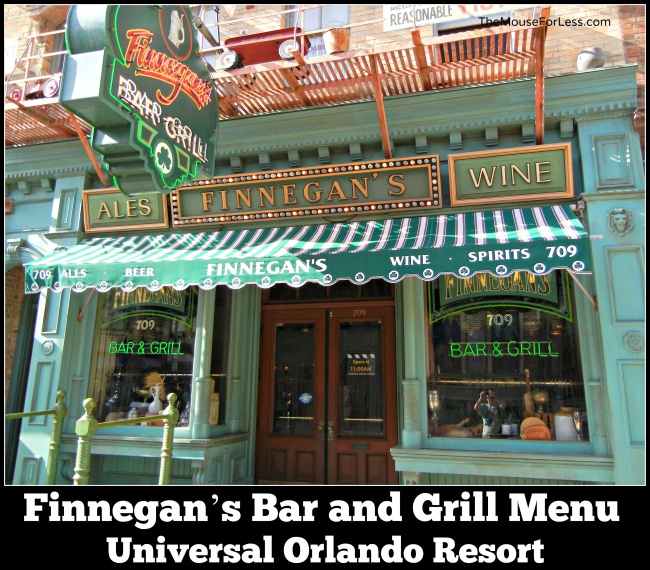 At Finnegan's Bar and Grill, take a break from the park's New York streets and enter a traditional Irish-American pub where the food, drink, and music takes you back to the Emerald Isle. Finnegan's Bar and Grill is both a lively pub and a full-service restaurant.
Finnegan's Bar and Grill is located in the Universal Studios Florida theme park. Find more Universal Orlando dining locations on our Universal Orlando Resort menus page.
Open Daily: 11:00 am – Park Close
Universal Dining Plan Participant

Planning a Universal Vacation?
Finnegan's Bar and Grill Lunch and Dinner Menu
Menu Date 02/2020
Starters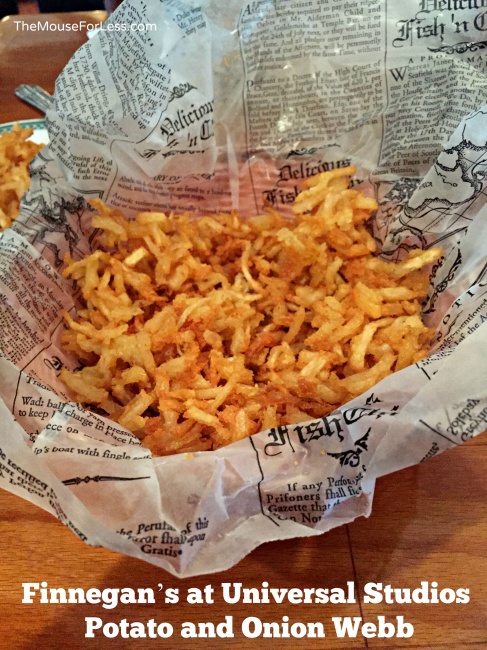 Finnegan's Potato and Onion Webb
Thinly sliced potatoes and onions, hand dipped in beer batter, crisply fried golden brown & served with malt vinegar – $9.99
Scotch Eggs
Hard-boiled egg wrapped in pork sausage, dusted with bread crumbs and fried. Served with apple beet salad and mustard sauce – $10.99
Chicken Goujons
Lightly and fried breaded chicken tenders, tossed in Buffalo sauce. Served with celery sticks, blue cheese dressing, and your choice of spicy or mild sauce – $12.99
Reilly's Chicken Wings
Fried and tossed in Buffalo sauce, served with celery sticks, blue cheese dressing and your choice of spicy or mild sauce – $12.99
Irish Loaded Chips
Seasoned wedge fries topped with corned beef, Leicester cheese, caramelized onions, killarney gravy – $10.99
Guiness Warm 3 Cheese Dip
Served with fresh baked soft pretzel, tangy mustard sauce – $9.99
Soups & Salads
Celtic Chicken Club Salad
Grilled chicken breast, bacon, aged cheddar cheese, diced tomatoes and julienne squash over a bed of lettuce, garnished with our famous Potato and Onion Webb. Choice of dressing – $14.99
Pistachio Crusted Salmon Salad
Filet of salmon served on a bed of baby greens, roasted root vegetables, tomatoes, onions, Havarti dill cheese with homemade mustard ale vinaigrette – $19.49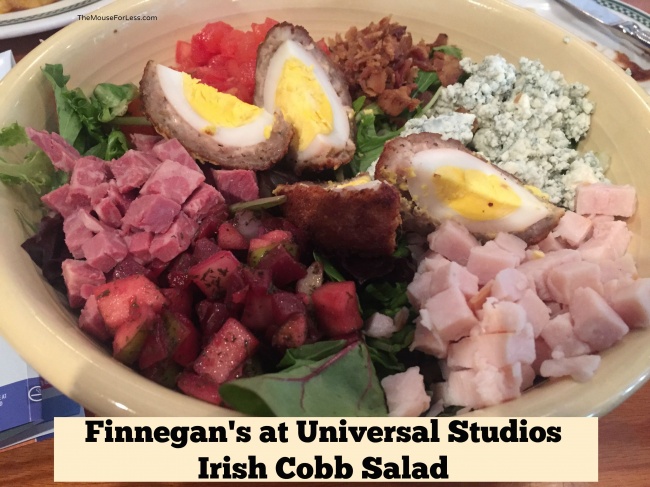 Irish Cobb Salad
Diced corned beef, turkey, bacon, diced tomatoes, apple beet salad, blue cheese crumbles, Finnegan's Scotch eggs served over mixed baby greens – $15.99
Homemade Misty Isle Potato and Leek Soup (V)
Our rich, creamy soup is made fresh in our kitchen daily – $6.99
The Leprechaun's Rainbow (V)
A colorful array of fresh fruits served with raspberry sorbet – $14.99
Split Pea and Ham Soup
Traditionally made fresh in our kitchen every single day – $6.99
Finnegan's Favorites
Add a side salad to your entrée for only $3.99
Irish Fish & Chips
North Atlantic fresh cod fish in ale batter with wedge fries. Served with a side of malt vinegar & tartar sauce – $18.99
Beef Tenderloin 
Pan seared filet medallions with red wine sauce, garlic mashed potatoes, Brussels sprouts, carrots, and garnished with Potato & Onion Webb  – $25.49
Bangers & Mash
Country pork & beef sausage with homemade roasted garlic mashed potatoes & root cellar vegetables – $15.99
Finnegan's Chicken
Grilled chicken breast topped with peppercorn butter garlic mashed potatoes & root cellar vegetables – $16.99
Country Cork Corned Beef and Cabbage
Tender corned beef with red bliss potatoes and root cellar vegetables – $16.99
Guinness Beef Stew
Country fare stew brimming with beef, carrots & pearl onions in a Guinness infused gravy surrounding a stack of mashed potatoes – $17.49
Kilkenny Pot Pie
In a fresh pastry crust filled with chicken, mushrooms, carrots and leek served with root cellar vegetables – $14.49
Grilled Filet of Salmon
Lightly seasoned, topped with fresh dill butter and fried leeks on a bed of garlic mashed potatoes. Served with steamed broccoli, Parmesan crusted baked tomato – $24.99
Shepherd's Pie
Seasoned ground beef and mushrooms with a crust of potatoes and cheddar cheese. Served with root cellar vegetables – $17.99
Finnegan's Pork Loin
Marinated center cut with Finnegan's bordelaise sauce, served with garlic mashed potatoes, Brussels sprouts, carrots, garnished with Potato & Onion Webb – $17.99
North Atlantic Baked Cod Fish
Fresh filet of cod lightly covered with seasoned bread crumbs, baked golden brown & topped with a tomato slice & lemon wheel. Red bliss & root cellar vegetables – $20.99
Beyond Vegan Shepard's Pie (V)
Green peas, carrots, celery, onion, mushrooms baked in casserole topped with vegan red bliss mashed potatoes – $17.99
Sandwiches
Served with your choice of wedge fries or a side salad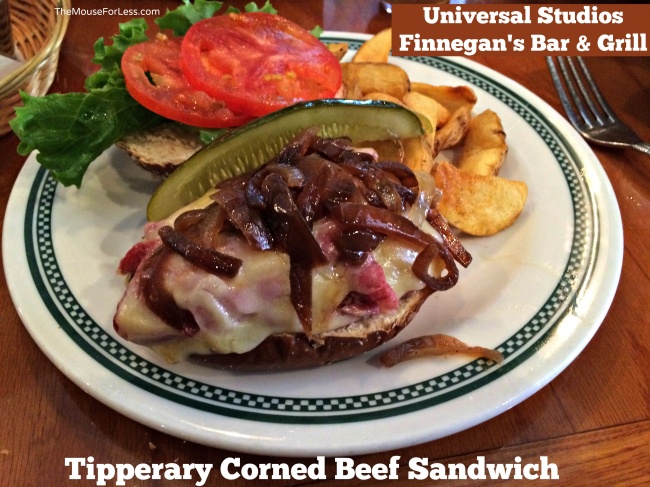 Tipperary Corned Beef Sandwich
Fresh baked pretzel roll with warm corned beef topped with sautéed onions, Swiss cheese, lettuce, tomato, & pickle. – $16.49
Dublin Chicken Sandwich
Marinated grilled chicken breast with aged cheddar cheese & apple-smoked bacon on a toasted bun with lettuce, tomato, & pickle.  – $15.49
Grand Ole Burger
Half pound all beef burger on a toasted bun with bacon and your choice of cheddar, Swiss or American cheese, lettuce, tomato & pickle. – $16.49
Reuben
Tender corned beef, freshly shaved cabbage, thousand island dressing, pickle, & Swiss cheese grilled on fresh marble rye. – $15.49
Fried Cod Fish Sandwich
Ale battered fried codfish on a toasted bun with lettuce, tomato, pickle, & tartar sauce. – $16.49
Webb Burger
Half pound all beef burger piled high with tender corned beef & Swiss cheese served on a warm pretzel bun and topped with crispy Potato & Onion Webb, lettuce, tomato, & pickle.  – $18.99
V- vegetarian option

** Finnegan's Bar and Grill Menu and Prices are Subject to Change Without Notice **