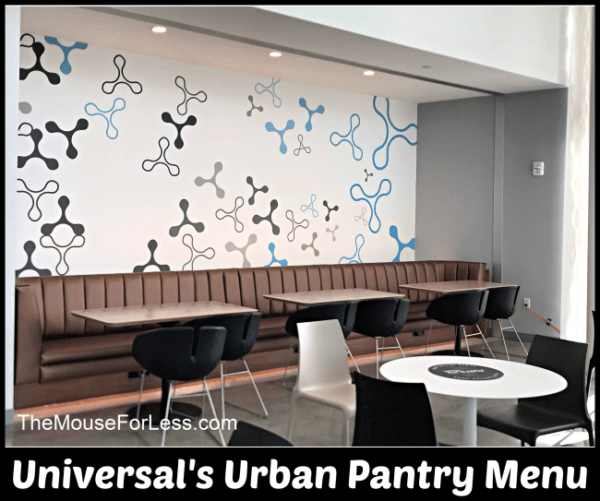 Located at Universal's Aventura Hotel, Urban Pantry is designed to feel like your dining in a food hall in Asia or Europe. Make your selection from the Urban Pantry menu at one of four stations. Each area offers beer and wine on tap, as well as grab-and-go carts if you're in a hurry.
Urban Pantry is located in Universal's Aventura Hotel.  Find more Universal Orlando dining locations on our Universal Orlando Resort menus page.
Hours of Operation
7:00 am – 11:00 pm
Pizza Station: 11:00 am – midnight
Breakfast Menu  Lunch & Dinner Menu  Drink Menu

Planning a Universal Orlando Vacation?
For a Free no-obligation quote, contact our sponsor
The Magic For Less Travel
. Services are provided free of charge, and their expert planning advice will help you make the most of your vacation time and money.
Urban Pantry Menu – Breakfast
Menu Date 02/2020
Urban Pantry Breakfast Station
Pancakes or Belgian Waffle – $11.00
Add Blueberries or Chocolate Chips – $2.00
French Toast
With Mixed Berries – $11.00
All American Breakfast
Choice of Fried or Scrambled Eggs, Bacon, Sausage, Hash Brown and Biscuit – $13.00
Kids All American Breakfast
Choice of Fried or Scrambled Egg, Bacon or Sausage, Hash Brown and Drink – $8.00
Sides
Bacon – $5.00
Sausage – $5.00
Hash Browns – $5.00
Grits – $5.00
Oatmeal- $5.00
Beverages
Coffee, Tea, Hot Chocolate – $4.00
Urban Pantry Hash Station
Daily Hash
Choice of Wrap or Bowl, Select Ingredients, Select Cheese, Select Protein, Scrambled Eggs – $13.00
Fresh Fruit & Yogurt Bar
Seasonal Fruits, Yogurt and Granola – $9.00
Beverages
Coffee, Tea, Hot Chocolate – $4.00
Urban Pantry Baked Goods
Bagels
Plain or Everything Bagel – $4.00
Cinnamon Roll
Cream Cheese Frosting – $4.00
Croissants
Baked Fresh Daily – $3.00
Doughnuts
Assorted Krispy Kreme Doughnuts – $2.00
Urban Pantry Menu – Lunch & Dinner
Menu Date 02/2020
Wok and Sushi
Wok Bowl
Select Five Vegetables |  Choose Lo Mein Noodles or Sushi Rice | Pick Steak, Shrimp, Chicken or Tofu | Choice of Stir Fry: Teriyaki or Orange Sweet & Sour OR Choice of Broth: Roasted Chicken or Vegetable – $16.00
Sushi
California
Avocado, Cucumber, Krab Meat, Mayo, Sesame Seed, Green Onion – $12.00
Spicy Tuna
Avocado, Cucumber, Sesame Seed, Spicy Tuna, Spicy Mayo, Green Onion – $12.00
Red Bull
Cream Cheese, Sliced Lemon, Avocado, Tempura Shrimp, Grilled Filet, Ponzu Sauce, Spicy Mayo – $14.00
5 Star
Cucumber, Carrots, Smoked Salmon, Tuna, Wasabi Mayo, Ponzu Sauce, Green Onion, Krab Meat  – $16.00
Fantastic Adventure
Cream Cheese, Avocado, Smoked Salmon, Tuna, Krab Meat, Eel Sauce, Spicy Mayo – $16.00
Tuna Poke
Cucumbers, Seaweed, Green Onions, Red Chili, Sushi Rice, Avocado – $10.00
Beverages
Wine
Matua Sauvignon Blanc
Wine Stream Red Blend
Glass – $9 | Carafe – $24
Sake
Served warmed or chilled – $8.00
Pizza
Margherita
San Marzano Tomato, Mozzarella, Garlic, Basil – $15.00
BBQ Chicken
Red Onions, Cilantro, Bacon – $15.00
Vegetarian
Tomato Sauce, Mushrooms, Artichoke, Roasted Peppers, Olives, Mozzarella – $15.00
Pepperoni Americano
Tomato Sauce, Pepperoni, Mozzarella, Parmesan – $15.00
Smoked Ham
American Smoked Ham, Ricotta, Mozzarella, Garlic Olive Oil, Arugula, Sea Salt – $15.00
Classic Cheese
Tomato Sauce, Mozzarella – $15.00
Meat Lovers
Pepperoni, Bacon, Ham, Italian Sausage, Mozzarella – $15.00
Kids Pizza
Cheese or Pepperoni – $9.00
Beverages
Beer
Moretti
Pacifico
20 oz – $8 | Pitcher – $24
Wine
Four Brothers Pinot Grigio
Evoluzione Pinot Noir
Glass – $9 | Carafe – $24
Desserts
Gelato
Stracciatella, Chocolate, Mint Chocolate Chip, Vanilla Bean, Dulce De Leche, Strawberry, Nutella Pistachio, Brownie, Honey Peach, Salted Caramel
Small – $5.00
Large – $6.00
Panini
Pressed Stuffed Bread with Gelato Ice Cream – $6.00
Assorted Italian Desserts – $6.00
Roast Station
Burgers and Sandwiches
Bacon Cheese Burger
Smoked Bacon, Melted American Cheese, LTO – $12.00
Turkey Burger
Guacamole, Melted Pepper Jack Cheese, Chipotle Aioli – $12.00
The Great Beyond
Beyond Burger Patty, Smashed Avocado, Roasted Red Peppers – $12.00
Buffalo Chicken Sandwich
crispy Fried Chicken, Buffalo Hot Sauce, Blue Cheese Dressing – $12.00
Cuban Sandwich
Sliced Pickles, Melted Swiss, Dijon Mustard – $12.00
Grilled Cheese
Cheddar Cheese, American Cheese, Mozzarella – $12.00
Veggie
Baby Bella Mushrooms, Caramelized Onions, Roasted Red Peppers, Mozzarella – $12.00
Crispy Fried Chicken Wings
Tossed in Buffalo Sauce, Spicy BBQ or Gochujang with Blue Cheese or Ranch
Dinner Entrees
Available after 5:00 pm – $18.00
Pick A Protein
Rotisserie Half Chicken, Urban Pantry Steak, Seared Salmon or Grilled Shrimp
Select A Starch
Herb Roasted Potatoes, Macaroni & Cheese, or Grains
Choose a Vegetable
Cheesy Cauliflower, Haricot Vert or Sauteed Zucchini
Salads & Wraps
Salads & Wraps
Select Your Greens | Pick Any Five Toppings | Choose A Dressing – $12.00
Add A Chilled Protein
Pulled Rotisserie Chicken, Grilled Steak, Poached Shrimp, Grilled Salmon – $4.00
Kids Menu
Ages 10 and Under. Choice of Drink & One Side
Hot Dog – $8.00
Grilled Cheese – $8.00
Chicken Fingers – $8.00
Mac & Cheese – $8.00
Sides
Waffle Fries – $5.00
Onion Rings – $5.00
Sweet Potato Tots – $5.00
Beverages
Beer
Fat Tire Amber Ale
Pacifico
Sweetwater IPA
20 oz – $8 | Pitcher – $24
Wine
Chateau St. Jean Chardonnay
Camelot Cabernet Sauvignon
Diseno Malbec
M&S Sauvignon Blanc
Glass – $9 | Carafe – $24
Urban Pantry Menu – Drinks
Menu Date  02/2020
Food Hall Beer
Lager, Modelo, 'Pacifico Clara'
MX 4.5% ABV (at all four Food Hall Stations)
20 oz – $9.00 | Pitcher – $24.00
Pale Lager, Birra Moretti
IT 4.6% ABV (at Italian station)
20 oz – $9.00 | Pitcher – $24.00
Dark Lager, Sapporo, 'Black'
JP 5.0% ABV (at Asian station)
20 oz – $9.00 | Pitcher – $24.00
Amber Ale, New Belgium Brewing, 'Fat Tire'
CO 5.2% ABV (at Roast station)
20 oz – $9.00 | Pitcher – $24.00
American India Pale Ale, Ten 10 Brewing, 'East-West'
Orlando, FL 7.5% ABV (at Burger station)
20 oz – $9.00 | Pitcher – $24.00
Food Hall Draft Wine
Nobilo Sauvignon Blanc Marlborough, NZ
Glass $9 | Carafe $24
Diseno Malbec Mendoza, AR
Glass $9 | Carafe $24
Rickshaw Pinot Noir, CA
Glass $9 | Carafe $24
Guenoc Pinot Grigio, CA
Glass $9 | Carafe $24
Matua Sauvignon Blanc, NZ
Glass $9 | Carafe $24
Hahn Red Blend, CA
Glass $9 | Carafe $24
Chateau St. Jean Chardonnay, CA
Glass $9 | Carafe $24
Camelot Cabernet Sauvignon, CA
Glass $9 | Carafe $24
Food Hall Beverages
Breakfast Beverages
Coffee, tea, hot chocolate – $4.00
Soda Cup
Coca-Cola Freestyle 2-hour cup – $4.00
Aventura Souvenir Mug
1-day refillable mug – $10.00
3-day refillable mug – $16.00
Length of stay refillable mug – $18.00
***Urban Pantry Menu Items and Prices Subject to Change***