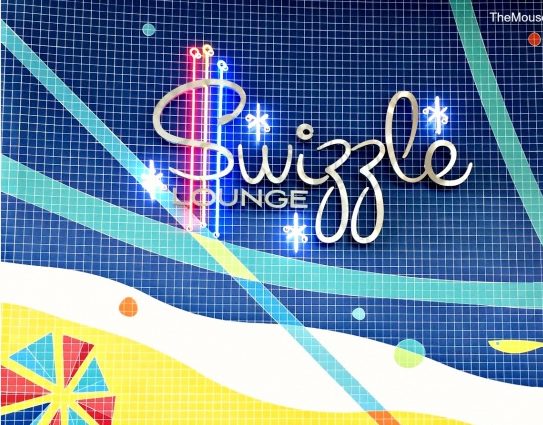 Just like the resort, it's a part of; the Swizzle Lounge is a lobby lounge that has a retro feel.  The Swizzle Lounge menu offers classic drinks with a modern twist. At the Swizzle Lounge, relax in a comfortable chair with friends, and enjoy the wide variety of drinks and a snack.
Swizzle Lounge is located in the Cabana Bay Beach Resort.  Find more Universal Orlando dining locations on our Universal Orlando Resort menus page.
Hours of Operation
Monday – Thursday – 5:00pm – 12:00am
Friday – 1:00pm – 12:00am
Saturday – 1:00pm – 1:00am
Sunday – 5:00pm – 12:00am
Live music Friday and Saturday from 8pm – 11pm.
Swizzle Lounge Menu
Menu Date 12/2023
Cocktails
Signature
Sizzle Rum Punch
Bacardi Pineapple Rum, Parrot Bay Spiced Rum, creme de banana, blackberry brandy, fruit juices, splash of 151. – $13.00
Swizzle Hand Shaken Colada
Parrot Bay Coconut Rum, pineapple juice, house piña mix. – $13.00
The Go Lightly
Hendrick's Gin, lime juice, cucumber syrup, strawberry purée, Sprite. – $13.00
Spicy Margarita
Patron Silver Tequila, Ancho Reyes Verde, lime juice, agave nectar. (non spicy made with Cointreau)- $15.00
Smokey & the Banana
Bosscal Joven Mezcal, Ancho Reyes Verde, creme de banana, lime juice- $15.00
Paloma
Casamigos Blanco Tequila, lime juice, Fever-Tree Sparkling Pink Grapefruit. – $14.00
Go Lightly
Hendrick's Gin, lime juice, cucumber syrup, strawberry puree, Sprite. – $13.00
The Rockabilly Old Fashioned
Templeton Rye Whiskey, Screwball Peanut Butter Whiskey, black walnut bitters – $13.00
Espresso Martini
Ketel One Vodka, SelvaRey Chocolate Rum, Owens Espresso Martini Mix. – $13.00
Old Grey Mule
Grey Goose Vodka, lime juice, simple syrup, Fever-Tree Ginger Beer – $12.00
Very Berry Lemonade
Ketel One Vodka, 360 Huckleberry Vodka, blueberry, lemon juice- $13.00
Dragonberry Mojito
Bacardi Dragonberry Rum, mint, lime juice, simple syrup, soda water- $12.00
Wines
Sparkling Wines
Pommery Brut Royal
Bottle – $139
Domaine Ste. Michelle Brut
Glass – $11.00 | Bottle – $49.00
Cavit Lunetta Prosecco 
Glass – $12.00 | Bottle – $54.00
White Wines
Assorted White Wines
Glass – $9.00 – $11.00 | Bottle – $39.00 – $49.00
Blush Wines
Jean Luc Colombo Cape Blue Rosa
Glass – $11 | Bottle – $49
Red Wines
Assorted Red Wines
Glass – $9.00 – $11.00 | Bottle – $39.00 – $99.00
Beers
Assorted Draft and Canned Beers
16 oz: $8.00
24 oz: $9.25 – $10.00
Canned: $8.00-$9.00
Assorted Hard Seltzers
$7.50
Whiskey
Bourbon
Maker's Mark – $12.00
Horse Soldier – $13.00
Basil Hayden – $12.00
Knob Creek – $12.00
Buffalo Trace – $11.00
Woodford Reserve – $12.00
Jim Beam– $9.00
Bulleit – $11.00
American Whiskey
Bulleit Rye – $10.00
Rebel Yell – $11.00
Templeton Rye – $12.00
Elijah Craig – $12.00
Seagram's 7 – $8.50
Crown Royal – $12.00
Skrewball– $9.50
Fireball– $9.00
Jameson– $12.00
Scotch
Balvenie 14 Year Caribbean Cask – $16.00
Glenmorangie 10 Year – $13.00
Chivas 12 Year – $12.00
Grant's– $8.50
Cutty Sark– $9.00
Johnnie Walker Black Label – $13.00
Dewar's White Label– $11.00
Johnnie Walker Red– $11.00
Glenfiddich 12– $14.00
The Macallan 12 Year – $16.00
Glenlivet 12 Year – $13.00
***Swizzle Lounge Menu Items and Prices are Subject to Change***