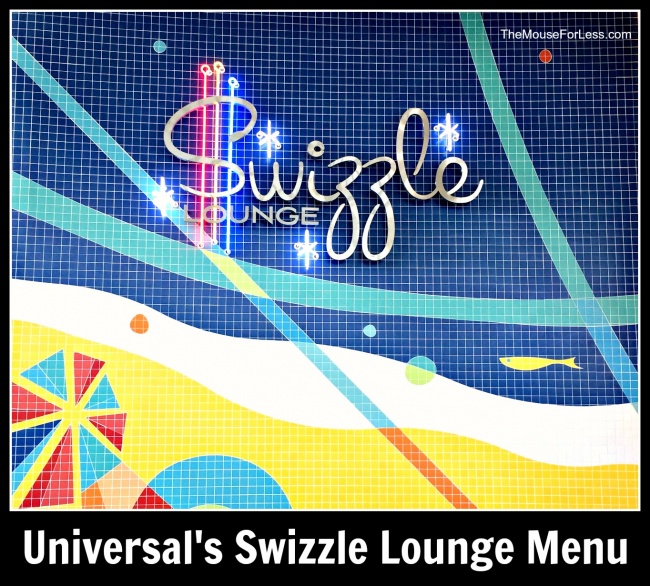 Universal Orlando Resort Restaurants | Universal's Cabana Bay Beach Resort
Just like the resort it's a part of, the Swizzle Lounge is a lobby lounge that has a retro feel.  The Swizzle Lounge menu offers classic drinks with a modern twist. At the Swizzle Lounge, relax in a comfortable chair with friends, and enjoy the wide variety of drinks and a snack.
Open Sunday – Thursday: 5:00 pm – midnight, Friday & Saturday: 4:00 pm – midnight
Swizzle Lounge Menu
Menu Date 10/2018
Cocktails
Please approach bar for service.
Barrel Aged Old Fashioned
Knob Creek Smoked Maple Bourbon, Angostura Bitters & Bourbon Black Walnut Sugar barrel aged for 4 weeks, muddled Blackberries. – $13.00
Cucumber Gimlet
Hendricks Gin, Lime Juice, Cucumber – $13.50
Formula 977
Milagro Tequila, Lime Juice, Agave Nectar, Egg White Foam infused with Luxardo Maraschino Liqueur – $13.50
*Warning: This drink contains eggs.
Hopscotch
Glenmorangie 10yr, King's Ginger Liqueur, Agave Nectar, Lemon Juice, Mint – $13.00
Hibiskus Mule
Absolut Hibiskus, Ginger Beer, Lime Juice, Simple Syrup – $11.50
*Driver's License or Credit Card required for Copper Mug use
Mango Bellini
Bacardi Mango Fusion Rum, La Marca Prosecco, Mango Puree – $11.00
Swizzle Rum Punch
Flor de Caña Añejo Oro Rum, Bacardi Tangerine Rum, Banana Liquor, Blackberry Brandy, Fruit Juices, Splash of 151 – $10.50
Strawberry Smash
St. George Gin, Simple Syrup, Strawberry, Basil – $10.50
Devil's Beach
Tres Agave Reposado Tequila, Owl's Brew Wicked Green, Pineapple Juice – $10.50
Flip Your Lid
Old Forester Bourbon, Sweet Vermouth, Simple Syrup, Angostura Bitters, Maraschino Cherry – $10.00
*Please allow an extra 4 minutes for the smoke to infuse the beverage.
Raspberryoska
Russian Standard Vodka, Raspberries, Lime Juice, Simple Syrup – $10.00
Astoria
Flor de Caña 7 Year Rum, Pineapple Juice, Lime, Spiced Mango – $10.00
Blood Orange Side Car
Buffalo Trace Bourbon, Solerno Blood Orange Puree, Sour – $10.00
Man on the Moon
Deep Eddy Grapefruit Vodka, Orange Tan, Lemon Lime Soda – $9.00
Fountain of Youth
St. Augustine Gin, Peach Tranquility Tea, Youthberry Tea, Lemon Juice, Simple Syrup – $9.00
Ask your bartender about our Johnny Walker flights! – $20.00
Sparkling
Please approach bar for service
Moet & Chandon Imperial Epernay, France
Bottle – $119
La Marca Prosecco Veneto, Italy
Glass – $9 | Bottle – $34
White
Please approach bar for service
Sequin Moscato, California
Glass – $9 | Bottle – $34
Relax Riesling Mosel, Germany
Glass – $9 | Bottle – $34
Santa Marina Pinot Grigio Pavia, Italy
Glass – $9 | Bottle – $34
Le Rime Pinot Grigio Tuscany, Italy
Glass – $10 | Bottle – $38
Brancott Sauvignon Blanc Marlborough, New Zealand
Glass – $10 | Bottle – $38
Villa Maria Sauvignon Blanc Marlborough, New Zealand
Glass – $9 | Bottle – $34
Joel Gott Chardonnay Monterey, CA
Glass – $10 | Bottle – $38
La Crema Chardonnay Monterey, CA
Glass – $9 | Bottle – $34
Red
Please approach bar for service
Trivento Malbec Mendoza, Argentina
Glass – $9 | Bottle – $30
Mark West Pinot Noir, California
Glass – $9 | Bottle – $34
Noble Vines 667 Pinot Noir Monterey, CA
Glass – $10 | Bottle – $38
Noble Vines 181 Merlot Lodi, CA
Glass – $9 | Bottle – $30
Broken Earth "Pull" Merlot Paso Robles, CA
Glass – $10 | Bottle – $38
Famille Perrin Reserve Rouge Côtes du Rhône, France
Glass – $9 | Bottle – $34
William Hill Cabernet Sauvignon North Coast, CA
Glass – $9 | Bottle – $34
Avalon Cabernet Sauvignon Napa Valley, CA
Glass – $10 | Bottle – $38
Handcraft Petite Sirah California
Glass – $9 | Bottle – $30
Rancho Zabacho Zinfandel Sonoma, CA
Glass – $9 | Bottle – $34
Ask your bartender about our wine flights! – $18
Beer
Please approach bar for service
16 oz Draft – $6.50 – $7.00
24 oz Draft
Yuengling, Corona Light, Blue Moon, Lagunitas IPA, Sam Adams Seasonal, Stella Artois – $9.00 – $9.50
16 oz Can
Coors Light, Miller Lite, Budweiser, Bud Light, Bud Light Lime, Michelob Ultra, Coney Island Root Beer, Pabst Blue Ribbon, Dos Equis Lager, Guinness, Corona, Heineken, Fat Tire, Sierra Nevada Pale Ale, Angry Orchard – $6.50 – $7.50
Local Craft Beers
Please approach bar for service
Orlando Right on Red! Red Ale
Orlando, FL / ABV 5.3% / Drafts: 16 oz – $7.00; 24 oz – $9.50
2 Henry's 7 Mile Bridge English IPA
Plant City, FL / ABV 6.5% / 12 oz Can – $6.50
Orange Blossom Pilsner Back in the Day IPA
Orlando, FL / ABV 6.4% / 12 oz Can – $6.50
Bold City Duke's Cold Nose Brown Ale
Jacksonville, FL / ABV 6.5% / 12 oz Can – $6.50
Cigar City Jai Alai IPA
Tampa Bay, FL / ABV 7.5% / Drafts: 16 oz – $7.00; 24 oz – $9.50
3 Daughters St Pete Beach Blonde Ale
St. Petersburg, FL / ABV 5.0% / 12 oz Can – $6.50
***Swizzle Lounge Menu Items and Prices are Subject to Change***