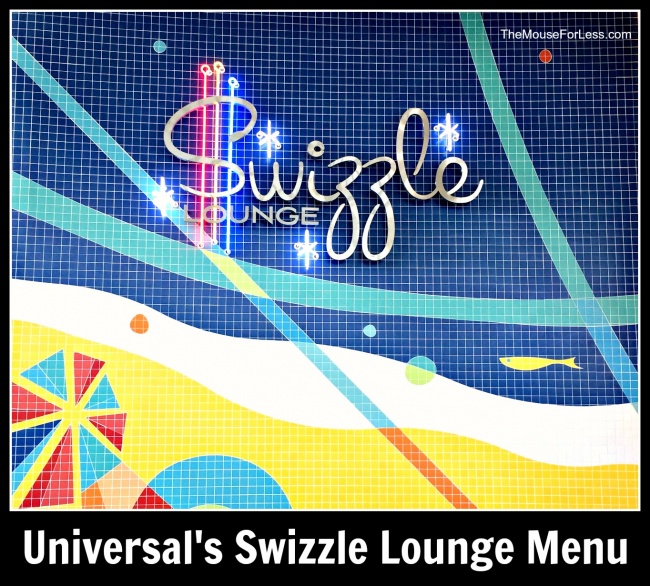 Just like the resort, it's a part of; the Swizzle Lounge is a lobby lounge that has a retro feel.  The Swizzle Lounge menu offers classic drinks with a modern twist. At the Swizzle Lounge, relax in a comfortable chair with friends, and enjoy the wide variety of drinks and a snack.
Swizzle Lounge is located in the Cabana Bay Beach Resort.  Find more Universal Orlando dining locations on our Universal Orlando Resort menus page.
Hours of Operation
Sunday – Thursday: 5:00 pm-midnight
Friday – Saturday: 4:00 pm-midnight

Planning a Universal Orlando Vacation?
For a Free no-obligation quote, contact our sponsor
The Magic For Less Travel
. Services are provided free of charge and their expert planning advice will help you make the most of your vacation time and money.
Swizzle Lounge Menu
Menu Date 01/2020
Light & Refreshing: Cocktails
Please approach the bar for service.
The Greenhouse
The Botanist Gin, Fresh Lemon Juice, House-made Honey Syrup, Lavender Syrup – $13.50
Coconut Cyclone
RumHaven Coconut Water Rum, Lime Juice, Agave Nectar – $10.00
Sunshine State of Mule
Tito's Vodka, Q Drinks Ginger Beer, Florida Oranges – $11.00
Honey Bee
Montelobos Mezcal, Agave Nectar, Orange Red Bull – $12.00
Fruity & Sweet: Cocktails
Please approach the bar for service
Frenchie
Ketel One Vodka, Chambord, Pineapple Juice – $13.50
Kingston's Courage
Hendricks Gin, Lavender Syrup, Lemon and Lime Juice, Tonic – $12.50
Swizzle Rum Punch
Flor de Caña Añejo Oro Rum, Bacardi Tangerine Rum, Banana Liquor, Blackberry Brandy, Fruit Juices, Splash of 151 – $10.50
Strong & Boozy: Cocktails
Please approach the bar for service
Blood Orange Negroni
Tanqueray Gin, Aperol Aperitif, Sweet Vermouth, Blood Orange Syrup – $12.00
Boot-Scootin' Old Fashioned
Timber Creek Reserve Whiskey, Luxardo Maraschino Liqueur, Angostura Bitters – $13.50
Filthy Manhattan
Stranahan's Diamond Peak Whiskey, Sweet Vermouth, Fee Brothers Cherry Bitters, Filthy Black Cherry – $14.00
Ellis Island
Horse Soldier Whiskey, Aperol, Aperitif, Sweet Vermouth, Filthy Black Cherry Juice, Orange Wheel – $14.50
Spicy Stinger
El Mayor Añejo Select Barrel Tequila, Hogtown Seasonings Hot Honey, Filthy Black Cherry, Bitter Truth Orange Bitters – $14.00
After Dinner: Cocktails
Please approach the bar for service
Mocha-tini
Koloa Coffee Rum, 360 Vanilla Vodka, 360 Double Chocolate Vodka, Ice Cream Mix, Chocolate Syrup – $12.00
Brandy Alexander
Courvoisier VS Cognac, Creme de Cocoa, Ice Cream Mix, Sprinkle of Nutmeg – $11.00
Toasted Coconut Russian
Koloa Coffee Rum, Don Q Coconut Rum, Baileys Almande – $11.00
*Dairy Free
Sparkling
Please approach the bar for service
Piper Heidsieck 1785 Brut Champagne, France
Bottle – $125
La Marca Prosecco Veneto, Italy
Glass – $9 | Bottle – $34
White
Please approach the bar for service
A to Z Pinot Gris Newberg, OR
Glass – $10 | Bottle – $38
Licia Albarino Rias, Baixas
Glass – $10 | Bottle – $42
Cavit Moscato Delle Venezia, Italy
Glass – $9 | Bottle – $34
Saint M Riesling Pfalz, Germany
Glass – $9 | Bottle – $34
Le Rime Pinot Grigio Tuscany, Italy
Glass – $10 | Bottle – $38
Brancott Sauvignon Blanc Marlborough, New Zealand
Glass – $10| Bottle – $38
Villa Maria Sauvignon Blanc Marlborough, New Zealand
Glass – $9 | Bottle – $34
Joel Gott Chardonnay Monterey, CA
Glass – $10 | Bottle – $38
La Crema Chardonnay Monterey, CA
Glass – $9 | Bottle – $34
Red
Please approach the bar for service
Trivento Malbec Mendoza, Argentina
Glass – $9 | Bottle – $30
Noble Vines 667 Pinot Noir, Monterey, CA
Glass – $10 | Bottle – $38
Noble Vines 181 Merlot, Lodi, CA
Glass – $9 | Bottle – $30
Broken Earth "Pull" Merlot, Paso Robles, CA
Glass – $10 | Bottle – $38
William Hill Cabernet Sauvignon, North Coast, CA
Glass – $9 | Bottle – $34
Avalon Cabernet Sauvignon, Napa Valley, CA
Glass – $10 | Bottle – $38
Rancho Zabacho Zinfandel, Sonoma, CA
Glass – $9 | Bottle – $34
Banfi Chianti Classico Montalcino, Italy
Glass – $11 | Bottle – $44
Proximo Marques de Rioja Rioja, Spain
Glass – $8 | Bottle – $32
Real Sangria Rioja, Spain
Glass – $8
Malbec Dulce Tupungato, Argentina
Glass – $10 | Bottle – $40
Ask your bartender about our wine flights! – $18
Beer
Please approach the bar for service
Draft Beer
Yuengling, Corona Light, Blue Moon, Lagunitas IPA, Sam Adams Seasonal, Stella Artois
16 oz: $6.50 – $7.00
24 oz: $9.00 – $9.50
16 oz Can
Coors Light, Miller Lite, Budweiser, Bud Light, Bud Light Lime, Michelob Ultra, Pabst Blue Ribbon, Dos Equis Lager, Guinness, Corona, Heineken, Angry Orchard, White Claw Grapefruit Selzer, First Magnitude Pale Ale – $6.50 – $7.50
Local Craft Beers
Please approach the bar for service
Orlando Right on Red! Red Ale
Orlando, FL / ABV 5.3% / Drafts: 16 oz – $7.00; 24 oz – $9.50
2 Henry's 7 Mile Bridge English IPA
Plant City, FL / ABV 6.5% / 12 oz Can – $6.50
Orange Blossom Pilsner Back in the Day IPA
Orlando, FL / ABV 6.4% / 12 oz Can – $6.50
Bold City Duke's Cold Nose Brown Ale
Jacksonville, FL / ABV 6.5% / 12 oz Can – $6.50
Cigar City Jai Alai IPA
Tampa Bay, FL / ABV 7.5% / Drafts: 16 oz – $7.00; 24 oz – $9.50
3 Daughters St Pete Beach Blonde Ale
St. Petersburg, FL / ABV 5.0% / 12 oz Can – $6.50
***Swizzle Lounge Menu Items and Prices are Subject to Change***