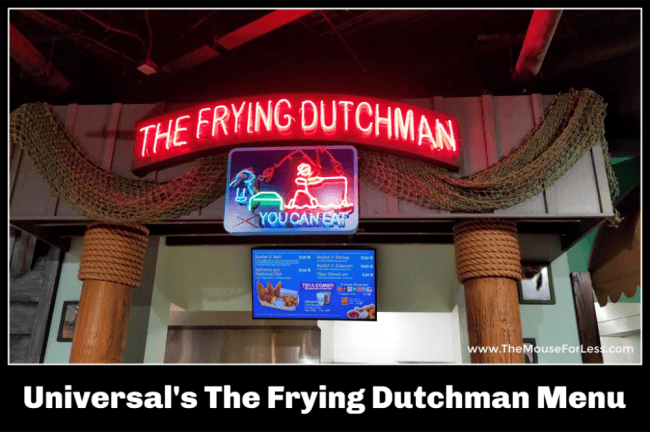 Located on Fast Food Boulevard, The Frying Dutchman offers seafood lovers a chance to indulge.  The Frying Dutchman menu offers baskets of fried seafood with the traditional sides. Options include fish, shrimp, calamari or a combination of all three.
The Frying Dutchman is located in the Universal Studios Florida theme park. Find more Universal Orlando dining locations on our Universal Orlando Resort menus page.
Open daily 11:00 am – park close
Universal Dining Plan participant.

Planning a Universal Orlando Vacation?
For a Free no-obligation quote, contact our sponsor
The Magic For Less Travel
. The Magic For Less Travel is an Authorized Disney Vacation Planner and has been helping guests plan magical vacations since 2002. Receive the best prices and free travel planning services. Their fee-free services will help you save time, money, and stress while planning a vacation designed around you and your needs!
The Frying Dutchman Menu
Menu Date 12/2019
Seafood
Basket O' Bait Combo
Fresh caught, hand cut cod, coconut-crusted shrimp, and fried calamari, with a hushpuppy & homemade tartar sauce or cocktail sauce. Served with tater tots and a regular shake – $21.49
Basket O' Bait
Fresh caught, hand cut cod, coconut-crusted shrimp, and fried calamari, with a hushpuppy & homemade tartar sauce or cocktail sauce. Served with tater tots. – $17.99
Battered  and Plattered Fish Combo
Fresh caught, hand cut cod fried in a batter. Served with tater tots and a regular shake – $20.49
Battered  and Plattered Fish Platter
Fresh caught, hand cut cod fried in a batter. Served with tater tots. – $16.99
Basket O' Shrimp Combo
Coconut-crusted shrimp, deep fried. Served with tater tots and a regular shake. – $16.49
Basket O' Shrimp
Coconut-crusted shrimp, deep fried. Served with tater tots. – $12.99
Basket O' Calamari Combo
Fresh calamari, breaded, and deep-fried. Served with tater tots and a regular shake – $14.49
Basket O' Calamari
Fresh calamari, breaded, and deep-fried. Served with tater tots. – $10.99
Clam Chowd-arr
Cream style and full of tender ocean clams. – $5.99
Fountain Beverages
Fountain Soda
Coca-Cola, Coke Zero Sugar, Diet Coke, Sprite, Fanta Orange, Barq's Root Beer, HiC Lemonade, Gold Peak Iced Tea – $3.99
Buzz Cola
Zero Calorie Cherry Flavored Cola – $4.59
Milkshakes
Milkshakes
"100% Mammal Milk" Chocolate, Vanilla or Swirled
Regular – $3.99
Large – $5.99
***The Frying Dutchman Menu Items and Prices are Subject to Change***