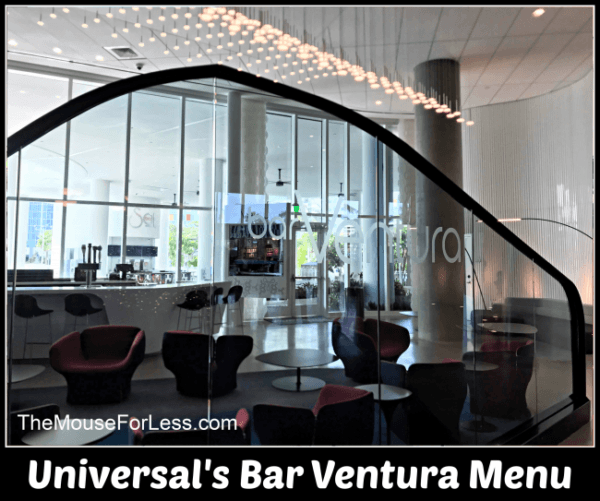 barVentura is the perfect place to grab a drink before or after dinner. Located in the lobby area of Universal's Aventura Hotel, barVentura offers a chance to relax in an open, comfortable environment.
barVentura is located in Universal's Aventura Hotel.  Find more Universal Orlando dining locations on our Universal Orlando Resort menus page.
Open daily from 4:00 pm-midnight

Planning a Universal Orlando Vacation?
For a Free no-obligation quote, contact our sponsor
The Magic For Less Travel
. Services are provided free of charge and their expert planning advice will help you make the most of your vacation time and money.
BarVentura Drink Menu
Menu Date 01/2020
Wine
Pinot Grigio, Banfi, 'LeRime,' Tuscany, IT
Glass – $10 | Bottle – $38
Sparkling Wine, Prosecco, Lunetta, Veneto, It
Glass – $11 | Bottle – $41
Chardonnay, Joel Gott, 'Unoaked,' CA
Glass – $11 | Bottle – $41
Sauvignon Blanc, Brancott Estate, Marlborough, NZ
Glass – $10 | Bottle – $38
Cabernet Sauvignon, Imagery, CA
Glass – $13 | Bottle – $50
Malbec, Trivento, 'Reserve,' Mendoza, AR
Glass – $9 | Bottle – $35
Pinot Noir, Line 39, CA
Glass – $10 | Bottle – $38
Invitation Wine: Chard, Cab Sav, Pinot Noir, Sauv Blanc
Glass – $9 | Bottle – $32
Cocktails
Happy Hour from 4:00 pm – 7:00 pm Daily – $8 Cocktails
Rum Old Fashioned
Cruzan 'Single Barrel' Rum, Banana Syrup, Fee Brothers 'West Indies Orange' Bitters, Angostura Bitters – $14
Resort Tonic
Sipsmith 'London Dry' Gin, Club Soda, Lime Juice – $12
Spritz
New Amsterdam Vodka, Aperol, Moscato, Triple Sec, Lemon Juice – $10
Sazerac
Bulleit Rye, St. George Absinthe, Simple Syrup, Peychaud's Bitters – $12
Commonwealth
Hendricks Gin, Orgeat, Lemon Juice, Blackberry – $14
Southside Daiquiri
Bacardi, St. Germain, Lime, Mint, Passion Fruit – $12
Irish Coffee
Coffee-Infused Whiskey, Guinness Syrup, Whipped Cream – $12
Mocktails
Hopped Hibiscus Soda
Hibiscus Water, Simple Syrup, Hops, Lemon Juice – $9
Pineapple Turmeric Lemonade
Lemon Juice, Turmeric Syrup, Pineapple Juice – $9
Draft Beer
Blonde Pilsner, Stella Artois, BE 5.0% ABV – $8
Witbier, Blue Moon Belgian White, BE 5.4% ABV – $8
Brown Ale, Cigar City Brewing, 'Maduro,' Tampa, FL 5.5% ABV – $8
Cider, Accomplice, West Palm Beach, FL 5.1% ABV – $8
Can Beer
Light Lager, Miller Lite, Wisconsin – $6
Light Lager, Bud Light, Missouri – $6
Lager, Budweiser, Missouri – $6
Lager, Corona Light, Mexico – $6
Spirits
Vodka
Absolut, SE – $11
Absolut 'Citron,' SE – $11
Grey Goose, FR – $12
Ketel One, NL – $12
Stolichnaya, RU – $11
Tito's, TX – $11
Gin
The Botanist, UK – $12
Hendricks, UK – $13
Tangueray, UK – $12
Sipsmith, UK – $12
Scotch
Dewar's, UK – $11
Balvenie 12 'Double,' Speyside, UK – $17
Highland Park 12, Highland, UK – $15
Johnnie Walker 'Black,' UK – $13
Macallan 12, Speyside, UK – $15
Bourbon/Whiskey
Canadian Club, CA – $10
Four Roses 'Single Barrel,' KY – $12
Crown Royal, CA – $12
Jameson, IR – $12
Maker's Mark, KY – $12
Michter's 'Rye,' KY – $12
Uncle Nearest '1856,' TN – $16
Woodford Reserve, KY – $13
Yellowstone, KY – $12
Bulleit 'Rye,' KY – $12
Tequila
Jose Cuervo 'Gold,'MX – $11
Patron 'Silver,' MX – $12
Rum
Sailor Jerry, VI – $11
Bacardi, PR – $10
Cruzan Single Barrel, VI – $12
***BarVentura Menu Items and Prices are Subject to Change***