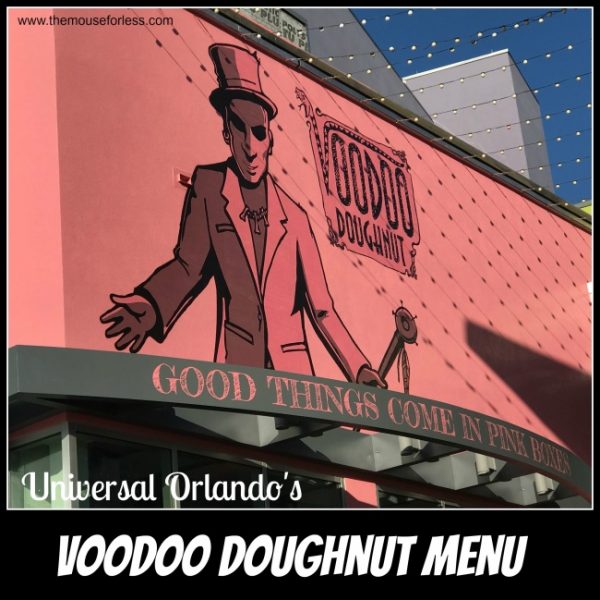 Voodoo Doughnut Menu
Get your doughnut fix with all kinds of cake doughnut flavors and shapes at Voodoo Doughnut. The original Voodoo Doughnut opened in Portland, Oregon and the trendy shop quickly made its way to Hollywood and now to Universal Orlando. Voodoo Doughnut is a quirky location will have you drooling to discover what sorts of  "good things come in pink boxes."
Voodoo Doughnut is located in Universal Orlando's Citywalk.  Find more Universal Orlando dining locations on our Universal Orlando Resort menus page.
Menu Date 1/2022
Dozens
Fryer Flyer Dozen – $29.95
All of Voodoo's premium doughnuts preselected in one box. If you want the full Voodoo experience, this box will leave you possessed!
Voodoo Dozen – $21.00
This preselected dozen is a mix of classics and slightly crazy. This box has something for every taste and adventurousness profile!
All Classic Dozen – $18.00
These are preselected good ol' doughnuts that can be found in any doughnuts shop. Voodoo's just taste better!
Voodoo Half Dozen
This preselected half dozen is a mix of classics and slightly crazy – $13.00
Old Fashion Cakes
Chocolate Old Fashioned – $1.50
Cake with chocolate frosting
Glazed Old Fashioned – $1.60
Glazed cake doughnut
Old Fashioned Buttermilk Bar – $1.70
Maple Old Fashioned -$1.60
Buttermilk style cake with maple frosting
Plain Cakes
Plain Cake – $1.50
Plain cake doughnut
Chocolate Frosted Cake – $1.75
Plain cake doughnut with chocolate frosting
Peanut Cake – $1.75
Plain cake doughnut with vanilla frosting and peanuts
Sprinkle Cake  – $1.75
Plain cake doughnut with vanilla frosting and sprinkles
Cinnamon Sugar Cake   – $1.70
Plain cake doughnut with cinnamon sugar
Eight Mile Cake   – $2.75
Plain cake doughnut with vanilla frosting and mini M&Ms
Blueberry Cake  – $1.75
Blueberry cake doughnut with a glaze
Powdered Sugar Cake   – $1.70
Plain cake doughnut with powdered sugar
Tangfastic Cake  – $1.85
Plain cake doughnut with vanilla frosting, Tang and three marshmallows
Devil's Food Cake
Double Chocolate  – $1.80
Chocolate cake doughnut with chocolate frosting
Chocolate Coconut Cake – $1.80
Chocolate cake doughnut with chocolate frosting and coconut flakes
Diablos Rex  – $2.75
Chocolate cake doughnut with chocolate frosting, red sprinkles, a vanilla frosting pentagram, and chocolate chips
Butterfinger  – $2.10
Chocolate cake doughnut with vanilla frosting and Butterfinger crumbles
Ring of Fire – $2.10
Chocolate cake doughnut dusted in cinnamon sugar, cayenne pepper and topped with a dried red chili pepper
Fritters
Apple Fritter – $3.75
Fried dough doughnut with apple chunks and cinnamon covered in a glaze
Memphis Mafia Fritter  – $5.75
Fried dough doughnut with banana chunks and cinnamon covered in glaze, drizzled in chocolate and peanut butter, with peanuts and chocolate chips on top
Voodoo Doughnuts Raised Donuts
Rings
Glazed   – $1.50
Raised yeast doughnut with glaze
Chocolate Ring  – $1.75
Raised yeast doughnut with chocolate frosting
Little Pink   – $2.20
Raised ring doughnut dipped in strawberry flavored icing and a smattering of round sprinkles
Dirt  – $2.95
Raised yeast doughnut with vanilla frosting and Oreo cookies
Oh Captain, My Captain  – $2.75
Raised yeast doughnut with vanilla frosting and Captain Crunch
Grape Ape   – $2.20
Raised yeast doughnut with vanilla frosting, grape dust, and lavender sprinkles
ODB  – $2.90
Raised yeast doughnut with chocolate frosting, Oreo cookies, and peanut butter
Chuckles   – $3.50
Raised yeast doughnut with chocolate frosting dipped in mocha powder and topped with peanuts, caramel and chocolate drizzle
Bars
Bacon Maple Bar  – $4.00
Raised yeast with maple frosting and bacon on top
Maple Bar   – $1.75
Raised yeast with maple frosting on top
Shells
Portland Cream  – $3.00
Raised yeast shell filled with Bavarian cream and topped with chocolate and two eyeballs, representing the vision of the great city of Portland
Mango Tango  – $2.90
Raised yeast shell filled with mango jelly and topped with vanilla frosting and Tang
Raspberry Romeo   – $3.35
Raised yeast shell glazed and filled with raspberry or lemon jelly
Maple Cream – $3.00
Raised yeast shell filled with Bavarian cream and topped with maple frosting, a set of eyes, and a mustache
Guava Colada –$2.90
Raised shell filled with guava jelly and topped with vanilla frosting, flake coconut, and toothpick umbrella
Specialties
Voodoo Doll  – $3.75
Raised yeast filled with raspberry jelly topped with chocolate frosting and a pretzel stake
Texas   – $9.95
Giant equal in size to six regular glazed
Universal Orangesicle – $3.45
Raised yeast doughnut filled with Bavarian cream, topped with citrus frosting and chocolate pearls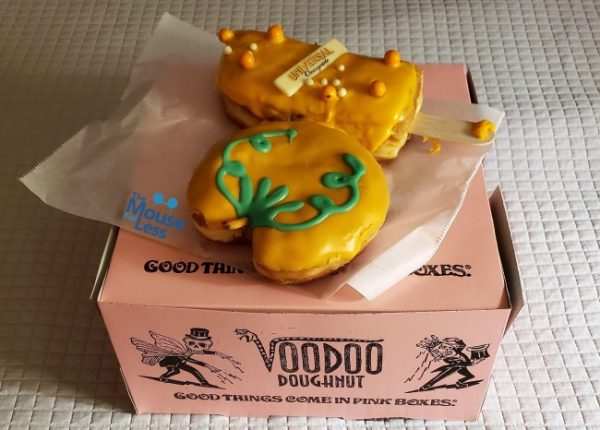 Miami Viceberry– $2.50
a yeast ring dipped in vanilla icing, blue raspberry sugar and half dipped in pink sprinkles
Holiday Gift – $3.75
a raised yeast doughnut dipped in gingerbread icing
Wreath – $3.75
a red velvet cake doughnut topped with peppermint cream cheese and white chocolate pearls
Go Tart – $3.75
a raised yeast bar with strawberry filling dipped in vanilla frosting and a smattering of round sprinkles
Voodoo Doughnuts Vegan Doughnuts
Vegan Cake – $2.00
Vegan cake
Vegan Glazed – $2.00
Vegan plain with glaze
Vegan Maple Bar – $2.10
Vegan dough with maple frosting
Vegan Portland Cream – $3.30
Vegan shell filled with vegan cream
Vegan Voodoo Doll – $4.25
Vegan cake filled with raspberry jelly topped with chocolate frosting and a pretzel stake
PB&J – $3.50
Raised yeast shell filled with raspberry jelly, topped with peanut butter and a side dip of peanuts
Vegan Dirt – $3.45
Vegan yeast doughnut with vanilla frosting and crushed Oreo cookies
Vegan ODB – $3.45
Raised yeast doughnut with chocolate frosting, Oreo cookies, and peanut butter
Vegan Sprinkle Cake – $2.35
Vegan plain cake doughnut with vanilla frosting and sprinkles
Vegan Chocolate Ring – $2.10
Vegan yeast doughnut with chocolate frosting
Vegan Chocolate Frosted – $2.10
Vegan yeast doughnut with chocolate frosting
Vegan Coconut – $2.15
Vegan plain cake doughnut with vanilla frosting and coconut
Vegan Apple Fritter – $3.95
Vegan fried dough with apple chunks and cinnamon covered in glaze
Beverages
Bottled Soda (UD) – $4.49
Coca Cola, Coke Zero Sugar, Diet Coke, Fanta Orange, Sprite
Minute Maid Juice (UD) – $2.89
choice of apple or orange
Hot Drinks (UD) – $3.29
choice of coffee or hot chocolate
Milk (UD)
choice of 2% or chocolate
H20+ Premium Water (UD) – $5.00
***Voodoo Doughnut Menu Items and Prices are Subject to Change***