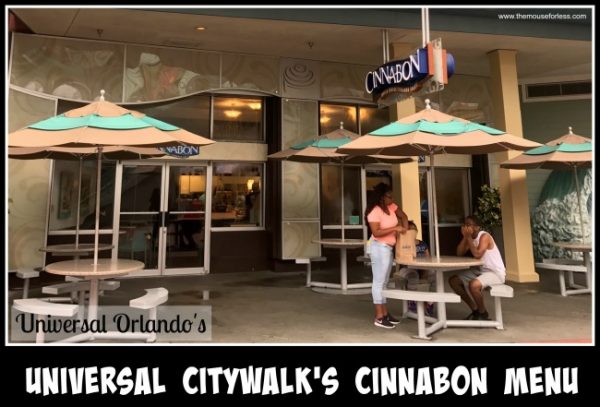 The CityWalk Cinnabon location allows you to indulge in your favorite Cinnabon treats. Enjoy the famous cinnamon rolls while people-watching, chatting with family and friends, or on your way to or from your adventure in Universal Studios or Islands of Adventure. Breakfast sandwiches are also available each morning.  If you plan ahead, you could even purchase a Cinnapack for breakfast in the room the next morning.
Cinnabon is located in Universal Orlando's Citywalk.  Find more Universal Orlando dining locations on our Universal Orlando Resort menus page.
Hours of Operation
8:00am – 12:00am
Hours subject to change

Planning a Universal Vacation?
Cinnabon Menu
Menu Date 02/2023
Take Home a CinnaPack
Prepacked and ready to heat
Cinnabon Classic
4 Rolls – $17.99
6 Rolls – $21.99
Extra Frosting Cup – $0.99
World-Famous Cinnamon Rolls
Cinnabon Classic Roll – $6.29
Caramel Pecanbon – $6.89
Treats on the go
Center of the Roll – $5.49
CinnaSweeties 10-count – $6.49
BonBites – 4-count – $5.49
Breakfast
Breakfast served until 12:00pm Daily
Breakfast Sandwiches
Egg & Cheese – $4.99
Bacon, Egg & Cheese – $5.49
Sausage, Egg & Cheese – $5.49
Sausage Bites – $5.49
Cold Brew & Mochas
Cold Brew Coffee
flavor choices – Cinnamon Roll, Salted Caramel or Vanilla – $4.79
MochaLatta Chill – $5.29
Beverages
Hot Beverages
Coffee, Hot Tea or Hot Chocolate – $3.49
Fountain Soda
Coca-Cola, Coke Zero Sugar, Diet Coke, Coca-Cola Cherry, Sprite, Fanta Orange, Root Beer, Lemonade – $4.29
Minute Maid Juice
Apple or Orange – $3.29
Milk
2% or Chocolate – $3.69
H2O+ Premium Water – $5.50
Powerade
Fruit Punch or Mountain Berry Blast – $5.50
** Cinnabon Menu and Prices are Subject to Change Without Notice **