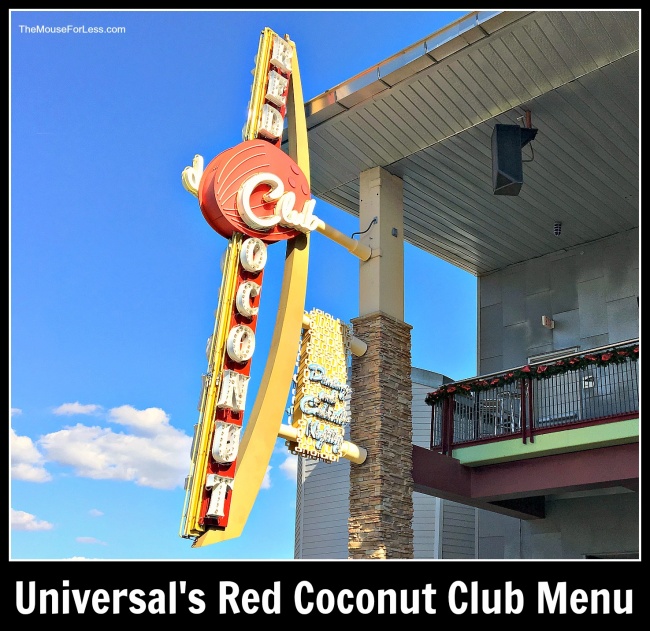 If you're looking for night life, Red Coconut Club is the place to be. The club offers a taste of Cuba and the tropics in a chic and luxurious lounge.  On the first floor, enjoy dancing to a live band (on select nights) until midnight.  After that, the dancing continues with a DJ playing. For a more relaxing setting, head upstairs where you can overlook the dance floor from intimate tables, or gaze out over CityWalk's lights from the outdoor patio. The Red Coconut Club menu offers specialty drinks and an extensive wine list.
Open Monday – Sunday: 8:00 pm – 2:00 am
Must be 21 and older for admission.
$7 cover charge after 10:00 pm.
Citywalk Party Passes accepted.
Red Coconut Club Menu
Menu Date 03/2019
Specialty Drinks
Red Oven Pizza available after 10:00 PM.
The Red Coconut
Van Gogh coconut vodka, pineapple juice, grenadine
Oatmeal Cookie
Fireball cinnamon whiskey, Rum Chata cream liqueur, graham cracker rim
Pomegranate Cosmo
Pinnacle Pomegranate vodka, Cointreau, cranberry juice
Moscow Mule
Three Olives vodka, ginger beer, lemon juice, simple syrup
Rum Crush
Don Q coconut rum, Don Q cristal rum, agave nectar, pineapple juice, and orange juice. Topped with Myer's rum
Blood Orange & Ginger Mojito
Captain Morgan spiced rum, ginger liqueur, blood orange syrup
Blueberry Lemonade
Van Gogh acai blueberry vodka, lemonade, Sprite, fresh lemon
Black Royal Peach
Ciroc peach vodka, Crown Royal black, cranberry juice, orange juice, pineapple juice, grenadine, orange bitters
Peachy Buffalo
Buffalo Trace bourbon, peach schnapps, lime juice, lemon juice, simple syrup, orange juice, orange bitters
Coconut Mojito
Mojito made with Cruzan coconut rum
White Wine
Bolla Pinot Grigio
Italy
Glass or Bottle
Ferrari Carano Pinot Grigio
Russian River Valley, California
Glass or Bottle
Beringer White Zinfandel
Napa Valley, California
Glass or Bottle
Murphy Goode Chardonnay
Sonoma, California
Glass or Bottle
Red Wine
Mark West Pinot Noir
California, USA
Glass or Bottle
Blackstone Merlot
California, USA
Glass or Bottle
Cline Zinfandel
California, USA
Glass or Bottle
Kenwood Cabernet Sauvignon
Sonoma, California
Glass or Bottle
Draft Beer
Bud Light
Orange Blossom Pilsner
Angry Orchard
Stella Artois
Blue Moon
Yuengling
Bottled Beer
Yuengling
Budweiser
Bud Light
Miller Lite
Heineken
Corona
Stella Artois
Blue Moon
VIP Service
Vodka
Tito's Vodka
Van Gogh Vodka
Ketel One
Grey Goose
Imperia
Rum
DonQ and Flavors
Bacardi and Flavors
Captain Morgan
Mount Gay Eclipse
Brugal 1888
Gin
Tanqueray
Bombay Sapphire
Whiskey
Buffalo Trace
Jack Daniel's
Woodford Reserve
Crown Royal
Maker's Mark
Cognac
Hennessy VS
Rémy Martin VSOP
Scotch
Macallan 12yr
Glenlivet 12yr
Johnnie Walker Black
Tequila
Casamigos
Patrón
Liquors
Fireball
Jägermeister
Grand Marnier
Champagne
Piper Heidseick Brut
Moët Brut Impérial
Bottega (Gold, Platinum, Rose)
Moët Rose Impérial
Tattinger Brut
Veuve Clicquot
Moët Nectar Impérial
Moët Nectar Impérial Rosé
Dom Pérignon
Perrier-Joët Fleur
Louis Roederer, Cristal
Armand de Brignac
***Red Coconut Club Menu Items and Prices are Subject to Change***