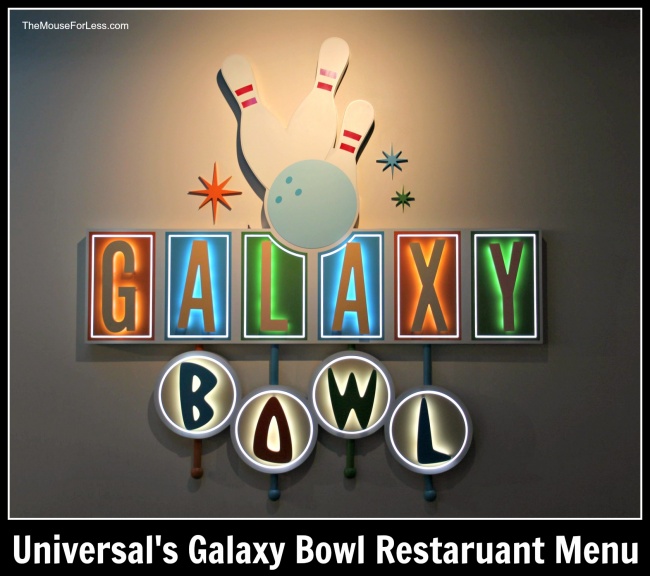 Dine with a view of Galaxy Bowl's ten-lane bowling alley at Galaxy Bowl Restaurant. Whether you're getting ready to play your first game, just finished your last frame, or are between matches, the Galaxy Bowl Restaurant menu offers options for everyone.
Galaxy Bowl Restaurant is located in the Cabana Bay Beach Resort.  Find more Universal Orlando dining locations on our Universal Orlando Resort menus page.
Open daily 5:00 pm – 11:00 pm
Lunch & Dinner Menu  Drink Menu

Planning a Universal Vacation?
Galaxy Bowl Restaurant Menu – Lunch & Dinner
Menu Date 12/2020
Bites
Sampler Platter
Mini Pretzels, Fried Mozzarella Cheese Sticks, & choice of Buffalo, BBQ, Sweet Thai Chili, or Teriyaki Chicken Wings – $25.99
Chicken Wings
Choice of Buffalo, BBQ, Sweet Thai Chili, or Teriyaki Chicken Wings served with Ranch Dressing Carrots & Celery Sticks – $12.99
Fried Mozzarella Sticks
Marinara Sauce – $8.99
Mini Pretzels
Salted Soft Pretzels with Cheddar Cheese Sauce – $8.99
Greens
Super Power Salad
Spring Mix Greens, Dried Cranberries, Edamame, Toasted Almonds, Citrus Vinaigrette – $7.99
Grilled Chicken Caesar Salad
Grilled Chicken Breast, Romaine Lettuce, Caesar Dressing, Croutons – $9.99
Crispy Grouper Caesar Salad – $10.99
Mains
Galaxy Classic Burger
Chargrilled Burger, Lettuce, Tomato, Onion, & Pickles – $11.50
Add bacon – $.99
Choice of cheese – $.50
BBQ Bacon Cheddar Burger
Chargrilled Burger, Crispy Bacon, Cheddar Cheese, BBQ Sauce, Lettuce, Tomato, Onion, & Pickles – $12.99
Black & Bleu
Chargrilled Burger, Crumbled Bleu Cheese, Crispy Bacon, Caramelized Onions, Lettuce, Tomato, Onion, & Pickles – $12.99
Beyond Burger
Plant-based Burger, Lettuce, Tomato, Onion, & Pickles – $12.99
Steak Sandwich
Sliced Grilled Steak, Swiss Cheese, Caramelized Onions, & Arugula – $12.99
Bratwurst Hoagie
Grilled Sausage, Caramelized Onions, & Creole Mustard – $10.99
Grilled Chicken & Bacon Sandwich
Chicken Breast, Bacon, Cheddar Cheese, Lettuce, Tomato, Onion, & Pickles – $11.99
Turkey Bacon Wrap
Tomato Basil Tortilla, Turkey, Bacon, Lettuce, Tomato, & Avocado Ranch Dressing – $8.99
Crispy Grouper Platter – $11.99
Sweets
Coca-Cola Cake
Chocolate Cake made with Coca-Cola – $5.00
Chef's Seasonal Dessert
Ask your server for today's selection – $5.00
Galaxy Bowl Restaurant Menu – Drinks
Menu Date 12/2020
Cocktails
Signature
Space Punch
Black Flag Spiced Rum, Banana Liquor, Blue Curacao, Orange Juice, Coconut Puree – $12.50
The Pink Planet
Beefeater Pink Gin, Sprite, Lemonade – $12.50
Apple of Eden
Jack Daniels Fire Whiskey, Apple Juice, Sprite – $12.50
PCM
Club Caribe Coconut Rum, Pineapple Juice, Pina Colada Mix, Fresh Mint, Limes and Pineapple – $12.50
Galactic Lemonade
Tito's Vodka, Strawberry Puree, Lemonade – $12.50
Stellar Eclipse
El Jimador Silver Tequila, Cointreau Liqueur, Blue Curacao, House Sour Mix, Pineapple Juice – $12.50
Pisces Rising
Tito's Vodka, Blue Curacao, Ginger Beer, Fresh Limes – $12.50
The Scorpio
Leadslingers Whiskey, Grand Marnier, Orange Juice, Sprite – $12.50
Frozen
Hailey's Colada
Club Caribe Coconut Rum, Pina Colada Mix, Mango Lava Flow, Chambord Floater – $12.50
Midnight Margarita
El Jimador Silver Tequila, Margarita Mix, Club Caribe 151 Rum Floater, Strawberry Lava Flow – $12.50
Beers
Drafts
Assorted Beers
16 oz – $6.50 – $7.00
24 oz – $9.00 – $9.50
Domestic
Assorted Beers
Can – $4.25 – $6.80
Bucket – $21.00 – $32.50
Craft & Import
Assorted Beers, Ciders and Seltzers
Can – $6.80 – $7.30
Bottle – $32.50 – $36.30
Wines
Sparkling Wines
Prosecco, Lunetta by Cavit
Glass – $10.00
Bottle – $40.00
White Wines
Assorted Wines
Glass – $8.00 – $9.00
Bottle – $32.00 – $34.00
Red Wines
Assorted Wines
Glass – $8.00 – $9.00
Bottle – $32.00 – $34.00
***Galaxy Bowl Restaurant Menu Items and Prices are Subject to Change***