Universal Orlando Resort Restaurants | Universal's Cabana Bay Beach Resort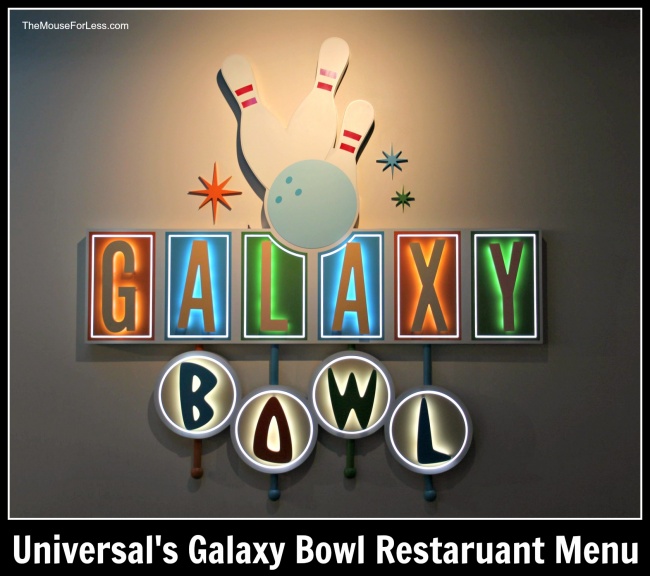 Dine with a view of Galaxy Bowl's ten lane bowling alley at Galaxy Bowl Restaurant. Whether you're getting ready to play your first game, just finished your last frame, or are between matches, the Galaxy Bowl Restaurant menu offers options for everyone.
Open daily noon – 11:00 pm
Lunch & Dinner Menu Drink Menu
Galaxy Bowl Restaurant Menu – Lunch & Dinner
Menu Date 10/2018
Appetizers
Sampler Platter
Loaded Fries, Wings, & Mozzarella Sticks – $23.99
Loaded Fries
Cheddar Cheese, Bacon, Ranch Sauce, & Scallions – $7.99
Mozzarella Sticks
with a side of Marinara – $7.99
Pretzel Bites
with Beer Cheese & Spicy Creole Mustard – $8.99
Chicken Wings
Buffalo, Sweet Chili, Parmesan Garlic or Lemon Pepper Style with Carrots, Celery and Blue Cheese Dressing – $9.99
Chicken Flatbread
Cranberry Mustard Jam, Grilled Chicken, Sauteed Onions & Swiss Cheese – $7.99
Salads
Dressings: Ranch, Bleu Cheese, Balsamic, Oil & Vinegar
Caesar Salad – $4.99
With Crispy Chicken – $8.99
With Crispy Shrimp – $9.99
Super Salad
Cranberries, Edamame, Toasted Almonds with Citrus Vinaigrette – $7.50
Steak Salad
Mixed Greens, Marinated Beef, Diced Tomatoes, Diced Cucumbers, Bleu Cheese & Balsamic Vinaigrette – $10.50
Sandwiches
Served with your choice of Fries, Fruit, or Cole Slaw. Substitute Sweet Potato Fries (add $1.50).
Add loaded fries ($4.00)
Turkey Club Wrap
Crunchy Lettuce, Fresh Tomato and crispy Bacon, with a side of Avocado Ranch Sauce – $8.99
Crispy Chicken Sandwich
Cheddar Cheese, Bacon, Shredded Lettuce, Tomato & Pickle – $9.50
Shrimp Basket
Jumbo Breaded Shrimp, Cocktail Sauce & Lemon Wedge – $10.50
Fried Grouper Sandwich
Shredded Lettuce, Diced Tomatoes & Remoulade Sauce on a hoagie – $10.50
Asian 3 Grain Veggie Burger
Asian Slaw, House Made Pickles & Teriyaki Glaze – $9.50
Grouper Platter
Breaded grouper nuggets, Cole slaw, House-made remoulade sauce, & lemon wedges – $10.50
Steak Sandwich
Caramelized onions, Swiss cheese, & arugula- $13.99
Burgers
All Burgers served with your choice of Tater Tots, Fruit, or Cole Slaw. Substitute Sweet Potato Fries (add $1.50).
Black & Bleu
Bleu Cheese Crumbles, Bacon, Shredded Lettuce, Red Onions, Tomatoes & Pickles – $12.99
BBQ Bacon Cheddar Burger
Bacon, Lettuce, Pickles, Tomatoes, Red Onion, Cheddar Cheese & BBQ Sauce – $12.99
Picnic Burger
1/2 Pound Beef Patty, 1/4 Pound Hot Dog, American Cheese, Ketchup, Mustard, Lettuce, Tomatoes & Onion Sauce – $12.99
Classic Galaxy Burger
Lettuce, tomatoes, onions, pickles – $11.50
Add cheese – $.50 Add bacon – $.99
Kids' Menu
All kids' meals include choice of French fries or apple slices
Chicken Tenders
with Honey Mustard Sauce – $4.99
Grilled Cheese Sandwich – $4.99
Creamy Mac & Cheese – $4.99
Peanut Butter & Jelly Sandwich – $4.99
Hot Dog  – $5.99
Desserts
Rocky Road Brownie
with Walnuts, Pecans, Caramel & Whipped Cream – $4.50
Cheesecake
with Strawberry Topping – $4.50
Apple Pie – $4.50
Coca-Cola Chocolate Cake – $5.00
Rocky Road Brownie Sundae
Hot Fudge, Caramel, Whipped Cream & Cherries – $7.00
Add a scoop of Ice Cream to any Dessert – $2.00
Galaxy Bowl Restaurant Menu – Drinks
Menu Date 10/2018
Beverages
Specialty Cocktails – $10.00
Galactic Lemonade
Tito's Handmade Vodka, Lemonade, and your choice of Fresh Strawberry, Blueberry, or Raspberry
Pineapple-Coconut Mojito
Mr. Tom's Coconut Rum, Fresh Pineapple, Fresh Mint, Fresh Lime, Island Oasis Pina Colada, Pineapple Juice
Black Cherry Mojito
Cruzan Black Cherry Rum, Fresh Mint, Fresh Lime, Club Soda, Filthy Black Cherries Juice
Ginger Peach
Deep Eddy's Peach Vodka, King's Ginger Liqueur, Fresh Mint, Lime Juice, Gingerale
Kentucky Mule
Maker's Mark Bourbon, Fresh Lime Juice, Ginger Beer
Blueberry Apple
Jim Beam Apple Bourbon, Sour Apple Schnapps, Cranberry Juice, Red Bull Blue
Frozen Love Tap
Bacardi Superior Rum, Chambord, Island Oasis Pina Colada, Island Oasis Mango, Served Frozen
Cosmic Margarita
1800 Silver Tequila, Midori, Blue Curacao, Island Oasis Margarita, Served Frozen
Peach Pie Moonshine
Stillhouse Peach Tea Moonshine, Fireball, Island Oasis Peach, Club Soda, Cranberry Juice
Blueberry
St. Augustine New World Gin, Sweet Vermouth, Dry Vermouth, Sour Mix, Island Oasis Strawberry
Domestic, Import & Craft Beers
Domestics
Budweiser, Bud Light, Bud Light Lime, Miller Lite, Coors Light, Pabst Blue Ribbon, Michelob Ultra
Import and Craft Beers
Heineken, Corona, Guinness, Coney Island Hard Root Beer, Angry Orchard Crisp Ale, Orange Blossom Back in the Day IPA, Bold City Dukes Cold Nose Brown Ale, 7 Mile Bridge English Style IPA, Stella Artois
Draft Beer
Bud Light
16 oz – $6.50
24 oz – $9.00
60 oz – $19.50
Miller Lite
16 oz – $6.50
24 oz – $9.00
60 oz – $19.50
Blue Moon
16 oz – $7.00
24 oz – $9.50
60 oz – $24.50
Caribe Key Lime Cider
16 oz – $7.00
24 oz – $9.50
60 oz – $24.50
Lagunitas IPA
16 oz – $7.00
24 oz – $9.50
60 oz – $24.50
Motorworks VTwin Lager
16 oz – $7.00
24 oz – $9.50
60 oz – $24.50
Corona Light
16 oz – $7.00
24 oz – $9.50
60 oz – $24.50
Sam Adams Seasonal
16 oz – $7.00
24 oz – $9.50
60 oz – $24.50
Wine
Sauvignon Blanc
Glass – $8 | Bottle – $32
Pinot Noir
Glass – $8 | Bottle – $32
Cabernet Sauvignon
Glass – $8 | Bottle – $32
Merlot
Glass – $8 | Bottle – $32
Pinot Grigio
Glass – $8 | Bottle – $32
Beringer White Zinfandel
Glass – $8 | Bottle – $32
Relax Riesling, Mosel
Glass – $9 | Bottle – $34
Trivento Malbec, Argentina
Glass – $9 | Bottle – $34
***Galaxy Bowl Restaurant Menu Items and Prices are Subject to Change***