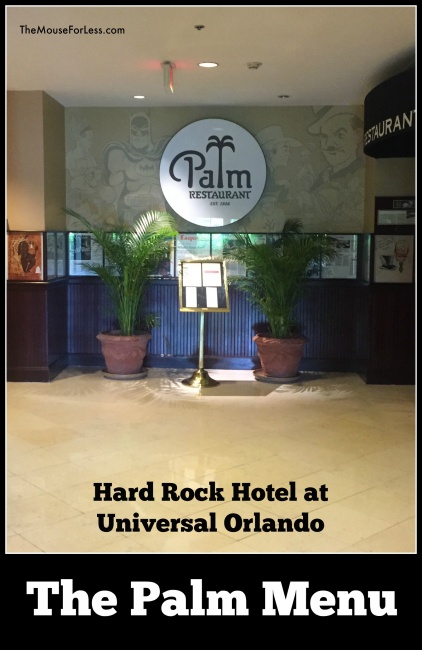 World-renowned for its prime cuts of meat and delicious Nova Scotia lobsters, along with classic American fare and Italian specialties, the Palm's legendary menu and the exceptional wine list is sure to leave you satisfied.
The Palm is located in the Hard Rock Hotel.  Find more Universal Orlando dining locations on our Universal Orlando Resort menus page.
Open daily: 5:00 pm – 11:00 pm

Planning a Universal Orlando Vacation?
For a Free no-obligation quote, contact our sponsor
The Magic For Less Travel
. Services are provided free of charge and their expert planning advice will help you make the most of your vacation time and money.
The Palm Dinner Menu
P – Classic Palm Signature Items
* – Contains Raw or Undercooked Product
Menu Date 05/2019
Appetizers
Colossal Lump Crabmeat Cocktail – $24.00
Carpaccio of Beef Tenderloin
Arugula, lemon, black pepper, olive oil, and shaved Parmigiano Reggiano – $18.00
Sesame Seared Ahi Tuna*
Sliced with seaweed salad, pickled ginger, wasabi, and soy vinaigrette – $19.50
Lobster Bisque
Fresh lobster meat, cream, and sherry – $14.00
Baked Clams Casino or Oreganata (P) – $13.50
Jumbo Lump Crab Cake
Chipotle tartar sauce – $15.00
Crispy Calamari Fritti
Point Judith calamari, cornmeal dusted and tossed with lemon and marinated peppers – $13.00
Chef's Soup of the Day – $10.00
Bacon Wrapped Scallops
With balsamic and basil reduction – $18.00
Jumbo Shrimp Cocktail (P)
With atomic horseradish – $20.00
Salads
Dressings: Olive Oil and Vinegar, Bleu Cheese, Russian, Ranch or Garlic Vinaigrette
Baby Kale Salad
Toasted pine nuts, sun-dried cranberries, and shaved Parmigiano-Reggiano – $13.00
Andy's Mixed Green Salad
Romaine, iceberg, baby greens, radish, scallions, and beefsteak tomatoes tossed in garlic vinaigrette – $12.50/ Slightly Smaller $9.50
Classic Caesar Salad – $13.00 / Slightly Smaller – $9.00
Beefsteak Tomato Capri
Sliced tomatoes, basil, and imported mozzarella di bufala – $13.50 / Slightly Smaller – $9.50
Iceberg Lettuce Wedge
Danish blue cheese, toasted walnuts, bacon, cherry tomatoes, chives, and fried onions – $13.50 / Slightly Smaller $10.00
Monday Night Salad (P)
Finely chopped romaine, iceberg, tomato, onion, roasted pepper, radish, scallion, and anchovy – $13.00
Classic Italian
Veal Marsala – $33.00
Veal Martini (P)
Shallots, mushrooms, fresh and sun dried tomatoes, white wine, marsala wine, and basil – $35.00
Veal Parmigiana – $35.00
Bone-in Colorado Veal Rib Chop Malfata
Baby arugula, shaved fennel, red onion, and imported mozzarella di bufala salad – $44.00
Linguini and Clams Sauce
Chopped clams, white wine, and basil – $25.00
Chicken Parmigiana (P) – $34.00
Steaks & Chops
The Palm proudly serves aged USDA Prime beef, corn-fed, hand-selected, and aged a minimum of 35 days. USDA Prime corn-fed beef has abundant marbling that makes the beef more tender, juicy and flavorful. We are proud to offer you these superb steaks.
All prime steaks, filets, and chops are seasoned with olive oil & kosher salt and topped with parsley butter.
Sauces: Brandy Peppercorn, Hollandaise, Bearnaise, and Chimichurri – $1.50
Classic Oscar: Jumbo lump crabmeat, asparagus, and hollandaise sauce – $12.00
Prime New York Strip
14 ounce – $48.00
Prime New York Strip
18 ounce – $52.00
Prime Double Cut New York Strip
36 ounce for 2 – 3 persons sliced tableside – $99.50
Filet Mignon
9 ounce – $49.50
Filet Mignon
12 ounce – $52.50
Prime Bone-In Rib-Eye Steak
22 ounce – $59.00
Chairman's Reserve Boneless Rib-Eye Steak
18 ounce – $49.00
Bone-In Colorado Veal Rib Chop
16 ounce – $42.00
Double Cut Colorado Lamb Rib Chops
(2) 6-ounce chops – $52.00
Seafood
The Palm is committed to the sustainability of our seafood for future generations.
The season's premium catches arrive daily, within hours of leaving the sea and may be ordered broiled, blackened, sautéed or peppercorn crusted.
Atlantic Salmon Fillet
Cherry tomato, cucumber, and mint salad  – $37.00
Pepper-Crusted Ahi Tuna Steak*
sweet teriyaki glaze and mango relish
Chilean Sea Bass
Toasted corn relish
Jumbo Lump Crab Cakes (2)
jicama slaw and Old Bay Aioli
Broiled Jumbo Nova Scotia Lobster 3 pounds (P)
3 pounds, 4 pounds based on availability – $89.00, $99.00
Create the Signature Palm Surf 'n' Turf!
Add a half lobster to any order from our Steaks & Chops menu at half the whole lobster price.
Vegetables & Potatoes
All of our sides are served Family-Style for two or more – $13.50 / Individual Portion $9.50
Creamed Spinach
Leaf Spinach
Green Beans
Pancetta, pepper flakes, and pine nuts
Brussels Sprouts
Shallots and lemon zest
Wild Mushrooms
Three Cheese Potatoes Au Gratin
Hash Brown Potatoes
Hand Cut French Fries
Tossed with parmesan, garlic, and pepper
Whipped Potatoes
Half & Half
Cottage fries and fried onions
Lobster Mac 'n' Cheese
Bacon crust ($5 up-charge)
** The Palm Restaurant Menu and Prices are Subject to Change Without Notice **