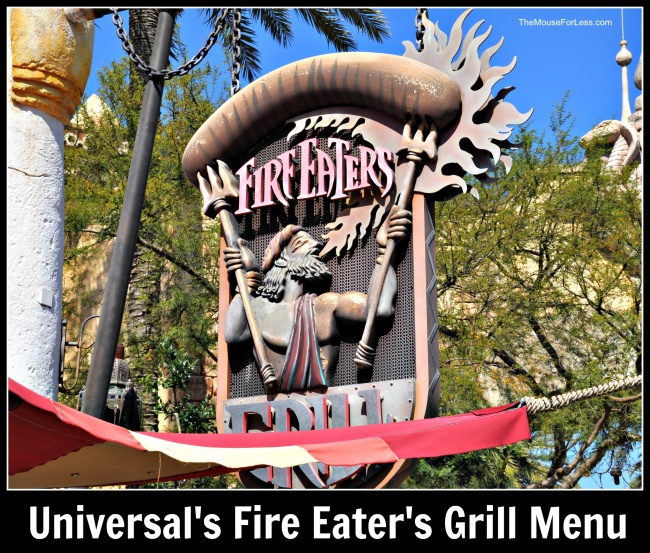 Explorers of The Lost Continent can work up a fantastic appetite and need a convenient place to rest, dine on the local fare, and quench their thirst. Located in Sinbad's Bazaar, the Fire Eater's Grill offers gyros, chicken stingers or fingers, hot dogs and salads.
Fire Eater's Grill is located in the Islands of Adventure Theme Park. Find more Universal Orlando dining locations on our Universal Orlando Resort menus page.
Open daily 11:00 am – 6:00 pm

Planning a Universal Vacation?
Fire Eater's Grill Menu
Menu Date 12/2020
Entrees
Traditional Gyro Combo
served with hummus and choice of treat – $12.79
Traditional Gyro Platter
served with hummus – $9.99
Falafel Gyro Combo
served with hummus and choice of treat – $12.79
Falafel Gyro Platter
served with hummus – $9.99
Chicken Fingers Combo
served with fries and choice of treat – $13.79
Chicken Fingers Platter
served with fries – $10.99
Chicken Stingers Combo
served with fries and choice of treat – $14.59
Chicken Stingers Platter
with hot sauce – served with fries – $11.79
Hot Dog Combo
with chili and cheese – served with fries and choice of treat – $14.79
Hot Dog Platter
with chili and cheese – served with fries – $11.99
Salads and Sides
Crispy Greens Salad
with choice of chicken or falafel and dressing – $11.49
Chili Cheese Fries – $5.99
French Fries – $3.49
Unlimited Refill Souvenir Cups
Coca-Cola freestyle Souvenir Cup
Unlimited self-serve refills on your favorite Coke products with over 100 combinations. Discounts available when purchasing multiple cups. – $16.99
Extra day of refills for Coca-Cola freestyle Souvenir Cup
Add an extra day of free refills to your previously purchased Coca-Cola freestyle Souvenir Cup – $9.99
Beverages
Fountain Soda
Coca-Cola, Coke Zero Sugar, Diet Coke, Sprite, Fanta Orange, Minute Maid Lemonade, Vitamin Water – $3.99
Minute Maid Juice
Choice of Orange or Apple – $2.89
Powerade
Choice of Fruit Punch or Mountain Berry Blast – $5.00
H2O+ Premium Water – $5.00
Hot Beverages
Coffee, Hot Tea, Hot Chocolate – $3.29
Beer
Bottled Beer
Coors Light, Heineken, Fosters – $10.00
Treats
Pita with Tzatziki – $3.59
Peanut Butter Hummus – $3.59
Edible Chocolate Chip Cookie Dough – $3.59
** Fire Eater's Grill Menu and Prices are Subject to Change Without Notice **