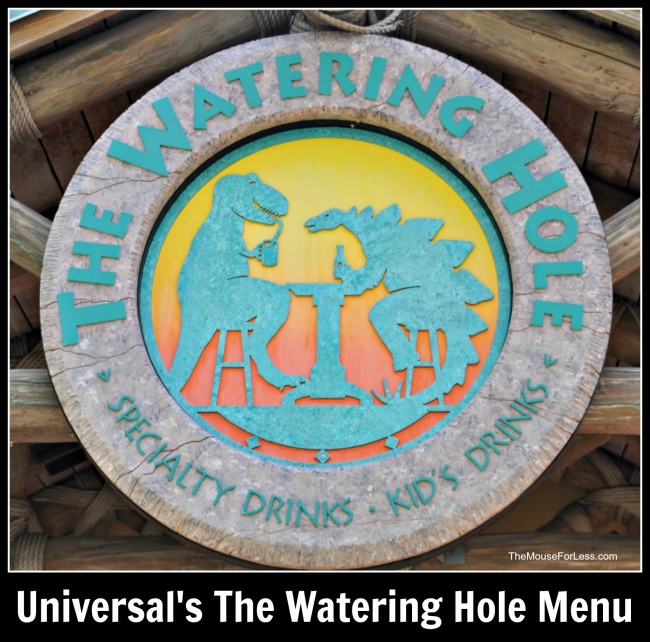 The Watering Hole is the perfect place to stop and grab an ice cold drink.  If all of your exploring has made you hungry, there are also snacks available to take the edge off your hunger.  Whatever you choose from The Watering Hole menu, take the time to enjoy it at one of the umbrella tables near the refreshment stand.
The Watering Hole is located in the Islands of Adventure Theme Park. Find more Universal Orlando dining locations on our Universal Orlando Resort menus page.
Open during park hours.

Planning a Universal Orlando Vacation?
For a Free no-obligation quote, contact our sponsor
The Magic For Less Travel
. Services are provided free of charge and their expert planning advice will help you make the most of your vacation time and money.
The Watering Hole Menu
Menu Date 03/2020
Food
Pork Pretzel Sliders – $12.99
Bavarian Pretzel – $12.49
Pulled Pork Nachos – $13.99
Loaded Nachos – $10.99
Snacks
Chips – $3.49
Draft Beer
Bud Light – $9.49
Souvenir – $11.99
Yuengling – $9.49
Souvenir – $11.99
Sam Adams Seasonal– $10.49
Souvenir – $13.49
Blue Moon – $10.49
Souvenir – $13.49
Strongbow – $10.49
Souvenir – $13.49
Corona Light – $10.49
Souvenir – $13.49
Bottled Beer
Miller Lite – $8.49
Coors Light – $8.49
Heineken – $8.99
Foster's – $9.99
Wine by the Glass
Chardonnay – $7.50
Merlot – $7.50
Ice Cold Refreshments
Fountain Soda
Coca-Cola, Coca-Cola Zero, Diet Coke, Sprite, Minute Maid Lemonade – $3.99
Coca-Cola Freestyle Souvenir Cups
Enjoy more than 100 drink choices and refills thru the day with the Coca-Cola Freestyle souvenir cup. Get 3-6 souvenir cups for $12.99 each, 2 for $15.99 each, or 1 for $16.99 at participating Coca-Cola Freestyle locations.
Extra day of refills for Freestyle Cup
Add an extra day of refills thru the day to your previously purchased Coca-Cola Freestyle Souvenir Cup – $9.99
Monster Energy Drink – $5.25
H20+ Premium  Water – $5.00
Specialty Drinks
Served in a Souvenir Pilsner
Ti Peach
Captain Morgan spiced rum, Don Q coconut rum, bitters, Cinnamon, lime juice, grenadine, peach syrup – $13.99
Predator Rocks
Coconut Rum, melon liquor, Blue Curacao, sour mix, pineapple juice – $13.99
Dinoroar
Cherry Vodka, Triple Sec, sour mix Sprite and cranberry juice – $13.99
Prehistoric Punch
Coconut Rum, Peach Schnapps, cranberry juice, pineapple juice and Sprite – $13.99
Bird of Paradise
Malibu Passion Fruit Rum, Flor De Cana Rum, bitters, passion fruit and lime juice – $13.99
Leapin' Lizard
Gold Tequila, apple pucker, melon liquor, sour mix and Sprite – $13.99
Mia Tai
Gosling's Rum, Myers Dark Rum, grenadine, orange, pineapple, and lime juice – $13.99
Frozen Specialty Drinks
Rum Runner, Pina Colada, Wild Berry Margarita, Guava, Mango Passion and Strawberry- $13.99
***Watering Hole Menu Items and Prices Subject to Change***