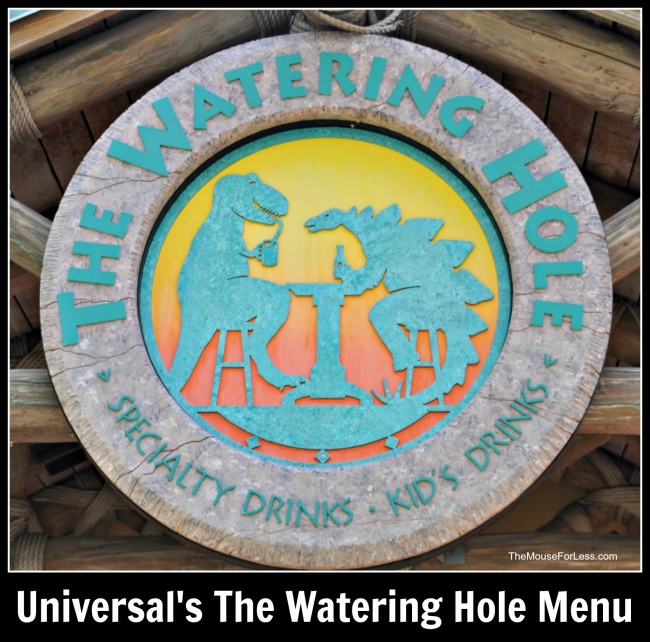 The Watering Hole is the perfect place to stop and grab an ice cold drink.  If all of your exploring has made you hungry, there are also snacks available to take the edge off your hunger.  Whatever you choose from The Watering Hole menu, take the time to enjoy it at one of the umbrella tables near the refreshment stand.
The Watering Hole is located in the Islands of Adventure Theme Park. Find more Universal Orlando dining locations on our Universal Orlando Resort menus page.
Open during park hours.

Planning a Universal Orlando Vacation?
For a Free no-obligation quote, contact our sponsor
The Magic For Less Travel
. Services are provided free of charge and their expert planning advice will help you make the most of your vacation time and money.
The Watering Hole Menu
Menu Date 06/2019
Food
Loaded Nachos with Cheese & Chili – $9.99
Snacks
Soft Pretzel with Cheese Sauce – $6.59
Chips – $3.49
Draft Beer
Bud Light – $7.99
Souvenir – $10.49
Yuengling – $7.99
Souvenir – $10.49
Sam Adams Seasonal– $8.99
Souvenir – $11.99
Blue Moon – $8.99
Souvenir – $11.99
Strongbow – $8.99
Souvenir – $11.99
Corona Light – $8.99
Souvenir – $11.99
Bottled Beer
Miller Lite – $7.99
Coors Light – $7.99
Heineken – $8.49
Foster's – $9.49
Wine by the Glass
Chardonnay – $7.00
Merlot – $7.00
Ice Cold Refreshments
Enjoy more than 100 drink choices and unlimited free refills with the Coca-Cola freestyle souvenir cup. Get 3 – 5 souvenir cups for $12.99 each, 2 for $14.99 each, or 1 for $15.99 at participating Coca-Cola freestyle locations (valid day of purchase only).
Fountain Soda
Coca-Cola, Coca-Cola Zero, Diet Coke, Sprite, Fanta Orange, Barq's Root Beer, Minute Maid Lemonade – $3.99
Monster Energy Drink – $5.25
H20+ Premium  Water – $5.00
Frozen Beverages
Rum Runner, Pina Colada, Wild Berry, Margarita, Guava, Mango Passion and Strawberry
with alcohol – $12.99
Also available in Souvenir Pilsner
***Watering Hole Menu Items and Prices Subject to Change***