Universal Orlando | Islands of Adventure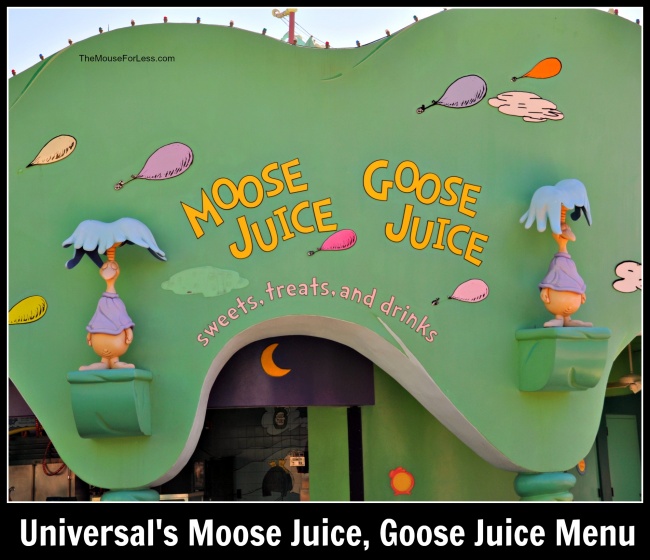 Enjoy sweets, treats and drinks from the Moose Juice, Goose Juice menu. Just like the moose and the goose in Dr. Seuss's Sleep Book, kids and adults alike can find something delicious to dream of after drifting off to sleep. Take care while relaxing with your snack, not to run into the yawning Van Vleck because yawns are contagious you know.  If you should doubt us, just ask Foona Lagoona Babona, the Collapsible Frink, the Chippendale Mupp, or any of the others Van Vleck meets through out the lands that are sleeping or preparing to sleep.
Open daily from 11:00 am – park close.
Moose Juice, Goose Juice is a Universal Dining Plan participant.
Moose Juice, Goose Juice Menu
Menu Date 04/2019
Horace P. Snacks
Dippin' Dots
Cookies n' Cream, Rainbow Ice, Cotton Candy, Banana Split, Chocolate, or Chocolate Chip Cookie Dough – $4.69
Jumbo Chocolate Chip Cookie – $2.99
Oatmeal Cookie – $2.39
Cinnamon Churro with Chocolate Sauce – $5.99
Soft Pretzel with Cheese Sauce – $6.59
Foot long Corn Dog with Chips Combo – $10.99
Whole Fruit – $1.79
Grapes – $3.99
Chips – $3.49
Moose Juice
Frozen Orange – $5.50
Goose Juice
Frozen Sour Green Apple – $5.50
Bubbulous Beverage
Enjoy more than 100 drink choices and unlimited free refills with the Coca-Cola freestyle souvenir cup. Get 3 – 6 souvenir cups for $12.99 each, 2 for $14.99 each, or 1 for $15.99 at participating Coca-Cola freestyle locations (valid day of purchase only).
Fountain Soda
Coca Cola, Coca Cola Zero Sugar, Diet Coke, Sprite, Coca Cola Cherry, Fanta Orange, Hi-C Pink Lemonade – $3.69
Icee
Available flavors include Grape, Watermelon, Wild Cherry, Coke – $5.50
Powerade
Mountain Berry Blast & Fruit Punch – $5.00
Minute Maid Bottled Lemonade – $3.99
Fuze Tea Bottled – $3.99
Honest Kids Juice
Apple or Orange Juice – $2.39
Monster Energy – $5.25
Water – $3.50
Coffee or Hot Chocolate – $3.29
***Moose Juice, Goose Juice Menu Items and Prices are Subject to Change***