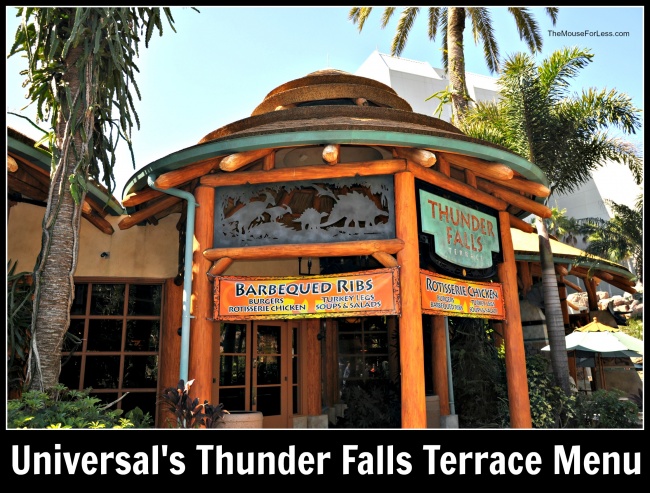 Located near Jurassic Park River Adventure, the Thunder Falls Terrace menu offers something for everyone. Herbivores in your group can eat their fill of leafy greens, carnivores can rip into ribs or turkey legs, and for the omnivores, well they can choose from the entire menu depending on their mood. While you're dining, you can watch riders on Jurassic Park River adventure and decide if you're brave enough to take your turn at getting soaked.
Thunder Falls Terrace is located in the Islands of Adventure Theme Park. Find more Universal Orlando dining locations on our Universal Orlando Resort menus page.
Open during park hours.
Thunder Falls Terrace Menu
Menu Date 10/2020
Combos and Platters
Combos served with a regular shake.
Chargrilled Ribs Combo
A generous portion of ribs with mango BBQ sauce served with roasted corn and potatoes – $21.49
Chargrilled Ribs Platter
A generous portion of ribs with mango BBQ sauce served with roasted corn and potatoes – $17.99
Chicken and Ribs Combo
Rotisserie chicken and our mango BBQ glazed ribs served with roasted corn and potatoes – $20.49
Chicken & Ribs Platter
Rotisserie chicken and our mango BBQ glazed ribs served with roasted corn and potatoes – $16.99
Smoked Turkey Leg Combo
Served with french fries – $18.49
Smoked Turkey Leg Platter
Served with french fries. – $14.99
Rotisserie Chicken Combo
Slow roasted rotisserie spiced chicken served with roasted corn and potatoes – $17.99
Rotisserie Chicken Platter
Slow roasted rotisserie spiced chicken served with roasted corn and potatoes – $13.99
Rice Bowl
Choice of mojo chicken, pork or jackfruit with black beans, cilantro rice, cotija cheese served with fried plantains and salsa – $14.99
Salads
Rotisserie Chicken Salad
Spring mix greens, dried cranberries, spicy pecans, and a citrus vinaigrette  – $11.49
Mixed Green Salad – $6.99
Sides
Seasoned French Fries – $3.49
Fresh Roasted Corn – $3.99
Herb Roasted Potatoes – $3.49
Black Beans – $1.99
White Rice with Cilantro & Lime – $1.99
Rice & Beans – $3.49
Plantain Chips – $3.49
Unlimited Refill Souvenir Cups
Coca-Cola freestyle Souvenir Cup
Enjoy more than 100 drink choices and refills thru the day with the Coca-Cola Freestyle souvenir cup. Get 3-6 souvenir cups for $12.99 each, 2 for $15.99 each, or 1 for $16.99 at participating Coca-Cola Freestyle locations – $16.99
Extra day of refills for Coca-Cola freestyle Souvenir Cup
Add an extra day of free refills to your previously purchased Coca-Cola freestyle Souvenir Cup – $9.99
Beverages
Fountain Soda
Coca-Cola, Coke Zero Sugar, Diet Coke, Sprite, Fanta Orange, Hi-C Poppin' Pink Lemonade, Gold Peak Iced Tea. – $3.99
Powerade
Fruit Punch, Mountain Berry Blast – $5.00
H20+ Premium Water – 5.00
Milk
2%, Chocolate – $3.29
Hot Drinks
Coffee, Hot Cocoa, Hot Tea – $3.29
Minute Maid Juices
Apple, Orange – $2.89
Beer
Draft Beer
Miller Lite – $9.49
Blue Moon, Stella Artois – $10.49
Souvenir Pilsner
Miller Lite – $11.99
Blue Moon, Stella Artois – $13.49
Canned Beer
Kona Longboard, Pseudo Sue Pale Ale, White Claw Black Cherry – $8.99
Wine
Chardonnay – $7.50
Merlot – $7.50
Pinot Grigio – $7.50
Desserts
Signature Key Lime Cheesecake – $5.49
Seasonal Fresh Fruit Cup – $4.29
Brookie Cake
Chocolate chip cookie filled brownie cake slice – $3.29
Chocolate Chip Jumbo Cookie – $3.29
Milkshakes
Chocolate, Vanilla
Regular – $3.99
Large – $5.99
***Thunder Falls Terrace Menu items and Pricing are Subject to Change***