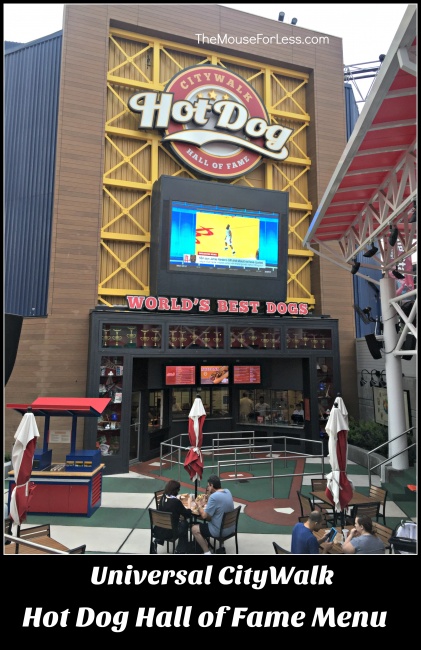 Strike out your hunger with classic hot dogs from some of the nation's most famous ballparks at the CityWalk Hot Dog Hall of Fame.  You'll feel like you're at the ball game with the stadium style seating, artificial turf, ballpark graphics, trophies, and signage.
Hot Dog Hall of Fame is located in Universal Orlando's Citywalk.  Find more Universal Orlando dining locations on our Universal Orlando Resort menus page.
Hours of Operation
Sunday – Thursday: 11:00 am – 11:00 pm
Friday – Saturday: 11:00 am – 1:00 am
Universal Dining Plan Participant

Planning a Universal Orlando Vacation?
For a Free no-obligation quote, contact our sponsor
The Magic For Less Travel
. Services are provided free of charge, and their expert planning advice will help you make the most of your vacation time and money.
Hot Dog Hall of Fame Lunch & Dinner Menu
Menu Date 02/2020
Starting Line-Up
Chicago Platter
Vienna all-beef dog, poppy-seed bun, neon relish, sport peppers, diced onions and tomatoes, celery salt. Served with fries. – $9.99
Chicago
Vienna all-beef dog, poppy-seed bun, neon relish, sport peppers, diced onions and tomatoes, celery salt. – $8.99
Colorado Platter
Nathan's Famous hot dog, grilled peppers & onions, sauerkraut. Served with fries – $9.99
Colorado
Nathan's Famous hot dog, grilled peppers & onions, sauerkraut – $8.99
Kansas City Platter
Vienna all-beef dog, pulled pork, coleslaw, pickles, barbecue sauce. Served with fries – $9.99
Kansas City
Vienna all-beef dog, pulled pork, coleslaw, pickles, barbecue sauce. – $8.99
Boston Platter
Kayem all-beef dog, toasted New England-style bun, spicy brown mustard, diced onions, relish. Served with fries – $9.99
Boston
Kayem all-beef dog, toasted New England-style bun, spicy brown mustard, diced onions, relish – $8.99
Washington Platter
Hebrew National dog, buffalo sauce, coleslaw, bleu cheese dressing, celery salt, Served with fries.  – $9.99
Washington
Hebrew National dog, buffalo sauce, coleslaw, bleu cheese dressing, celery salt  – $8.99
New York Platter
Sabrett all-beef dog, sauerkraut, mustard. served with fries – $9.99
New York
Sabrett all-beef dog, sauerkraut, mustard – $8.99
Arizona Platter
Vienna all-beef dog, smoked bacon, pinto beans, grilled peppers & onions, cheese. Served with fries – $9.99
Arizona
Vienna all-beef dog smoked bacon, pinto beans, grilled peppers & onions, cheese – $8.99
Milwaukee Platter
Bratwurst sausage, hoagie roll, grilled onions, spicy brown mustard. Served with fries. – $9.99
Milwaukee
Bratwurst sausage, hoagie roll, grilled onions, spicy brown mustard – $8.99
Detroit Platter
Koegel dog, Abbott's Coney chili, diced onions. Served with fries. – $9.99
Detroit
Koegel dog, Abbott's Coney chili, diced onions – $8.99
Italian Sausage Platter
Provolone cheese, grilled onions, and peppers. Served with fries – $9.99
Italian Sausage
Provolone cheese, grilled onions, and peppers. – $8.99
Foot Long Dog Platter
Vienna all-beef dog, foot-long bun, French fries, choice of two toppings. Served with fries – $12.99
Foot Long Dog
Vienna all-beef dog, foot-long bun, French fries, choice of two toppings – $11.99
Two Foot Dog Platter
Vienna all-beef dog, baguette, choice of two toppings. Served with fries. – $17.99
Two Foot Dog
Vienna all-beef dog, baguette, choice of two toppings – $16.99
Veggie Dog Platter
MorningStar Farms Veggie Dog with choice of two toppings. Served with fries. – $9.99
Veggie Dog
MorningStar Farms Veggie Dog with choice of two toppings. – $8.99
Gluten-Free Hot Dog Platter – $8.99
Gluten-Free Hot Dog – $6.99
Sides
Side of Fries – $2.99
Chili Cheese Fries – $5.59
Side of Coleslaw – $1.99
Roasted Peanuts – $3.49
Cracker Jacks – $3.49
Topping Selections
Additional Toppings
Additional topping prices vary
Bacon
BBQ Sauce
Beans
Blue Cheese
Cheese Sauce
Chili
Cole Slaw
Jalapenos
Neon Relish
Onions (diced or sauteed)
Pickle
Pepper (sports or sauteed)
Pulled Pork
Red Onion Sauce
Sauerkraut
Shredded Cheese
Sweet Relish
Tomato
Beverages
Fountain Beverages
Coke, Coke Zero Sugar, Diet Coke, HiC Lemonade, Barq's Root Beer, Sprite, Gold Peak Iced Tea – $3.99
H2O+ Premium Water – $5.00
Minute Maid Juice
Choice of Apple or Orange – $2.39
Powerade
Choice of Fruit Punch or Mountain Berry Blast – $5.00
Draft Beer
Budweiser, Bud Light, Miller Lite, Yuengling – $9.50
Blue Moon, Sam Adams, Angry Orchard – $10.50
** Hot Dog Hall of Fame Menu and Prices are Subject to Change Without Notice **