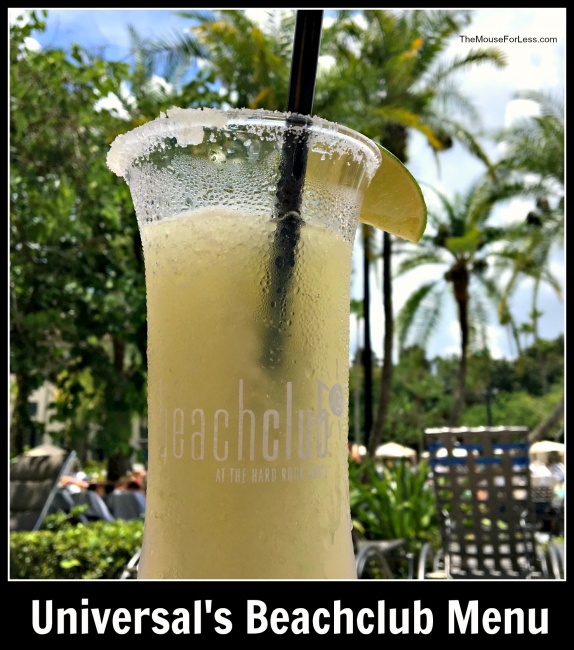 Enjoy fun in the sun like a rockstar at Beachclub! Relax on a lounger, play in the pool, or spend time in a cabana and let the servers bring food and drinks to you throughout the day.  The Beachclub menu offers a wide variety of cocktails, frozen and on the rocks, smoothies, beer, and wine, as well as snacks, sandwiches, and salads. During the day at Beachclub, you can enjoy a DJ or live bands.  At night, the entertainment at Beachclub turns to movies.
Beachclub is located in the Hard Rock Hotel.  Find more Universal Orlando dining locations on our Universal Orlando Resort menus page.
Open daily 11:00 am – 10:00 pm.
Lunch & Dinner Menu  Drink Menu

Planning a Universal Vacation?
Beachclub Menu – Lunch & Dinner
Menu Date 11/2020
Starters
Loaded Nachos
Taco Meat or Grilled Chicken, Corn Tortillas, Three Cheeses, Lettuce, Tomato, Sour Cream, Guacamole, Pico de Gallo – $25
Chicken Tenders
Buffalo, BBQ, or Honey Garlic, Fries – $15
Wings
Buffalo, BBQ, or Honey Garlic – $16
Cheese Sticks
Marinara – $10
Blue Cheese Potato Chips
Bacon, Parmesan Cream, Balsamic Glaze, Scallions – $10
Chips and Salsa
Corn Tortillas – $8
Salads
Grilled Chicken Caesar Salad
Grilled Chicken, Chopped Romaine, Garlic Croutons, Parmesan Cheese – $17
Mediterranean Salad
Spring Greens, Cucumber, Olives, Feta Cheese, Chickpeas, Oven Dried Tomatoes, Red Onion, Pita Bread, House Greek Yogurt Vinaigrette – $16
Sandwiches
Sandwiches are served with your choice of French Fries, House Salad, or Fresh Fruit
1/2 Pound Angus Burger
Fresh Black Angus Beef, Lettuce, Tomato, Red Onion on a Brioche Bun – $18
Florida Grilled Grouper
Lettuce, Tomato, Grilled Onions, Remoulade – $20
Spicy Ranch Chicken Sandwich
Bacon, White Cheddar, Grilled Onions, Lettuce, Tomato – $17
Turkey Panini
Turkey, Bacon, Tomato, Swiss Cheese, Mustard Aoli, Cibatta – $18
Hot Dog
All-Beef Hot Dog – $9
Flatbreads
BBQ Chicken Flatbread
Grilled Chicken, Cheddar and Jack, Caramelized Onions – $15
Margherita Flatbread
Fresh Mozzarella, Sliced Tomato, Tomato Sauce and Basil – $15
Beachclub Menu – Drinks
Menu Date 11/2020
Rocks
All signature cocktails are served in Hard Rock souvenir glasses.
Running Blind
Flor de Cana White Rum, Club Caribe Citrus Rum, Bols Banana Liqueur, Bols Blackberry Brandy, Fruit Juices, Splash of Don Q 151 Rum – $15
Hendrick's Experience
Hendrick's Gin, Solerno Blood Orange, Cucumber, Lime, Sour, Soda – $15
Grateful Dead
Russian Standard Vodka, Bacardi Rum, Gin, Camarena Tequila, Chambord, Sour, Sprite – $15
Beach Club Margarita
Camarena Tequila, Bols Triple Sec, Orange Juice, Sour, Solerno Blood Orange Floater Rocks or Frozen – $15
Bahama Mama
RumHaven Coconut Rum, Sailor Jerry Rum, Creme de Banana, Grenadine, Pineapple and Orange Juice – $15
Frozen Drinks
All signature cocktails are served in Hard Rock souvenir glasses
Raging Bull
Frozen Red Bull, New Amsterdam Vodka, Bols Triple Sec, Mango Island Oasis – $15
Frose
Notorious Pink Rosé Wine, Three Olives Rosé Vodka  – $15
Blue Suede Shoes
Blue Chair Bay Banana Rum, Blue Curacao, Pina Colada Island Oasis – $15
Daiquiries
Puerto Rican Rum Blended with Island Oasis
Banana • Lemonade • Mango • Peach • Pina Colada • Raspberry • Strawberry – $12
Beers
Domestic Draft
Assorted Beers – $8 – $12
Imported Draft
Assorted Beers – $9 – 13
Craft Draft
Assorted Beers – $9 – 13
Build A Bucket
Pick Six – $39
Wine
Bubbles
Assorted Wines – Glass $10-$30; Bottle $38-$295
White
Assorted Wines – Glass $10-$15; Bottle $45-$60
Red
Assorted Wines – Glass $10-$15
*** Beachclub Menu Items and Prices are Subject to Change***