Universal Orlando | Volcano Bay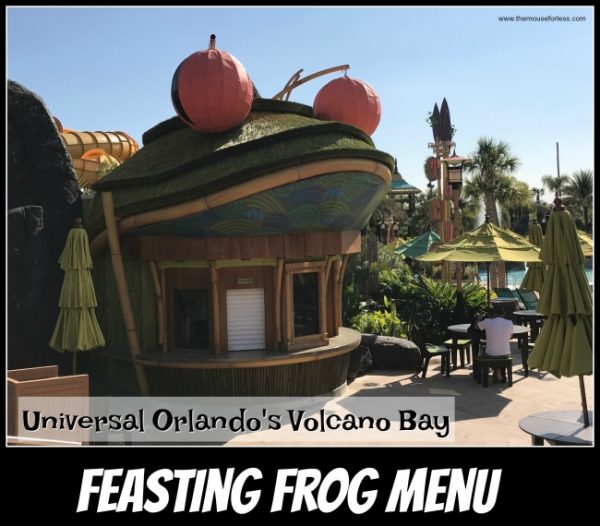 You can always find frogs near the water, but some people want nothing to do with them and run the other way.  In the case of this structure that resembles a tropical frog though, there's no reason to panic (unless you don't like tacos and nachos). If you want something a little more tropical or exotic, there's a twist on the classic guacamole and chips, offering plantain chips with guacamole. The Feasting Frog menu offers simple choices so you can eat quickly and get back to the water fun. As with the rest of Volcano Bay, if you have linked a credit card to your Universal Orlando Resort app, then you can use TapTu Pay instead of worrying about carrying cash or a credit card.
The Feasting Frog is a Universal Dining Plan participant.
The Feasting Frog Menu
Menu Date 02/2019
Tacos
Taco are served 2 per order with plantain chips and salsa – $9.99
Carne Asada Taco
Grilled skirt steak, guacamole, shredded lettuce, queso fresco, cilantro
Chicken Taco
Grilled chicken, cheddar cheese, shredded lettuce, salsa
Loaded Nachos 
topped with chili, cheese, sour cream, and jalapenos – $9.99
Poke Poke Bowl
ahi tuna tossed in a soy honey vinaigrette, with plantain chips – $12.99
Beverages
Fountain Soda
Coca-Cola, Coca-Cola Zero, Diet Coke, Sprite, Fanta Orange, Minute Maid Lemonade, Fuze Iced Tea – $3.29
***The Feasting Frog Menu Items and Prices are Subject to Change***