Universal Orlando  | Universal Studios Florida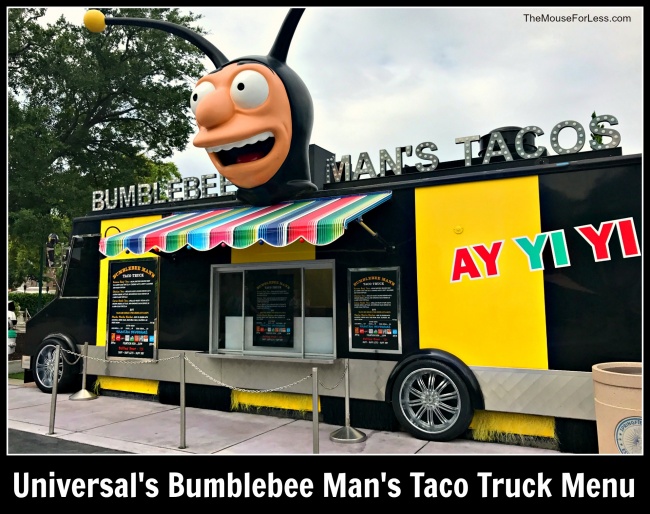 Who would have ever thought that the best Mexican food would come from a bumblebee? The star of the longest running variety show on Channel Ocho is cooking and serving food from south of the border in his spare time. Bumblebee Man's Taco Truck menu offers a variety of taco options, nachos, and even Springfield's Buzz Cola and Duff beer's.
Open daily 11:00 am – park close
Universal Dining Plan participant.
Bumblebee Man's Taco Truck Menu
Menu Date 02/2019
Tacos
Tacos are served 2 per order with chips – $9.99
Korean Beef Taco
Asian inspired braised beef in a warm corn or flour tortilla and finished with a zesty cucumber and radish topping
Chicken Taco
Grilled sliced chicken served with cheddar cheese, lettuce and homemade salsa served in a warm corn or flour tortilla
Carne Asada Taco
Grilled skirt steak with shredded lettuce, guacamole and salsa served in a warm corn or flour tortilla
Nachos
Mucho Macho Nachos
Beef or chicken with guacamole, cheese sauce, sour cream, salsa, jalapeños and green onions – $10.99
Extra Sides
Guacamole – $1.69
Salsa – $0.99
Sour Cream – $0.50
Beverages
Buzz Cola – $3.99
Fountain Soda
Coca-Cola, Coca-Cola Zero, Diet Coke, Sprite, Fanta Orange, Barq's Root Beer, Hi-C Poppin' Lemonade – $3.69
Bottled Water – $3.50
Bottled Beer
Duff, Duff Lite, Duff Dry – $7.99
***Bumblebee Man Taco Truck Menu Items and Pricing are Subject to Change***