Islands of Adventure | Marvel Super Hero Island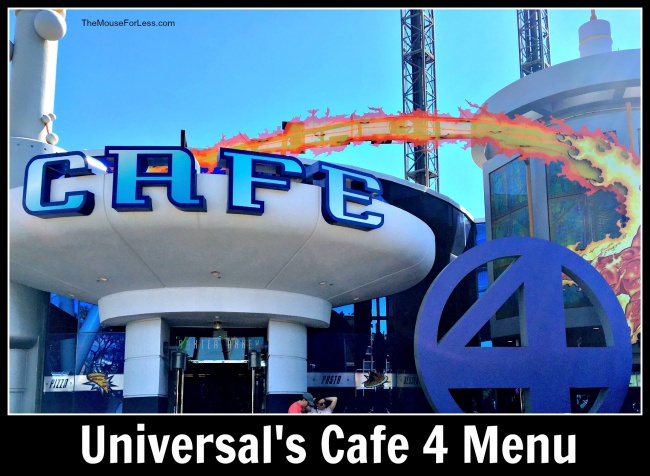 Dine like a super hero at Cafe 4 on the ground floor of the Baxter Building.  Enjoy classic Italian favorites such as pizza, spaghetti, and chicken Parmesan while taking a break from saving the world.
Restaurant Info: Italian/Lunch and Dinner
Open Daily: 11:00 am – Park Close
Universal Dining Plan Participant.
Cafe 4 Menu – Lunch & Dinner
Menu Date 8/2018
Pizza
All pizza combos are served with a side caeser salad and breadsticks.
Cheese
Jumbo Slice Combo – $13.99
Whole Pizza Pie – $34.99
Pepperoni
Jumbo Slice Combo – $14.99
Whole Pizza Pie – $37.99
Veggie
Jumbo Slice Combo – $14.99
Whole Pizza Pie – $37.99
Specialty
Jumbo Slice Combo – $14.99
Whole Pizza Pie – $37.99
BBQ Chicken
Jumbo Slice – $14.99
Whole Pizza Pie – $37.99
Entrees
Combo with Side Caesar & Breadstick
Fettuccini With Chicken Combo – $13.99
Spaghetti & Meatballs Combo – $13.29
Chicken Parmesan Combo – $14.99
Sandwiches
Combo with Side Caesar
Meatball Sub Combo – $12.79
Chicken Parmesan Sub Combo – $14.99
Salads & Sides
Chicken Caesar Salad Combo
Combo with Breadstick – $12.49
Side Caesar Salad – $4.59
Breadsticks with Marinara – $3.29
Beverages
Fountain Soda
Coca Cola, Coca Cola Zero, Diet Coke, Sprite, Minute Maid Lemonade, Gold Peak Tea – $3.29
H20 + Water – $4.50
Powerade Fruit Punch – $4.49
Powerade Mountain Berry Blast – $4.49
Minute Maid Orange Juice – $2.39
Minute Maid Apple Juice – $2.39
Fantastic Finishes
Cheesecake – $6.29
Chocolate Cake – $4.49
Fruit Cup – $4.29
Draft Beer
Budweiser – $7.99
Souvenir Pilsner – $10.49
Bud Light – $7.99
Souvenir Pilsner – $10.49
Samuel Adams Seasonal – $8.99
Souvenir Pilsner – $11.99