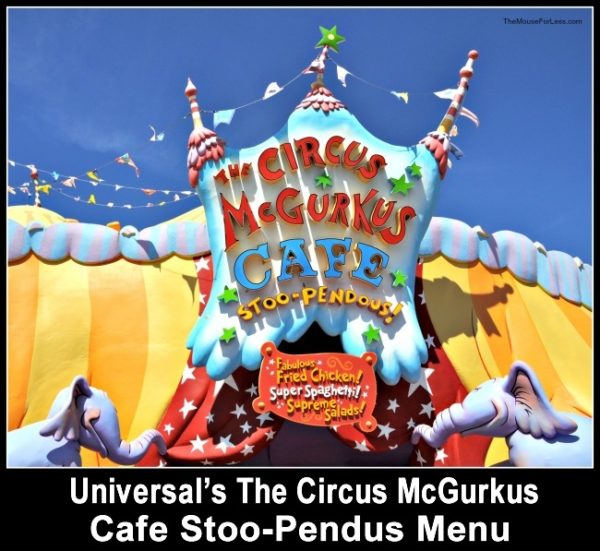 Step into the circus tent at Circus McGurkus Cafe Stoo-pendous and dine on family favorites such as pizza, spaghetti, fried chicken, and burgers.  For dessert, don't miss out on Dippin' Dots ice cream.  Select a table in the center ring or one of the train car booths and take in all the Seuss style circus acts.  While you're eating at Circus McGurkus Cafe Stoo-pendous, make sure to wave to riders on the High in the Sky Seuss Trolley Train Ride!
Circus McGurkus Cafe Stoo-pendous is located in the Islands of Adventure Theme Park. Find more Universal Orlando dining locations on our Universal Orlando Resort menus page.
Open daily during park hours.
Universal Dining Plan Participant

Planning a Universal Orlando Vacation?
For a Free no-obligation quote, contact our sponsor
The Magic For Less Travel
. Services are provided free of charge and their expert planning advice will help you make the most of your vacation time and money.
Circus McGurkus Cafe Stoo-pendous Menu
Menu Date 02/2020
Entrees
Super Spaghetti & Meatballs Combo
served with a side Caesar salad – $13.39
Super Spaghetti & Meatballs – $9.29
Bacon Cheeseburger Combo
served with fries and a slice of apple pie – $16.79
Bacon Cheeseburger Platter
served with fries – $13.99
Cheeseburger Combo
served with fries and a slice of apple pie – $15.99
Cheeseburger Platter
served with fries – $12.99
Chicken Sandwich Combo
served with fries and a slice of apple pie – $14.29
Chicken Sandwich Platter
served with fries – $11.49
Fried Chicken
Served with mashed potatoes and corn on the cob. Combos include a side Caesar salad – $12.99
Chicken Caesar Salad Combo
served with Breadstick – $12.49
Tropical Grilled Chicken Salad Combo
spring mix with cabbage, roasted almonds, dried cranberries, cucumbers, grape tomatoes with a pineapple vinaigrette, marinated chicken and breadstick – $12.49
Pizza
Combos served with a side Caesar salad
Cheese Pizza
Combo – $14.09
Jumbo Slice – $9.99
Whole Pizza Pie – $34.99
Pepperoni Pizza
Combo – $15.09
Jumbo Slice – $10.99
Whole Pizza Pie – $38.99
Meat Lovers Pizza
Combo – $16.09
Jumbo Slice – $12.99
Whole Pizza Pie – $39.99
Sides
French Fries – $3.49
Small Caesar Salad – $6.99
Side Biscuit – $1.99
Side Corn on the Cob – $3.49
Side Mashed Potatoes – $3.49
Coca-Cola Freestyle Souvenir Cups
Coca-Cola Freestyle Souvenir Cup
Enjoy more than 100 drink choices and refills thru the day with the Coca-Cola Freestyle souvenir cup. Get 3 – 6 souvenir cups for 412.99 each, 2 for $15.99 each, or 1 for $16.99 at participating Coca-Cola Freestyle locations. – $16.99
Extra day of refills for Freestyle Cup
Add an extra day of refills thru the day to your previously purchased Coca-Cola freestyle Souvenir Cup – $9.99
Bubbulous Beverages
Single Serve Coca-Cola Freestyle cup
Enjoy more than 100 drink choices with the Coca-Cola freestyle single-serve cup – $4.19
Powerade
Fruit Punch, Mountain Berry Blast – $5.00
Minute Maid Juice
Apple, Orange – $2.89
H20 + Premium Water – $5.00
Milk – $3.29
Hot Beverages
Coffee, Hot Tea, Hot Cocoa – $3.29
Dippin' Dots (Temporarily Unavailable)
Dippin' Dots
Chocolate, Cookie Dough, Cookies and Cream, Cotton Candy, Rainbow Ice – $4.69
Desserts
Apple Pie Slice – $3.29
Brownie w/o Nuts – $3.99
Brookie Cake
Chocolate chip cookie filled brownie cake slice – $4.49
***Circus McGurkus Cafe Stoo-pendous Menu & Prices are Subject to Change Without Notice***