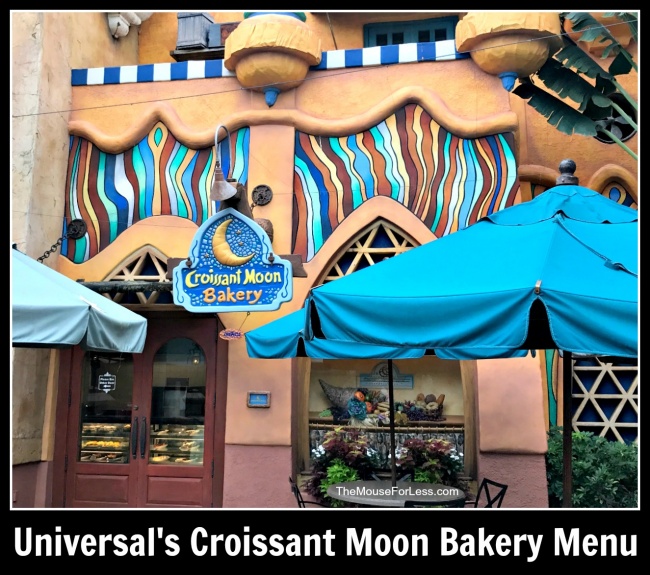 The Croissant Moon Bakery menu offers a delicious menu at any time of the day.  Begin your day at Islands of Adventure with a quick pastry or continental breakfast.  If you're in the area later, then enjoy soup, salad, or sandwiches for lunch or dinner.  Regardless of when you're there, you don't want to miss out on dessert!
Croissant Moon Bakery is located in the Islands of Adventure Theme Park. Find more Universal Orlando dining locations on our Universal Orlando Resort menus page.
Open during park hours.

Planning a Universal Vacation?
Croissant Moon Bakery Menu
Menu Date 2/2022
Sunrise Breakfast
Breakfast Served Daily until 11:00 am
Ham, Egg & Cheese Croissant
Ham, egg, and cheese on a fresh-baked croissant – $7.49
Bacon, Egg & Cheese Croissant
Bacon, egg, and cheese on a fresh-baked croissant – $7.49
Ham, Egg, & Cheese Empanada
Ham, Egg, and Cheese filled Empanada – $8.49
"On the Run" Continental Breakfast
Includes a fruit cup, danish or muffin and breakfast drink – $9.99
Passport Pastries & Baked Goods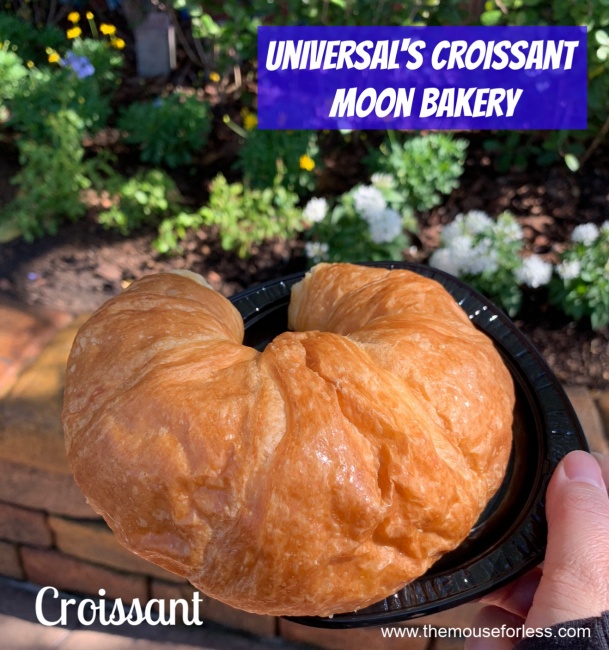 Croissants, Danishes, Etc.
choose from variety of pastries – $2.79
Fresh Muffins
assorted fresh muffins – $3.49
Cheesecake
assorted cheesecakes – $5.49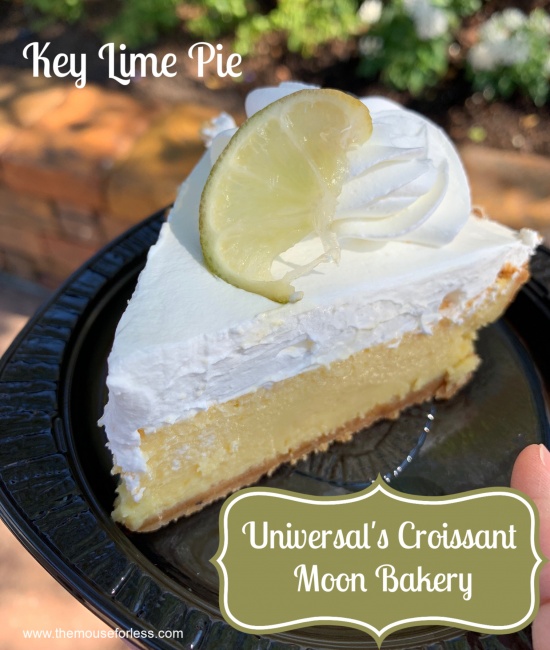 Pies and Tarts -$4.39
Cookies -$3.29
Eclairs
chocolate or vanilla – $4.49
Sides
Tradewind Fruit Cup – $4.29
Bag of Chips – $3.49
Port of Call Sandwiches
Caprese Sandwich
fresh mozzarella, vine-ripened tomatoes, sun-dried tomato pesto, and basil aioli served on warm ciabatta, served with potato salad and seasonal fruit – $12.99
Italian Sandwich
salami, spicy capicola, ham, smoked mozzarella, arugula, pickled onions, sun-dried tomato pesto, and basil aioli served on a crusty baguette, served with potato salad and seasonal fruit – $12.99
Hot Turkey Platter
shaved turkey, Gouda, bacon, and roasted tomato aioli served on warm ciabatta – $12.99
Ultimate Sandwich
turkey, ham, roast beef, Swiss cheese piled high on a French baguette topped with arugula, pickled onions, and spicy mustard, served with potato salad and seasonal fruit – $13.99
Fountain Beverages
Coca-Cola freestyle Souvenir Cup
Unlimited self-serve refills on your favorite Coke products with over 100 combinations. Discounts available when purchasing multiple cups – $16.99
Extra day of refills for Coca-Cola freestyle Souvenir Cup
add an extra day of free refills to your previously purchased Coca-Cola freestyle Souvenir Cup – $9.99
Fountain Soda
Coca-Cola, Coke Zero Sugar, Diet Coke, Sprite, Cherry Coke, Fanta Orange, Minute Maid Lemonade, Root Beer, Gold Peak Iced Tea – $3.99
Milkshakes
Milkshakes
chocolate, vanilla, strawberry or banana split – $5.99
Bottled Beverages
H20+ Premium Water – $5.00
Minute Maid Juice
choice of apple or orange – $2.89
Powerade
choice of Mountain Berry Blast or Fruit Punch – $5.50
Milk
choice of 2% or chocolate – $3.29
Coffee Beverages
Iced Coffee and Cold Brew – $4.69

Hot Coffee and Hot Cocoa
coffee, decaf, hot cocoa – $3.49
Hot Tea
choose from a variety of flavors – $3.49
Specialty Coffee
Cappuccino, espresso, latte, macchiato, Americano, mocha – $3.99
Add flavor – $0.79
pumpkin, toasted marshmallow, white chocolate mocha
Beer, Wine & More
Bottled Beer
Corona, Dogfish Head IPA, Michelob Ultra – $8.50 – $9.50
Wine & More
Assorted Wines – $7.50-$12.50
***Croissant Moon Bakery Menu Items and Prices Subject to Change***