Universal Orlando | Islands of Adventure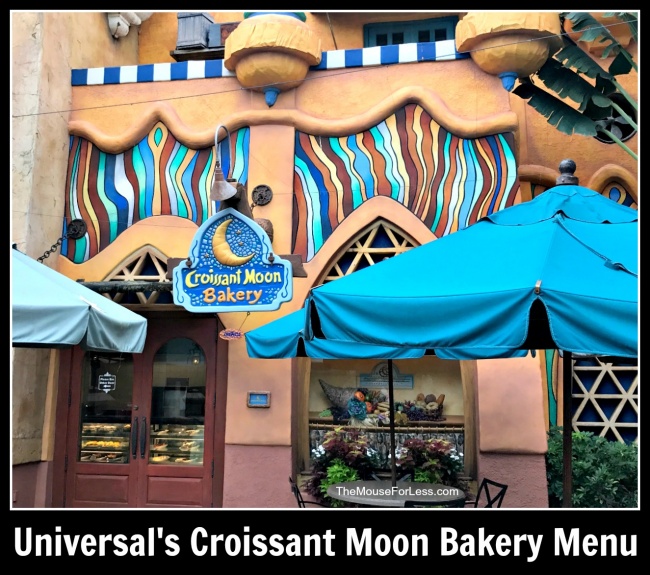 The Croissant Moon Bakery menu offers a delicious menu any time of the day.  Begin your day at Islands of Adventure with a quick pastry or continental breakfast.  If you're in the area later, then enjoy soup, salad, or sandwiches for lunch or dinner.  Regardless of when you're there, you don't want to miss out on dessert!
Open during park hours.
Universal Dining Plan Participant
Croissant Moon Bakery Menu
Menu Date 02/2019
Passport Pastries & Baked Goods
Danish – $2.99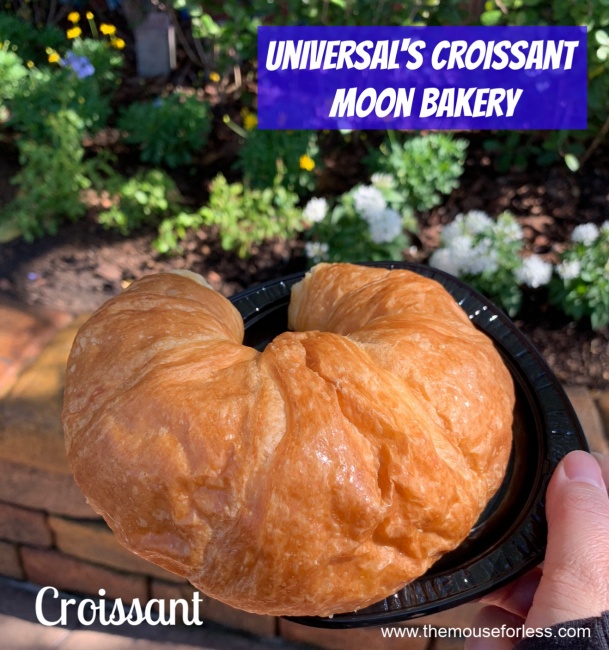 Croissant – $2.59
Cheese Croissant – $3.19
Chocolate Croissant – $3.19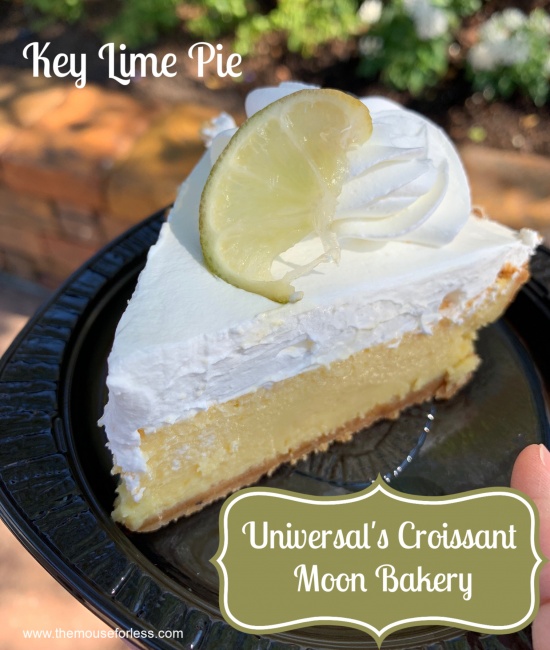 Cake and Pies – $5.49
Fresh Muffins – $2.89
Jumbo Cookies – $2.99
Soups & Sides
Today's Fresh Soup – $4.99
Caesar Salad – $4.59
Tradewind Fruit Cup – $4.29
Cereal – $2.99
Port of Call Sandwiches
Combos are served with potato salad, fresh fruit, and a muffin.
Peppered Roast Beef, Honey Glazed Ham or Smoked Turkey Combo – $12.49
Italian Paninis and Rosemary Melts Combo
Capicola, salami and ham with mozzarella – $12.49
1/2 Croissant Sandwich & Soup or Salad Combo – $12.99
"On the Run" Continental Breakfast
Includes fruit cup, danish or muffin and breakfast drink – $6.29
Drinks
Enjoy more than 100 drink choices and unlimited free refills with the Coca-Cola freestyle souvenir cup. Get 3 – 6 souvenir cups for $12.99 each, 2 for $14.99 each, or 1 for $15.99 at participating Coca-Cola freestyle locations (valid day of purchase only).
Fountain Soda
Coca-Cola, Coca-Cola Zero, Diet Coke, Sprite, Coca-Cola Cherry, Fanta Orange, Gold Peak – $3.69
Milk
2% or chocolate – $2.99
Juice
Orange, Apple – $2.39
Powerade
Mountain Berry Blast, Fruit Punch – $5.00
Perrier – $4.00
H20+ Premium Water – $5.00
Milkshakes
Chocolate, Vanilla, Strawberry & Banana Split – $3.99 – $5.99
Coffee/Iced Coffee – $3.29
Add Monin flavored syrup + $0.59
Espresso/Macchiato/Americano – $2.99
Cafe Mocha/Iced Mocha – $4.49
Cafe Latte/Iced Latte – $3.99
Cappuccino – $3.99
Hot Chocolate – $3.29
Hot Tea – $3.29
***Croissant Moon Bakery Menu Items and Prices Subject to Change***