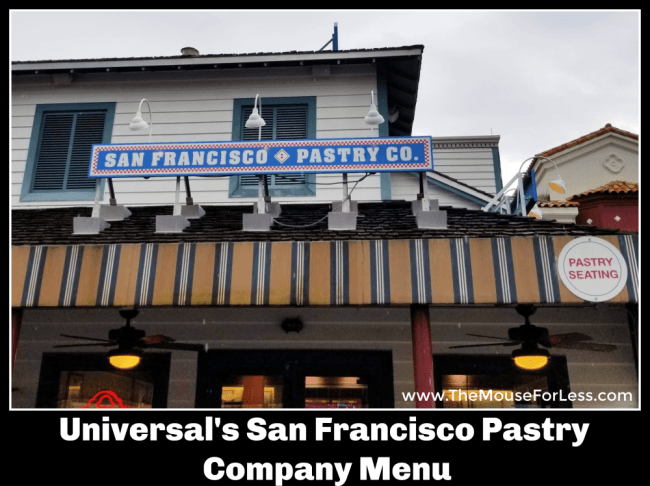 Dine next to the dock for breakfast, lunch, or a quick snack at the San Francisco Pastry Company. Step inside and you are greeted with a case of chilled pastries, cakes, and pies, as well as sweet and savory breakfast options. If you are looking for a light lunch or dinner, then this is the perfect location for you with a menu that offers a selection of sandwiches, soups, and salads. The restaurant sits on Fisherman's Wharf, making it an ideal option for relaxing at the outdoor tables while you indulge in a delightful dessert, or enjoy a meal.
San Francisco Pastry Company is located in the Universal Studios Florida theme park. Find more Universal Orlando dining locations on our Universal Orlando Resort menus page.
Hours of Operation
Early Park Admission – one hour before park close.
San Francisco Pastry Company Menu
Menu Date 11/2021
Breakfast Sandwiches
Bacon, Egg and Cheese Croissant – $7.49
Ham, Egg and Cheese Croissant – $7.49
Sandwiches
All sandwiches served with potato salad & seasonal fruit. Make it a Combo with potato salad, seasonal fruit, and your choice of soup.
Caprese
fresh mozzarella, vine-ripened tomatoes, fresh basil, sundried tomato pesto and basil aioli served on warm ciabatta – $12.99 -Combo – $16.99
Roast Beef
Shaved roast beef, arugula, pickled onions, Swiss cheese, brown mustard served on French baguette – $12.99- Combo $16.99
Veggie Press
roasted portobello, peppers, zucchini, carrots, vegan jalapeno cheese, sun-dried tomato pesto served on cranberry artisan bread – $12.99 – Combo $16.99
Hot Turkey
shaved turkey, Gouda, bacon and roasted tomato aioli served on warm ciabatta – $12.99 – Combo $16.99
Soup, Salads and Sides
Ancient Grain Salad
Arugula, cherry tomatoes, radishes, blueberries, wheat berries, cooked farro, pistachios tossed with a lemon vinaigrette – $13.99
Tomato & Mozzarella Salad
Fresh mozzarella, cherry tomatoes, fresh basil, spring mix, croutons tossed in a lemon vinaigrette – $13.99
Clam Chowder – $5.99
Fruit Cup – $4.29
Pastries
Cheesecake
plain, strawberry, blueberry, cappuccino, white & dark chocolate, caramel – $4.69
Cakes and Snacks
variety of cakes, cream horns, brookies, brownies, napoleons, tiramisu, chocolate mocha pyramids – $3.29
Croissants, Danishes, Turnovers & Muffins
variety of croissants, fruit and cheese danishes, fruit turnovers and muffins – $2.79
Pies and Tarts
apple pie, key lime pie and fruit tarts – $3.29
Cookies
chocolate chip or oatmeal raising – $2.59
Vegan Elderberry Croissants – $3.49
Beverages
Coca-Cola freestyle Souvenir Cup
Unlimited self-serve refills on your favorite Coke products with over 100 combinations. Discounts available when purchasing multiple cups – $16.99
Extra day of refills for Coca-Cola freestyle Souvenir Cup
Add an extra day of free refills to your previously purchased Coca-Cola freestyle Souvenir Cup – $9.99
Fountain Soda
Coca-Cola, Coke Zero Sugar, Sprite, Barq's Root Beer, Minute Maid Lemonade, Gold Peak Tea – $3.99
Powerade
Mountain Berry Blast, Fruit Punch – $5.50
Minute Maid Juice
Apple or Orange – $2.89
Bottled Milk
2% or chocolate – $3.29
Bottled Water
choice of H2O+ Premium or Perrier – $4.00
Coffee, Tea, Hot Cocoa
coffee, decaf, hot tea, hot cocoa – $3.29
Cappuccino, Espresso
cappuccino, espresso, lattes – $2.99
Cold Brew Coffee
cold brew or nitro cold brew – $4.29
Beer & Wine
Bottled Beer
Budweiser, Bud Light, Coors Light, Corona, Heineken – $12.50
Wine
Guenoc Chardonnay, Murphy Goode Merlot- $9.00
***San Francisco Pastry Company Menu Items and Prices are Subject to Change***