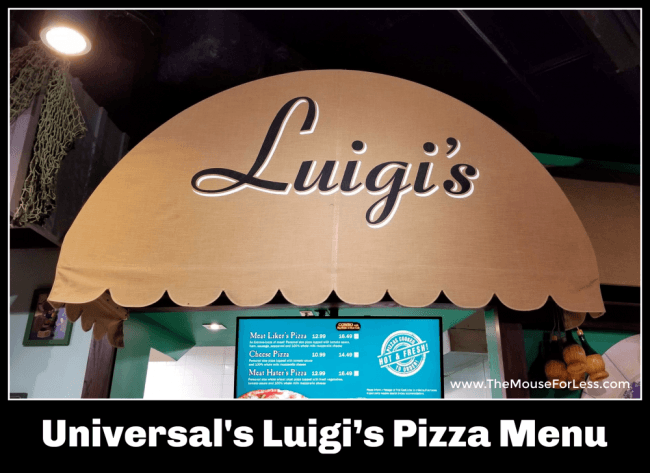 Fans of the Simpsons will recognize Springfield's finest Italian restaurant. Luigi's Pizza is a classic pizza restaurant that is rumored to be the hangout for Fat Tony and other well known Springfield criminals.  Luigi's Pizza menu offers a variety of individual pizzas allowing everyone to order their favorite kind.  Like a Springfield native, you can wash it all down with Buzz Cola.
Luigi's Pizza is located in the Universal Studios Florida theme park. Find more Universal Orlando dining locations on our Universal Orlando Resort menus page.
Universal Dining Plan participant.
Luigi's Pizza Menu
Menu Date 11/2020
Pizzas
Meat Liker's Pizza Combo
An Extrava-looza of meat! Personal size pizza topped with tomato sauce, ham, sausage, pepperoni, and 100% whole milk mozzarella cheese. Served with a regular shake – $16.49
Meat Liker's Pizza
An Extrava-looza of meat! Personal size pizza topped with tomato sauce, ham, sausage, pepperoni, and 100% whole milk mozzarella cheese. – $12.99
Cheese Pizza Combo
Personal size pizza topped with tomato sauce and 100% whole milk mozzarella cheese. Served with a regular shake – $14.49
Cheese Pizza
Personal size pizza topped with tomato sauce and 100% whole milk mozzarella cheese. – $10.99
Meat Hater's Pizza Combo
Personal size whole wheat crust pizza topped with fresh vegetables, tomato sauce and 100% whole milk mozzarella cheese. Served with a regular shake – $16.49
Meat Hater's Pizza
Personal size whole wheat crust pizza topped with fresh vegetables, tomato sauce and 100% whole milk mozzarella cheese. – $12.99
Cold Sandwiches and Salads
Caesar Salad Combo
Fresh cut romaine lettuce with parmesan cheese, homemade Caesar dressing and crunchy croutons. Served with a regular shake – $13.99
Caesar Salad
Fresh cut romaine lettuce with parmesan cheese, homemade Caesar dressing and crunchy croutons. Available as both an entrée and aside salad option – $6.99
Mediterranean Salad Combo
Marinated tuna, diced feta cheese, calamata olives, sliced red and green bell peppers and tomato wedges, served on a bed of fresh cut romaine lettuce with homemade Greek Vinaigrette dressing. Served with a regular shake. – $14.99
Mediterranean Salad
Marinated tuna, diced feta cheese, calamata olives, sliced red and green bell peppers and tomato wedges, served on a bed of fresh cut romaine lettuce with homemade Greek Vinaigrette dressing. – $11.49
Caprese Salad Combo
Vine ripe tomatoes, fresh mozzarella, served over fresh cut romaine with a balsamic vinaigrette. Served with a regular shake. – $14.99
Caprese Salad
Vine ripe tomatoes, fresh mozzarella, served over fresh cut romaine with a balsamic vinaigrette. S – $14.99
Veggie Sandwich
Guacamole, sprouts, tomatoes and roasted vegetables served on a freshly baked oat roll. – $9.79
Turkey Wrap Combo
Sliced smoked turkey, jalapeno jack cheese, lettuce and tomato in a spinach wrap served with apple chips. Served with a regular shake. – $13.49
Turkey Wrap
Sliced smoked turkey, jalapeno jack cheese, lettuce and tomato in a spinach wrap served with apple chips. – $10.49
Hummus
Homemade hummus served with assorted vegetables and pita bread. – $5.99
Fruit Plate
Fresh cut pineapple, watermelon, cantaloupe, honeydew, orange and grapefruit on top of lettuce. – $9.49
Fruit Cup
Fresh cut watermelon, cantaloupe and honeydew. – $4.29
Assorted Yogurt
Blueberry or Strawberry – $3.99
Chips
Cheddar Sunchips, Rose Gold Pretzels, Lays Potato Chips – $3.49
Fountain Beverages
Buzz Cola
Zero calorie Cherry Flavored Cola – $4.59
Fountain Soda
Coca-Cola, Coke Zero Sugar, Diet Coke, Sprite, Fanta Orange, Barq's Root Beer, HiC Lemonade, Gold Peak Iced Tea – $3.99
Milkshakes
"100% Mammal Milk" Chocolate, Vanilla or Swirled
Regular – $3.99
Large – $5.99
***Luigi's Pizza Menu Items and Pricing are Subject to Change***