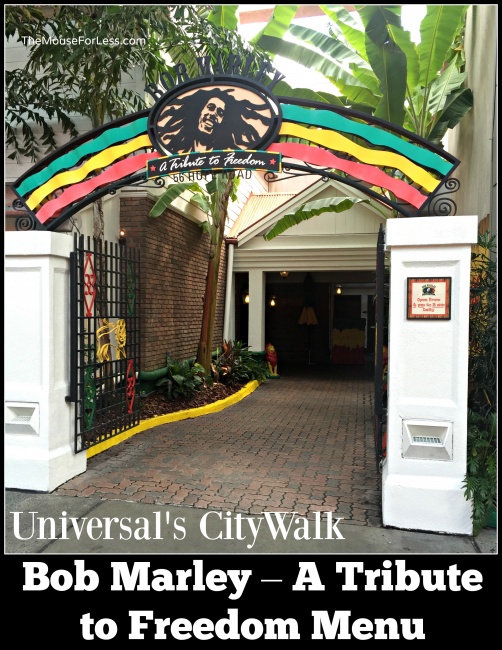 This restaurant honors the "king of Reggae." Inside, guests will find artifacts, photos, and video clips from Bob Marley's legendary career.  Bob Marley – A Tribute to Freedom Menu offerings include Jamaican inspired dishes and there's a live reggae band and a DJ in the courtyard every night.  While dining here, you'll feel like everything's irie, mon!
Dinner Menu  Kids' Menu  Drink Menu
Bob Marley – A Tribute to Freedom is located in Universal Orlando's Citywalk.  Find more Universal Orlando dining locations on our Universal Orlando Resort menus page.
Open Daily: 4:00 pm – 2:00 am
Universal Dining Plan Participant
Bar Information: Cover is $7, tax included, between 10 pm – 2 am. 21 and older after 10 pm

Planning a Universal Orlando Vacation?
For a Free no-obligation quote, contact our sponsor
The Magic For Less Travel
. Services are provided free of charge and their expert planning advice will help you make the most of your vacation time and money.
Bob Marley – A Tribute to Freedom Menu – Dinner
Menu Date 01/2020
Rita's Appetizers
Taste of Jamaica
A tour of Island flavors featuring our veggie & beef patties, jerk wings, yucca fries – $15.95
Stir it Up Fondue
White cheddar Red Stripe cheese sauce, vegetables, jerk seasoned pita chips – $9.95
Jammin' Chips and Salsa
Housemade black bean corn salsa, jerk seasoned pita & plantain chips – $6.45
Buffalo Soldier Jerk Wings
Crispy fried, tossed in our jerk sauce, celery, cucumber sauce – $13.95
Blue Mountain Jerk Chicken Dip
Housemade chicken salad, fresh vegetables, jerk seasoned pita chips – $6.95
Kaya Mon Calamari
Plantain-crusted, golden fried, zesty tomato sauce – $9.95
Soup & Salad
No Woman, No Cry Jerk Chicken Salad
Grilled jerk chicken, seasonal greens, hearts of palm, avocado, orange segments, tomatoes, citrus vinaigrette – $13.95
Trench Town Rock Pepper Pot Soup
Blend of island greens, vegetables, fresh herbs, jerk seasoned pita chips – $5.95
Jamaican Side Salad
Mixed greens, hearts of palm, tomatoes, carrots – $5.95
Scratch Kitchen Entrees
Reggae Jamaican Jerk Chicken
Half chicken, char-grilled, chopped, rice and peas, sweet plantains – $16.95
Ital Eats Stuffed Peppers
Oven roasted vegetable and rice stuffed peppers, zesty tomato sauce, seasonal vegetables, spinach – $11.95
Belly Full Beef Patties
Two house-made pastries, coco bread, yucca fries, smoky ketchup – $11.95
Natty Dread Vegetable Patties
Two housemade pastries filled with sweet potatoes, red beans, spinach, carrots, onions, coconut milk, coco bread,  yucca fries, smoky ketchup – $11.95
Catch A Fire Chicken Char-Grilled
Jerk seasoned chicken breast on coco bread, avocado, seasonal greens, tomato, jerk BBQ sauce, yucca fries – $13.95
Ackee and Saltfish
A truly traditional Jamaican dish prepared with our national fruit, ackee, salt cod fish, onions, tomatoes, bell peppers, garlic,  seasonings, braised callaloo, sweet plantains, white rice – $15.95
Oxtail Stew
Traditionally prepared, served over rice and peas, seasonal vegetables – $21.95
Manchester Beef Kabobs
Tender beef medallions, peppers, onions, cherry tomatoes, red bliss mashed potatoes, seasonal vegetables, natural sauce – $15.95
Sun is Shining Curry Chicken
Braised bone-in chicken with our Jamaican curry sauce, sweet corn, okra, white rice, seasonal vegetables, grilled pineapple – $16.95
Catch of the Sea
Curry Shrimp
Pan seared shrimp in a housemade Jamaican curry sauce, sweet corn, okra, white rice, seasonal vegetables, spinach- $16.95
Grilled Mahi-Mahi
Jerk seasoned Mahi fillet, rice and peas, seasonal vegetable, mango salsa – $18.95
Fish and Yucca
Red Stripe fried Atlantic cod, yucca fries, and pickapeppa tartar sauce – $15.95
Rock Steady Sides
Sweet Plantains – $4.95
Rice and Peas – $3.95
Coco Bread – $1.95
Red Bliss Mashed Potatoes – $2.95
Yucca Fries – $4.95
White Rice – $1.95
Desserts
Chocolate Jamaican Sensation
Guava chocolate cake, dulce de leche sauce, powdered sugar – $6.45
Is this Love
Key lime cheesecake, cocoa powder, whipped cream – $6.45
Coconut Cake
Warm coconut cake, vanilla ice cream – $6.45
Rastafarian Tings
All drinks are nonalcoholic (No refills)
Island Sodas
Jamaican Ginger Beer, Jamaican Cream soda, Kola Champagne, pineapple soda, or refreshing Ting grapefruit soda – $4.00
Tropical Juices
Your choice of refreshing papaya, mango, or guava juice – $4.00
Cool Ya Down (Frozen)
Pineapple with orange, guava, and mango juices – $5.50
Mighty Good Drink (Frozen)
A blend of pineapple, strawberry, and coconut juices – $5.50
Freedom Freeze (Frozen)
A tropical blend of pineapple, papaya, piña colada, and orange juice created to take you to the Island of Jamaica – $5.50
Bob Marley – A Tribute to Freedom Menu — Lil Legends Kids' Menu
Items for children 9 and younger
Menu Date 01/2020
Jamacaroni and Cheese
Mac and cheese, yucca fries, grapes – $6.99
Lil Reggae
Crispy chicken tenders, white rice, grapes – $6.99
Island Flavor
Beef or veggie pattie, white rice, grapes – $6.99
Bob Marley – A Tribute to Freedom Menu – Drinks
Menu Date 01/2020 
Beer – Draft
Yuengling
Carib
Bud Light
Blue Moon
Stella Artois
New Castle
Guinness
Angry Orchard
Beer – Bottles
Yuengling
Bud Light
Coors Light
Miller Lite
Carib
Mackeson
Corona
Corona Light
Fat Tire
Guinness Stout
Heineken
Imperial
Presidente
Presidente Light
Prestige
Red Stripe
Sol
Wine – Whites
Caposaido Pinot Grigio
Veneto, Italy
glass | bottle
Barone Fini Pinot Grigio
Trentino-Alto Adige, Italy
glass | bottle
Clos Du Bois Chardonnay
Geyserville, California
glass | bottle
J Lohr Bay Mist Riesling
Monterey County, California
glass | bottle
Wine – Reds
Parducci Pinot Noir
Ukiah, California
glass | bottle
Mark West Pinot Noir
Acampo, California
glass | bottle
Yellow Tail Shiraz
Yenoa, Australia
glass | bottle
Two Vines Merlot
Paterson, Washington
glass | bottle
Kenwood Cabernet Sauvignon
Sonoma, California
glass | bottle
Cocktails
Island Mai Tai
J. Wray Silver rum, Pyrat XO Reserve rum, orange curacao, orgeat syrup, simple syrup, lime juice, mint
Dark & Stormy
Gosling's Dark Seal rum, Gosling's ginger beer, lime
Uncle Wray's Rum Punch
Wray and Nephew rum, grenadine, creme de banana, amaretto, orange juice, pineapple juice
One Love
Chambord, Bacardi Limón rum, Bacardi Raspberry rum, blue curacao, mix sour, pineapple juice
Caribbean Calamity
Bacardi Black Select rum, Bacardi Coconut rum, creme de banana, pineapple juice, orange juice
Negril Tea
Bacardi Tangerine, peach schnapps, vodka, gin, triple sec, Coke, mix sour
Legendary Mojito
Bacardi Light rum, simple syrup, soda, fresh mint, lime
Kingston Colada
J. Wraw Gold rum, Bacardi Piña Colada
Jamaican Freeze
J. Wray Gold rum, Midori Melon liqueur, Bacardi Piña Colada, strawberry mix
***Bob Marley a Tribute to Freedom Menu Items and Prices are Subject to Change***