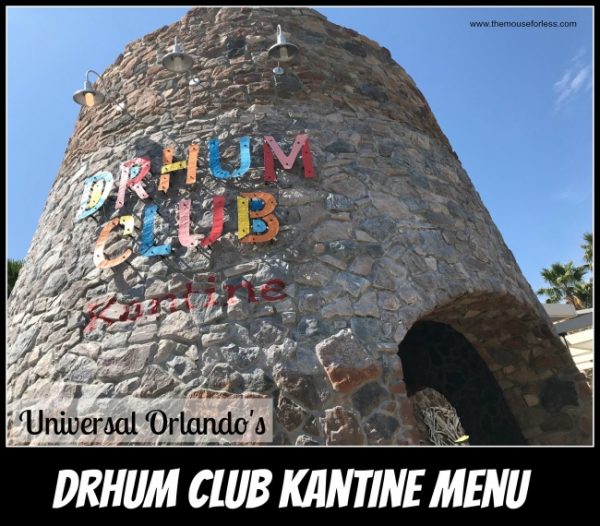 Located poolside at Loews Sapphire Falls Resort, Drhum Club Kantine menu offers tropical drinks, fresh seafood, burgers, and snacks without having to leave the sun and sand. After the sun goes down and the temperatures cool off, guests at Drhum Club Kantine can move over to the fire-pit area and keep the feeling of a tropical island at night.
Drhum Club Kantine is located in the Loews Sapphire Falls Resort. Find more Universal Orlando dining locations on our Universal Orlando Resort menus page.
Lunch & Dinner Menu Drink Menu
Open daily 11:00 am – 10:00 pm (food service to 9:00 pm).

Planning a Universal Vacation?
Drhum Club Kantine Menu – Lunch & Dinner
Menu Date 01/2020
Starters
Tampico Nachos
Black Beans, Cheddar Cheese Sauce, Sour Cream, Pico de Gallo, Guacamole – $12.00
with Fire Roasted Chicken – $14.00
with Ground Beef Picadillo – $15.00
Caribbean Wings
Jerk Spice or Buffalo Sauce, Celery and Carrots with Blue Cheese Sauce – $12.00
Caribbean Tuna Tartare
Ahi Tuna, Jalapeno, Cilantro, Ginger, Scallions, Red Pepper, Jicama-Pineapple Slaw, Fried Plantains, Avocado Creme
Salades
Chopped Caesar Salad
Focaccia Croutons, Parmesan Cheese, Caesar Dressing – $12.00
With Fire Roasted Chicken – $16.00
With Jerk Shrimp Skewer – $18.00
Tropical Fruit Plate
Mixed Melons, Pineapple, Grapes, and Assorted Berries – $12.00
with Assorted Cheeses: Marinated Queso Fresco, Smoked Gouda, Sharp Cheddar – $18.00
Baja Spiced Chicken Salad
Marinated Grilled Chicken, Romaine Lettuce, Cucumber, Red Onions, Orange Segments, Tomatoes, Crisp Tortilla, Papaya-Lemon Vinaigrette – $16.00
Local Organic Greens
Corn Salsa, Fresh Strawberries, Cilantro-Lime Vinaigrette – $11.00
With Grilled Tofu – $15.00
With Fire Roasted Chicken – $16.00
With Jerk Shrimp Skewer – $18.00
With Catch of the Day – $18.00
10 Brickoven Pizza
Cheese Pizza – $10.00
Pepperoni Pizza – $11.00
Entrees
Served with choice of ZTF French Fries, Garden Greens, or Fruit Bowl (Substitute Side Caesar – $2.00)
Grilled Jerk Shrimp Skewers
White Rice, Black Beans, Roasted Corn Salsa – $18.00
Mahi Tacos
Seared Mahi Mahi, Avocado Cilantro Slaw, Pickled Red Onion, Chipotle Crema, Flour Tortilla – $15.00
Myer's Rum Burger
Myer's Rum Glaze, Lettuce, Tomato, Seasoned Crispy Onion, Pepper-Jack Cheese, Brioche Bun, Pickle Spear – $17.00
Turkey Burger
Lettuce, Tomato, Red Onion, Swiss Cheese, Pickle Spear, Brioche Bun – $14.00
Classic Burger
American Cheese, Bacon, Lettuce, Tomato, Red Onion, Pickle Spear – $15.00
Chipotle Chicken Club
Marinated Grilled Chicken, Lettuce, Tomato, Bacon, Chipotle Aioli, Queso Fresco, Buttered White Toast – $15.00
Add Avocado – $3.00
The Beyond Burger
Plant-based burger (no soy, gluten or GMO's, 100% Vegan), Lettuce, Tomato, Seasoned Crispy Onions, Heirloom Tomato-Jalepeno Jam, Vegan Cheese, Vegan Bun – $20.00
Chipotle Chicken Tacos
Shredded Chicken, Lettuce, Guacamole, Pico de Gallo, Queso Fresco, Chipotle Crema, Flour Tortilla – $14.00
Loews Loves Kids
All Kids Meals are served with choice of ZTF French Fries, Garden Greens, or Fruit Bowl (Substitute Side Caesar – $2.00)
Curaçao Chicken Fingers – $8.00
Grilled Cheese – $8.00
Bahamas Baby Burger – $8.00
Kids Hot Dog – $8.00
Kids Cheese Quesadilla – $8.00
Kids Mac & Cheese – $8.00
Desserts
Ice Cream Cookie Sandwich – $6.00
Banana Boat Split – $6.00
Fried Coconut Cheesecake – $6.00
Assorted Ice Cream Bars – $4.00
Kids Ice Cream Bars
One Scoop – $4.00
Two Scoops – $6.00
Flavors: Vanilla, Chocolate, Strawberry
Toppings: Rainbow Sprinkles, Oreo Chunks, Chocolate Chips, Chocolate Syrup
Drhum Club Kantine Menu – Drinks
Menu Date 01/2020
Rocks and Rum
All Signature Cocktails are served in a Souvenir Glass.
15 oz. Hurricane Glass $15.00, Refills $10.00
45 oz. Super Bowl $35.00, Refills $30.00
Beer Buckets: 6 Canned Beers for $40.00 (Excludes Voo Doo Ranger IPA)
Add 6 Bacardi Lime Shots – $25.00
Summer Blossom
Ketel One Peach-Orange Blossom Vodka, Lemonade, Watermelon, Raspberry
Raspberry Mojito
Bacardi Superior Light Rum, Raspberry, Mint, Lime
Drhum Club Punch
Bacardi Superior Light Rum, Malibu Coconut Rum, Pineapple Juice, Orange Juice, Grenadine
Out Island Iced Tea
Castillo Silver Rum, Sauza Gold Tequila, Tito's Handmade Vodka, Seagrams Gin, Triple Sec, Sweet and Sour, and Coke
Rum Runner
Mount Gay Black Barrel, Creme de Banana, Blackberry Brandy, Orange Juice, Lime
Get Crushed
Orange Crush
Deep Eddy Orange Vodka, Orange Juice, Sprite
Grapefruit Crush
Deep Eddy Ruby Red Vodka, Creme de Pamplemousse, Grapefruit Juice, Sprite
Pineapple Crush
Deep Eddy Lemon Vodka, Pineapple Juice, Sprite
Margaritas
All Signature Cocktails are served in a Souvenir Glass.
15 oz. Hurricane Glass $15.00, Refills $10.00
45 oz. Super Bowl $35.00, Refills $30.00
Reggae Rita
Sauza Gold, Triple Sec and Sweet & Sour
Sapphire Margarita
Corralejo Blanco, Blue Curaçao, Sweet & Sour, Grand Marnier
Top of the Palm
Patron Silver, Cointreau, Sweet & Sour, Grand Marnier
Tito-Rita
Tito's Handmade Vodka, Cactus Pear and Pomegranate Juice, Sweet and Sour
Frozens
Creamsicle
Blue Chair Vanilla Rum, Light Rum, Piña Colada, Mango
Tropical Hurricane
Light Rum, Guava, Papaya, Mango
Iced Tea Lemonade
Deep Eddy Sweet Tea Vodka, Lemonade
Cuban Colada
Bacardi 8, Bailey's Kahlúa, Piña Colada
Beer
16 oz. can
Add a Bacardi Lime Shot – $5.00
Domestic – $8.00
Bud Light
Budweiser
Miller Lite
Coors Light
Craft/Import – $8.00
Corona
Landshark
Peroni
Fat Tire
Truly Wildberry or Truly Lime
Angry Orchard
Sam Adams New England IPA
Voodoo Ranger IPA (19oz) – $12.00
Draft Beer
16 oz – $8.00
24 oz – $15.00
32 oz – $15.00 (Refills $12.00)
Make it an Iceberg
Top it with a Frozen Margarita – $3.00
Goose Island IPA
Blue Moon
Michelob Ultra
Drhum Blonde
Yuengling
Stella Artois
Corona Light
Tropic Pressure Florida Ale
Bud Light
Wines
Invitation (By the glass)
Sauvignon Blanc, Chardonnay, Pinot Noir – $9.00
Crafters Union (By the can)
Rose, Pinot Grigio, Red Blend – $12.00
Mix It Up Smoothies
Non-Alcoholic
Strawberry-Banana, Papaya, Peach, Mango, Vanilla, Chocolate, Pineapple-Coconut, Lemonade, Cookes & Cream – $9.00
***Drhum Club Kantine Menu Items and Prices are Subject to Change***