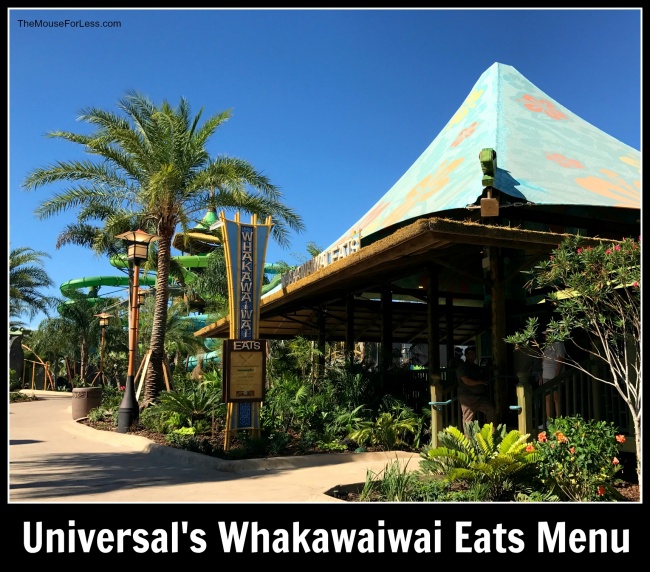 The Whakawaiwai Eats menu offers a taste of the tropics for lunch. Choose from options including a variety of pizzas, hot dogs, or macaroni and cheese.  Whakawaiwai Eats also has a selection of grab and go salads.
Whakawaiwai Eats is located in the Volcano Bay Water Park.  Find more Universal Orlando dining locations on our Universal Orlando Resort menus page.
Whakawaiwai Eats Menu
Menu Date 11/2021
Longboard Pizzas
Combos are served with an ICEE
Hawaiian Pizza Combo
caramelized pineapple, diced ham, pickled jalapenos – $16.99
Hawaiian Pizza – $12.99
Island BBQ Chicken Pizza Combo
diced chicken, mango BBQ sauce, and red onions topped with gouda cheese – $16.99
Island BBQ Chicken Pizza – $12.99
Cheese Pizza Combo – $14.99
Cheese Pizza – $10.99
Pepperoni Pizza Combo – $15.99
Pepperoni Pizza – $11.99
Veggie Pizza Combo – $16.99
Veggie Pizza – $12.99
Hot Dogs
Make it a combo with chips and an ICEE!
Pretzel Dog Combo
foot long hot dog, pineapple salsa, and bacon on a toasted pretzel bun – $16.99
Pretzel Dog Platter – $13.99
Foot Long Hot Dog Combo – $16.99
Foot Long Hot Dog Platter– $13.49
Mac & Cheese
Combos are served with an ICEE
Jerk Shrimp Mac & Cheese Combo
Pan seared shrimp tossed with pasta shells in a creamy white cheddar cheese sauce – $19.49
Jerk Shrimp Mac & Cheese – $15.99
Mac & Cheese Combo
Pasta shells in a creamy white cheddar cheese sauce – $15.49
Mac & Cheese – $11.99
Grab and Go
Island Chicken Salad
Diced chicken, apples, grapes and almonds tossed in a creamy coconut dressing – $11.49
Tropical Fruit Salad – $8.49
Tropical Baby Greens
Shaved carrots, hearts of palm, diced mango, grape tomatoes, cucumbers, tofu, black beans and toasted almonds with soy garlic vinaigrette – $9.49
Cobb Salad
Turkey, bacon, blue cheese, tomato and cucumber with avocado dressing – $11.49
Caesar Salad
Hearts of palm, crispy croutons and Parmesan with roasted garlic Caesar dressing – $9.49
Hummus and Carrot Sticks – $5.99
Coca-Cola Freestyle Souvenir Cups
Coca-Cola freestyle Souvenir Cup – $16.99
Extra day of refills for freestyle Cup – $9.99
Beverages
Single Serve Coca-Cola Freestyle Cup
Enjoy more than 100 drink choices with the Coca-Cola Freestyle single-serve cup – $4.29
Niagara Bottled Water – $3.50
Milk – $3.29
ICEE
Coca-Cola, Blue Raspberry, Watermelon – $5.50
Beer
Miller Lite, Bud Light– $9.50
Kona Big Wave , Blue Moon, Angry Orchard Hard Cider, Rod Reef Donkey, Volcano Blossom, Cigar City Jai Alai – $10.50
***Whakawaiwai Eats Menu Items and Prices are Subject to Change***