Universal Orlando | Universal Studios Florida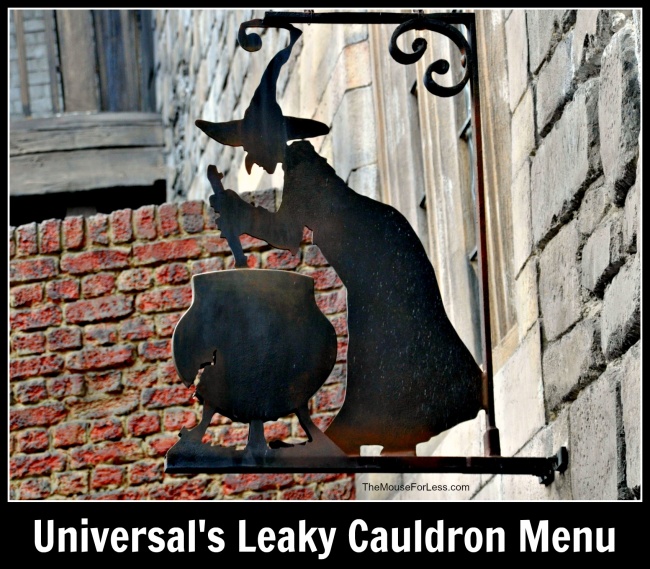 This traditional English pub offers hearty meals for breakfast, lunch, and dinner for young and old witches and wizards alike. Located in Universal Studio's Diagon Alley, this famous Harry Potter destination will transport mere Muggles directly into the wizarding world.
Open during park hours.
Universal Dining Plan Participant
Leaky Cauldron Menu – Breakfast
Menu Date 02/2019
Entrees
Includes small beverage
Traditional Breakfast
Fresh scrambled eggs, sausage links, black pudding, English bacon, baked beans, grilled tomato, sautéed mushrooms and breakfast potatoes – $16.99
Pancake Breakfast
Three fluffy buttermilk pancakes, crisp bacon and link sausage with butter croissant – $16.99
American Breakfast
Fresh scrambled eggs, breakfast potatoes, crisp bacon, and link sausage with butter croissant – $16.99
Apple Oatmeal Flan with Yogurt and Fruit
Freshly baked flan of apples and oatmeal served with yogurt and fresh seasonal fruit – $16.99
Egg, Leek & Mushroom Pastry
Pastry wrapped scrambled eggs, mushrooms and leeks served with breakfast potatoes and fresh fruit – $16.99
Kid's Breakfast
Choose traditional, pancake or American – $12.39
Beverages
Pumpkin Juice – $4.49
Hot Tea – $2.49
Fresh Brewed Coffee – $2.49
Apple Juice – $2.49
Orange Juice – $2.49
Milk – $2.69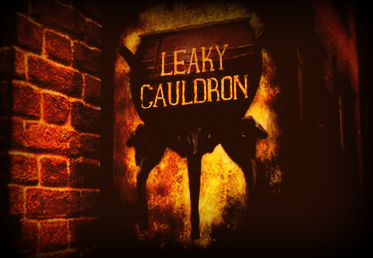 Leaky Cauldron Menu – Lunch & Dinner
Menu Date 02/2019
Entrees
Ploughman's
Serves 2 – $21.99
Fish & Chips – $15.99
Bangers & Mash – $12.99
Toad in the Hole – $10.99
Beef, Lamb & Guinness Stew – $14.99
Cottage Pie – $14.99
Fisherman's Pie – $15.99
Mini Pie Combination – $15.49
Soup & Salad – $10.49
Sandwiches
Served with wedge fries
Banger – $12.99
Specialty Chicken – $12.99
Kid's Entrees
Macaroni Cheese – $6.99
Fish & Chips – $6.99
Mini Pie – $6.99
Desserts
Sticky Toffee Pudding – $7.49
Cranachan – $6.99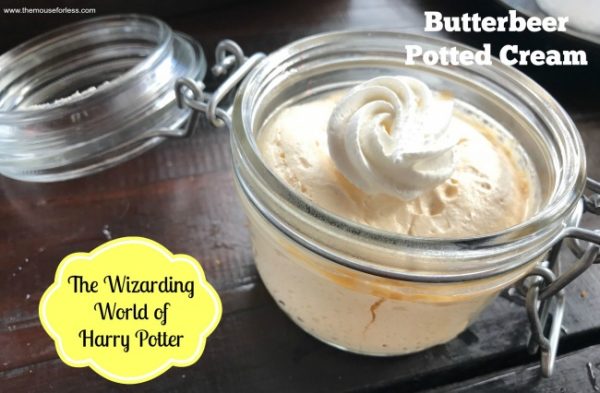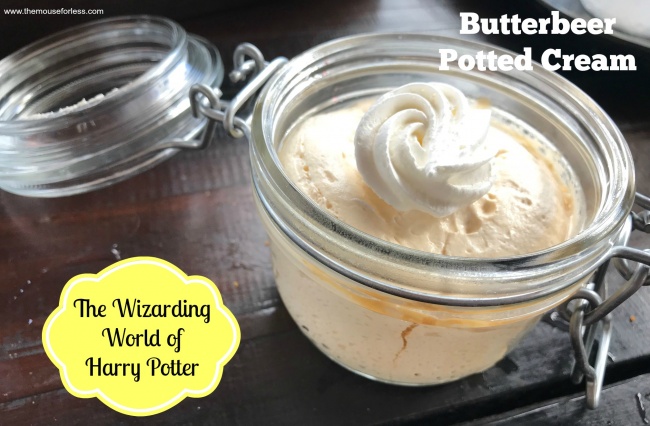 Butterbeer Potted Cream – $5.79
Chocolate Potted Cream – $4.69
Beverages
Butterbeer – $6.99
Frozen Butterbeer  – $6.99
Pumpkin Juice – $4.49
Tongue Tying Lemon Squash – $5.49
Otter's Fizzy Orange Juice – $5.49
Fishy Green Ale – $5.49
Peachtree Fizzing Tea – $5.49
Gillywater – $4.50
Draught Beer
Wizard's Brew – $8.99
Dragon Scale – $8.99
Draught Beer – $8.99
Whisky
Fire Whisky – $8.99
Wine by the Glass – $7.00
** Leaky Cauldron Menu and Prices are Subject to Change Without Notice **