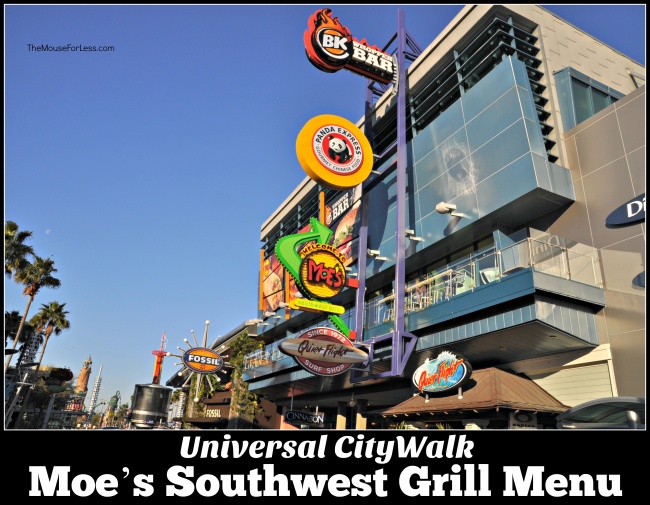 Moe's Southwest Grill Menu features burritos, tacos, quesadillas, and more prepared directly in front of you. Complete your meal with chips, salsa guacamole, and Moe's famous queso. Vegetarian options are available.
Moe's Southwest Grill is located in Universal Orlando's Citywalk.  Find more Universal Orlando dining locations on our Universal Orlando Resort menus page.
Hours of Operation
Sunday – Thursday: 10:30 am – 11:00 pm
Friday – Saturday: 10:30 am – 1:00 am

Planning a Universal Orlando Vacation?
For a Free no-obligation quote, contact our sponsor
The Magic For Less Travel
. Services are provided free of charge and their expert planning advice will help you make the most of your vacation time and money.
Moe's Southwest Grill Menu
Menu Date 4/2018
Nachos
Served with beans, pico, jalapeños and black olives.
Billy Barou (with queso)
Chicken, Tofu or Ground Beef – $8.39
Steak or Pork – $8.69
Ruprict (with queso)
Veggie – $7.79
Salads
Served with chopped romaine lettuce, beans, shredded cheese, pico, cucumbers, and black olives.
Homemade Dressings: Southwest Vinaigrette, Chipotle Ranch
Close Talker
Chicken, Tofu or Ground Beef – $8.19
Steak or Pork – $8.69
Personal Trainer
Veggie – $7.59
Tacos
Served in a soft flour or crispy corn shell with beans, shredded cheese, pico and lettuce
Overachiever Bundle (with guac)
Chicken, Tofu or Ground Beef – $7.49
Steak or Pork – $8.49
Overachiever (with guac)
Chicken, Tofu or Ground Beef – $3.99
Steak or Pork – $4.49
Unanimous Decision (with guac)
Veggie – $3.69
Burritos
Served in a flour or whole grain tortilla with rice, beans, shredded cheese and pico
Homewrecker (with guac)
Chicken, Tofu or Ground Beef – $8.79
Steak or Pork – $9.39
Art Vandelay (with guac)
Veggie – $8.19
Homewrecker, Jr (with guac)
Chicken, Tofu or Ground Beef – $7.89
Steak or Pork – $8.39
Art Vandalay, Jr (with guac)
Veggie – $7.39
Bowls
Served with seasoned rice, beans, shredded cheese and pico
Earmuffs (with guac)
Chicken, Tofu or Ground Beef – $8.79
Steak or Pork – $9.39
Band Camp (with guac)
Veggie – $8.19
Quesadillas
Served in a grilled flour or whole grain 10″ tortilla with beans and shredded cheese with a side of pico and sour cream
John Coctostan
Chicken, Tofu or Ground Beef – $8.19
Steak or Pork – $8.69
Chicken Club (BLT & chipotle ranch)
Steak or Pork – $9.49
Super Kingpin
Veggie – $7.39
Add-ons
Guac – $1.59
Queso – $1.59
Bacon – $1.29
Extra Steak or Pork – $3.09
Extra Chicken or Ground Beef – $2.59
Handcrafted Guac
Side (2 oz) – $1.59
Cup (6 oz) – $3.59
Bowl (12 oz) – $5.99
Moe's Famous Queso
Side (2 oz) – $1.59
Cup (6 oz) – $3.69
Bowl (12 oz) – $5.99
Make it a Meal
Add 21 oz drink and a side of queso or guac – $3.49
Drinks
Coca-Cola Fountain Beverage or Iced Tea – $3.29
Bottled Water – $2.99
Kids' Menu
All kids' meals come with a cookie and kid-sized drink
Mini Masterpiece
Cheese – $4.99
Moo Moo Mr. Cow
Chicken or Ground Beef – $5.99
Power Wagon
Chicken or Ground Beef – $4.99
** Moe's Southwest Grill Menu and Prices are Subject to Change Without Notice **