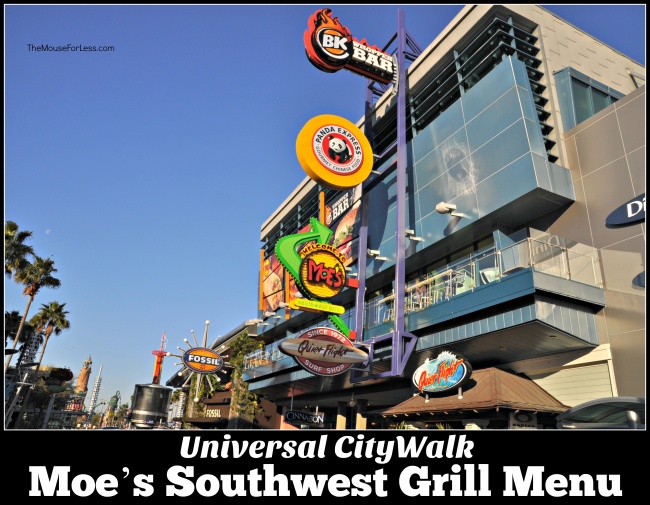 Moe's Southwest Grill Menu features burritos, tacos, quesadillas, and more prepared directly in front of you. Complete your meal with chips, salsa guacamole, and Moe's famous queso. Vegetarian options are available.
Moe's Southwest Grill is located in Universal Orlando's Citywalk.  Find more Universal Orlando dining locations on our Universal Orlando Resort menus page.
Hours of Operation
10:30am – 9:00pm
(hours subject to change)
Moe's Southwest Grill Menu
Menu Date 10/2020
Nachos
Served with beans, pico, beans and pico.
Alright, Alright, Alright
Chicken, Tofu or Ground Beef – $9:19
Steak or Pork – $9.79
Veggie – $8.69
Salads
Served with chopped romaine lettuce, beans, shredded cheese, pico, cucumbers, and black olives.
Homemade Dressings: Southwest Vinaigrette, Chipotle Ranch
Close Talker
Chicken, Tofu or Ground Beef – $8.59
Steak or Pork – $9.09
Veggie – $8.09
Tacos
Served in a soft flour or crispy corn shell with beans, with your choice of toppings
Choose Three
Chicken, Tofu or Ground Beef – $9.99
Steak – $9.99
Veggie – $9.99
Burritos
Served in a 12″ flour or whole grain tortilla or a 10″ (junior size) flour tortilla with rice, beans, shredded cheese and pico
Homewrecker (with guac)
Chicken, Tofu or Ground Beef – $9.19
Steak or Carnitas – $9.79
Veggie – $8.69
Homewrecker, Jr (with guac)
Chicken, Tofu or Ground Beef – $8.19
Steak or Pork – $8.79
Veggie – $7.69
Bowls
Served with seasoned rice, beans, shredded cheese and pico
Earmuffs (with guac)
Chicken, Tofu or Ground Beef – $9.19
Steak or Pork – $9.79
Veggie – $8.69
Quinoa Power Bowl
Served in a bowl with your choice or protein, quinoa, queso fresco, black beans, pinto beans, guac and pico – $10.29
Quesadillas
John Coctostan
Served in a grilled 10″ flour tortilla with beans, shredded cheese, pico and sour cream
Chicken, Tofu or Ground Beef – $8.39
Steak or Pork – $8.89
Veggie – $7.79
First rule of Chicken Club
Served in a grilled 10″ flour tortilla with shredded cheese, bacon, lettuce, tomato and chipolte – $9.49
Add-ons
Guac – $1.99
Queso – $1.99
Bacon – $1.29
Extra Meat – $3.09
Handcrafted Guac
Cup (6 oz) – $4.49
Bowl (12 oz) – $6.49
Moe's Famous Queso
Cup (6 oz) – $4.49
Bowl (12 oz) – $6.49
Drinks
Coca-Cola Fountain Beverage or Iced Tea – $3.99
Bottled Water – $5.00
** Moe's Southwest Grill Menu and Prices are Subject to Change Without Notice **