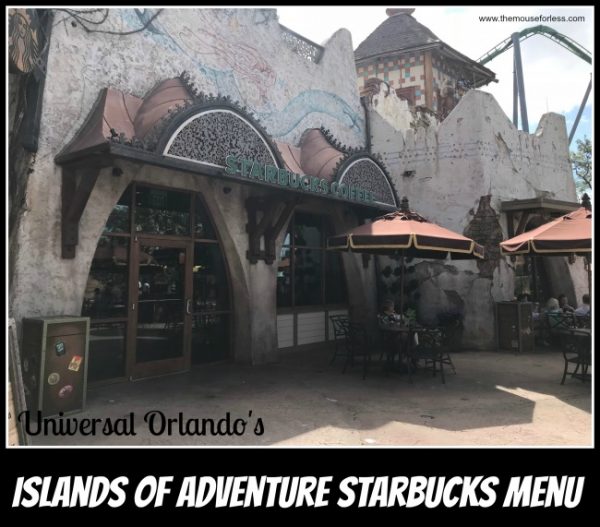 As you enter Islands of Adventure, you can jump-start your day with your favorite Starbucks beverage. Like all Starbucks locations, the Islands of Adventure Starbucks menu also includes a delicious assortment of pastries and sandwiches.
Islands of Adventure Starbucks is located in the Islands of Adventure Theme Park. Find more Universal Orlando dining locations on our Universal Orlando Resort menus page.
Open daily, hours vary
Universal Dining Plan Participant

Planning a Universal Vacation?
Islands of Adventure Starbucks Menu
Menu Date 01/2020
Teavana Handcrafted Iced Tea
Shaken Iced Tea
Caffeine-Free Passion Tango Herbal, Black or Green
tall 12 fl oz – $2.69
grande 16 fl oz – $3.29
venti 20/24 fl oz – $3.49
Shaken Iced Tea Lemonade
tall 12 fl oz – $3.79
grande 16 fl oz – $4.29
venti 20/24 fl oz – $4.49
Mango Black Tea Lemonade
tall 12 fl oz – $3.99
grande 16 fl oz – $4.49
venti 20/24 fl oz – $4.79
Peach Green Tea Lemonade
tall 12 fl oz – $3.99
grande 16 fl oz – $4.49
venti 20/24 fl oz – $4.79
Iced Chai Latte
tall 12 fl oz – $4.29
grande 16 fl oz – $4.69
venti 20/24 fl oz – $4.99
Iced Green Tea Latte
tall 12 fl oz – $4.29
grande 16 fl oz – $4.69
venti 20/24 fl oz – $5.19
Teavana – Handcrafted Hot Tea
Chai Tea Latte
tall 12 fl oz – $4.29
grande 16 fl oz – $4.69
venti 20/24 fl oz – $4.99
Green Tea Latte
tall 12 fl oz – $4.29
grande 16 fl oz – $4.69
venti 20/24 fl oz – $4.99
London Fog Tea Latte
tall 12 fl oz – $4.29
grande 16 fl oz – $4.69
venti 20/24 fl oz – $4.99
Full Leaf Brewed Tea
Royal English Breakfast, Emperor's Clouds & Mist or Mint Majesty
tall 12 fl oz – $2.49
grande 16 fl oz – $2.99
venti 20/24 fl oz – $3.29
Teavana Full-Leaf Brewed Tea
Black Tea
Including Royal English Breakfast
tall 12 fl oz – $2.49
grande 16 fl oz – $2.99
venti 20/24 fl oz – $3.29
Green Tea
Including Emperor's Clouds & Mist
tall 12 fl oz – $2.49
grande 16 fl oz – $2.99
venti 20/24 fl oz – $3.29
White Tea
Including Youthberry White Tea
tall 12 fl oz – $2.49
grande 16 fl oz – $2.99
venti 20/24 fl oz – $3.29
Caffeine-Free Herbal Tea
Including Mint Majesty
tall 12 fl oz – $2.49
grande 16 fl oz – $2.99
venti 20/24 fl oz – $3.29
Coffee
Freshly Brewed Coffee
tall 12 fl oz – $2.29
grande 16 fl oz – $2.79
venti 20/24 fl oz – $2.99
Narino 70 Cold Brew
tall 12 fl oz – $3.69
grande 16 fl oz – $4.29
venti 20/24 fl oz – $4.69
Vanilla Sweet Cream Cold Brew
tall 12 fl oz – $4.29
grande 16 fl oz – $4.79
venti 20/24 fl oz – $4.99
Iced Coffee
Vanilla or Caramel
tall 12 fl oz – $3.29
grande 16 fl oz – $3.49
venti 20/24 fl oz – $3.99
Hot Chocolate
tall 12 fl oz – $3.29
grande 16 fl oz – $3.69
venti 20/24 fl oz – $3.99
Espresso & Cold Brew
Try it with Almondmilk – $0.75
Cascara Latte
tall 12 fl oz – $4.79
grande 16 fl oz – $5.29
venti 20/24 fl oz – $5.79
Smoked Butterscotch Latte
tall 12 fl oz – $4.79
grande 16 fl oz – $5.29
venti 20/24 fl oz – $5.79
Latte Macchiato
tall 12 fl oz – $4.79
Flat White
tall 12 fl oz – $4.79
Cappucino
tall 12 fl oz – $3.99
grande 16 fl oz – $4.29
venti 20/24 fl oz – $4.79
Caffe Latte
tall 12 fl oz – $3.99
grande 16 fl oz – $4.29
venti 20/24 fl oz – $4.79
Caramel Macchiato
tall 12 fl oz – $4.79
grande 16 fl oz – $5.29
venti 20/24 fl oz – $5.79
White Chocolate Mocha
tall 12 fl oz – $4.79
grande 16 fl oz – $5.29
venti 20/24 fl oz – $5.99
Caffe Mocha
tall 12 fl oz – $4.29
grande 16 fl oz – $4.79
venti 20/24 fl oz – $5.29
Caffe Americano
tall 12 fl oz – $2.99
grande 16 fl oz – $3.29
venti 20/24 fl oz – $3.49
Freshly Brewed Coffee
tall 12 fl oz – $2.29
grande 16 fl oz – $2.79
venti 20/24 fl oz – $2.99
Narino 70 Cold Brew
tall 12 fl oz – $3.69
grande 16 fl oz – $4.29
venti 20/24 fl oz – $4.69
Vanilla Sweet Cream Cold Brew
tall 12 fl oz – $4.29
grande 16 fl oz – $4.79
venti 20/24 fl oz – $4.99
Iced Coffee
Vanilla or Caramel
tall 12 fl oz – $3.29
grande 16 fl oz – $3.49
venti 20/24 fl oz – $3.99
Hot Chocolate
tall 12 fl oz – $3.29
grande 16 fl oz – $3.69
venti 20/24 fl oz – $3.99
Frappucino – Blended Beverages
Affogato-Style – Top it with a shot of espresso. +$0.99
Smoked Butterscotch
tall 12 fl oz – $4.99
grande 16 fl oz – $5.49
venti 20/24 fl oz – $5.99
Caramel
tall 12 fl oz – $4.99
grande 16 fl oz – $5.49
venti 20/24 fl oz – $5.79
Mocha
tall 12 fl oz – $4.99
grande 16 fl oz – $5.49
venti 20/24 fl oz – $5.79
Java Chip
tall 12 fl oz – $4.99
grande 16 fl oz – $5.49
venti 20/24 fl oz – $5.79
Coffee
tall 12 fl oz – $4.49
grande 16 fl oz – $4.99
venti 20/24 fl oz – $5.49
Vanilla Bean Creme
tall 12 fl oz – $4.49
grande 16 fl oz – $4.99
venti 20/24 fl oz – $5.49
Double Chocolaty Chip
tall 12 fl oz – $4.99
grande 16 fl oz – $5.49
venti 20/24 fl oz – $5.79
Strawberries and Creme
tall 12 fl oz – $4.99
grande 16 fl oz – $5.49
venti 20/24 fl oz – $5.79
Smoothies – Blended with a banana or whey protein (contains dairy)
Strawberry or Chocolate – $4.99
Starbucks Refreshers – Iced Beverages (contains caffeine)
Strawberry Acai
tall 12 fl oz – $3.99
grande 16 fl oz – $4.49
venti 20/24 fl oz – $4.99
trenta 30 fl oz – $5.29
Very Berry Hibiscus
tall 12 fl oz – $3.99
grande 16 fl oz – $4.49
venti 20/24 fl oz – $4.99
trenta 30 fl oz – $5.29
***Islands of Adventure Starbucks Menu Items and Prices are Subject to Change***