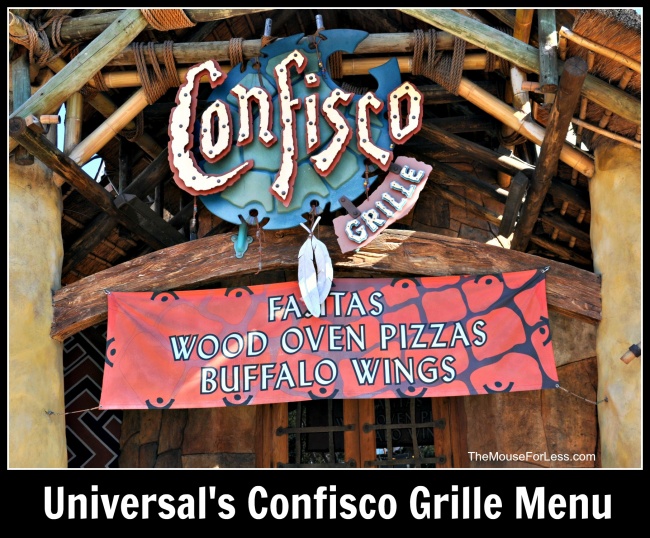 As explorers, merchants, adventurers and travelers from around the globe pass through Universal's Islands of Adventure's Port of Entry they not only bring with them strange and unusual items – frequently confiscated and put on display by the local authorities – but also delightful and exotic dishes which you'll find on the menu at Confisco Grille. Adjacent to Confisco Grille is the Backwater Bar, a tropical dive where you can enjoy cocktails and appetizers while you trade tales of your day's adventures.
Confisco Grille is located in the Islands of Adventure Theme Park. Find more Universal Orlando dining locations on our Universal Orlando Resort menus page.
Open Daily for Lunch and Dinner

Planning a Universal Vacation?
Confisco Grille Lunch and Dinner Menu
Menu Date 10/2022
Appetizers
Ahi Tuna Nachos
Sesame seared ahi tuna, diced avocado, edamame, Napa cabbage, wonton chips, jalapeño, micro cilantro, scallions, sweet soy and wasabi aioli drizzles – $14.95
Trader Wings(GF)
Your choice of traditional style wings with hot honey, buffalo, or garlic parmesan sauce – $13.95
Tandoori Chicken Lettuce Wraps
Grilled Tandoori chicken, bibb lettuce, pickled cucumber, carrots, radicchio, soba noodles, crushed peanuts with ponzu and chili dipping sauces – $13.00
Chicken Quesadilla
Grilled chicken, cheddar-jack cheese in a flour tortilla, served with tomato salsa, sour cream, house made guacamole – $12.95
Loaded Nachos
Crisp tortillas with beef and bean chili, cheddar cheese sauce, tomato red onion salsa, shaved jalapeño, cilantro lime crema, house made guacamole – $11.95
Chicken Lettuce Wraps
Ginger-soy marinated chicken, bibb lettuce, pickled daikon and carrots, cucumber, radicchio, bean sprouts, cellophane noodles, crushed peanuts, cilantro  – $13.95
Spinach and Artichoke Dip
Wood-oven roasted artichokes and spinach, savory cheeses, warm tortilla chips – $10.95
Pumpkin Hummus (VG)
Savory pumpkin hummus, toasted pepitas, pomegranate seeds, smoked paprika and chia seeds with charred pita and herbed lavosh crackers  – $10.95
Soups & Salads
Heart of Romaine Caesar
Crispy romaine hearts, Caesar dressing, toasted bread crouton, Parmesan cheese
Grilled Chicken – $16.95
Shrimp – $19.95
Salmon – $20.95
Southwest Salad
Romaine, tomatoes, cucumbers, red onions, fire roasted corn, crunchy tortilla strips, queso fresco, chipotle ranch dressing
Grilled Chicken – $15.95
Shrimp – $18.95
Salmon – $19.95
Classic French Onion Soup
Sautéed onion in beef broth, baked with a parmesan crouton and topped with Swiss cheese – $8.95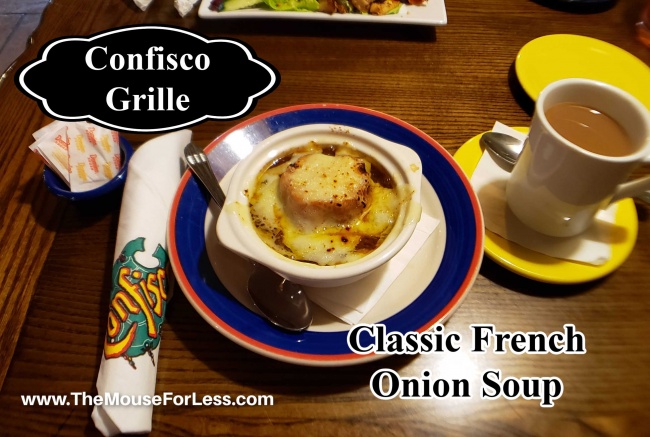 Entrees
Add a side salad to any entree for $5
Udon Noodle Bowl – $19.95
Ginger miso udon noodles, shredded carrots, shiitake mushrooms, grilled baby bok choy, bean sprouts, hard boiled egg
Tofu 19.95 | Chicken 24.95 | Pork Belly 25.95 | Shrimp 25.95
Sweet and Sour Sticky Ribs
Philippine inspired smoked pork ribs tossed in a sweet and sour sauce, Boursin cheese polenta, sesame seeds and green onions  – $20.95
Penne a la Vodka
Grilled Italian sausage, Kalamata olives, blistered cherry tomatoes, crispy pepperoncini tossed in a light tomato, vodka cream sauce – $18.95
Brick Oven Half Chicken
Citrus and herb brined roasted chicken, orzo pasta, tossed with heirloom tomatoes, roasted peppers, arugula and feta, wilted rapini, lemon vinaigrette – $18.95
Pad Thai
Rice noodles, mixed vegetables, bean sprouts, chicken and shrimp tossed in our house made peanut sauce – $22.95
request vegan alternative with crispy tofu and vegan peanut sauce  -18.95
Chilled Tuna Noodle Bowl
Sesame seared yellowfin tuna, soba noodles, avocado, red radish, edamame, cucumber, micro cilantro, wasabi-ponzu dressing – $19.95
Harvest Grain Bowl
Farro and wild rice, fresh cucumbers, arugula, cranberries, caramelized butternut squash, avocado, pomegranate seeds, radish, balsamic vinaigrette – Tofu 18.95 | Chicken 23.95  | Salmon* 27.95
Butternut Squash Ravioli 
Caramelized squash, oyster mushrooms and Swiss chard and toasted pecans, tossed in a citrus brown butter – $18.95
Handhelds
served with French fries
Pork Belly Banh-Mi Sandwich
Roasted pork belly, pickled carrots and daikon radish, cucumber, cilantro, mint, chili aioli on a soft roll – $18.95
Hearthstone Baked Chicken Sandwich
Mozzarella cheese, Roma tomatoes, leaf lettuce, basil aioli, aged balsamic, and focaccia baked in the wood oven – $15.95
Chipotle Chicken Wrap
Grilled chicken, romaine, cheddar-jack cheese, roasted corn, salsa, chipotle sour cream – $15.95
The Confisco BLTA
Braised pork belly, lettuce, crispy fried green tomatoes, avocado, chipotle mayonnaise, toasted rosemary focaccia – $18.95
Non-Alcoholic Drinks
Fountain Soda
Coke, Diet Coke, Coke Zero, Cherry Coke, Sprite, Root Beer, Ginger Ale,  Pibb Xtra, Lemonade, Fanta Orange – $4.49
Iced Tea
Sweet, Unsweetened – $4.49
Hot Tea – $3.95
Hot Coffee
Regular, Decaf – $2.79
Cafe Latte – $3.99
Cappuccino – $3.99
Espresso – $2.99
Bottled Water – $5.50
Juice
Orange, Apple, Cranberry, Pineapple, Grapefruit – $3.99
Milk
2% or 1% Chocolate – $3.99
Hot Cocoa – $3.95
Kids' Menu
Entrees

For children 9 and under
Penne Pasta
Zesty marinara sauce served over fresh penne pasta – $7.95
Grilled Cheese
White bread with American cheese served with your choice of oranges, fries, or applesauce – $7.95
Mac & Cheese
Creamy cheddar mac & cheese with your choice of fries, oranges or applesauce – $7.95
Confisco's Burger
Grilled and served on a sesame seed bun with your choice of fries, oranges or applesauce – $7.95
Chicken Fingers
Tender chicken fingers lightly breaded and fried with your choice of fries, oranges or applesauce – $7.95
Desserts
Make Your Own Sundae
Choice of chocolate or vanilla ice cream served with chocolate syrup, sprinkles, whipped cream and a cherry – $3.95
Milkshakes
Vanilla, Strawberry, Chocolate, Banana, Cookies & Cream or Banana Split. Served with whipped cream and a cherry – $4.50
Fruit Slush
Strawberry, Coconut Pineapple, Banana, Mango, Lime or Lemonade – $3.99
Drinks
Fountain Soda
Coke, Diet Coke, Cherry Coke, Sprite,  Lemonade – $3.19
Juice
Orange, Apple, Cranberry, Pineapple, Grapefruit – $3.19
Milk
2% White or 1% Chocolate
Drink Menu
Specialty Drinks
Ocean Trader
Plantation pineapple rum, blue curaçao, lime juice, Coco Lopez, pineapple juice – $14.50
Lost Explorer
New Amsterdam gin, Velvet Falernum, lime juice,  lemonade, Sprite – $14.00
The Raptor Claw – AP Exclusive
White Claw black cherry, Bols blue curaçao, pineapple juice, garnished with a cherry and mint – $14.00
Islander
Malibu Coconut rum, Créme de Banana, Peach Schnapps, pineapple juice, raspberries – $14.50
Jalapeno Margarita
Patrón Tequila, Gran Gala liqueur, house made jalapeño lime juice mix – $15.50
Watermelon Lemonade
Deep Eddy Lemon vodka, DeKuyper Pucker watermelon, lemonade, Sprite – $14.50
Confisco's Margarita
El Jimador Blanco tequila, Cointreau, Gran Gala liqueur, lime, agave – $14.50
Adventurer's Mule
Pitú Cachaca, passion fruit puree, sour mix – $13.50
Sangria by the Glass
Burgundy, apricot & cherry brandy, apple, cranberry and orange juice – $10.00
Mornings in Bali
Singani 63, Taylor's Velvet Falerum, lemongrass syrup, lime juice – $14.00
Beer
Assorted Bottled and Draft – $8.50-$12.00
Wine
Assorted Sparking, White, and Red – glass $9.00-$12.00; $34.00-$45.00 bottle
GF- can be prepared Gluten Free V- can be prepared Vegan
** Confisco Grille Menu and Prices are Subject to Change Without Notice **