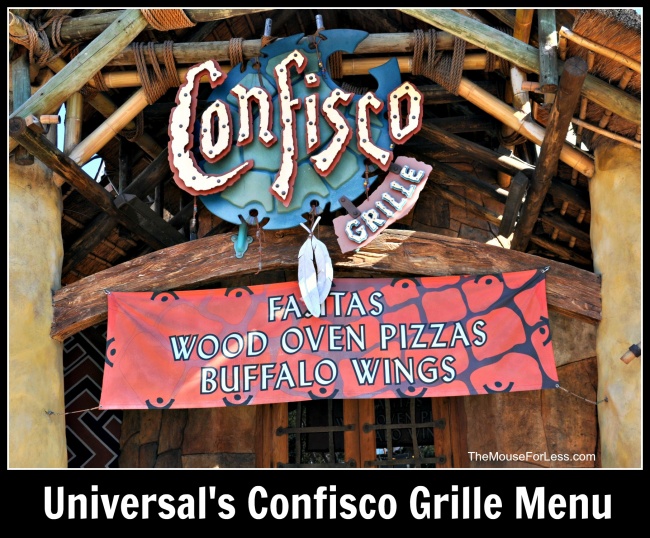 As explorers, merchants, adventurers and travelers from around the globe pass through Universal's Islands of Adventure's Port of Entry they not only bring with them strange and unusual items – frequently confiscated and put on display by the local authorities – but also delightful and exotic dishes which you'll find on the menu at Confisco Grille. Adjacent to Confisco Grille is the Backwater Bar, a tropical dive where you can enjoy cocktails and appetizers while you trade tales of your day's adventures.
Confisco Grille is located in the Islands of Adventure Theme Park. Find more Universal Orlando dining locations on our Universal Orlando Resort menus page.
Open Daily for Lunch and Dinner
Universal Dining Plan participant
Confisco Grille Lunch and Dinner Menu
Menu Date 05/2019
Appetizers
Spinach and Artichoke Dip
Mediterranean inspired with savory cheeses, wood oven roasted and served with grilled French bread – $8.99
Loaded Nachos
Crisp tortillas with beef and bean chili, cheddar-jack cheese, topped with fresh diced tomato, red onion, salsa, chipotle sour cream, guacamole and jalapeños – $9.99
Hummus (GF,V)
Middle Eastern hummus served with lavash topped with sesame seeds and olive oil – $7.49
Chicken Quesadilla
Grilled chicken, caramelized onions, cheddar-jack cheese in a chipotle tortilla, served with salsa, guacamole and sour cream – $11.49
Fried Calamari
Seasoned calamari with fried sweet peppers and Thai dipping sauce – $9.99
Chef's Signature Oven Fire Pizza
Prepared in our wood burning oven – $11.99
Trader Wings (GF)
Your choice of traditional Buffalo style, guava barbecue or herb roasted garlic – $10.99
Salads & Soups
Confisco's Chicken Caesar Salad (GF,V)
Romaine, Caesar dressing, crispy pepperoncini, grilled flat bread
Grilled Chicken – $14.49
Beef – $15.49
Shrimp or Salmon – $17.99
Greek Salad (GF,V)
Romaine, tomatoes, grilled red onions, Kalamata olives, cucumber, pepperoncini, feta cheese, herb vinaigrette, fried pita – $13.49
Chicken – $17.49
Southwest Chicken Salad (GF,V)
Grilled fajita chicken, romaine, tomatoes, cucumbers, red onions, fried Tabasco onions, roasted corn, crunchy tortilla strips, salsa, chipotle ranch, grilled flat bread  – $14.49
Roasted Butternut Squash Soup
Lime cream, shredded cheddar-jack cheese, micro cilantro – $6.99
Soup of the Day
Chef's Special – $6.99
Entrees
Add a side salad or cup of soup with any entrée for $3.99
Braised Beef Pappardelle Pasta
Slow-cooked beef, bordelaise cream, tomatoes, white wine, caramelized onions, charred Brussels sprouts, balsamic glaze – $17.49
An Adventure in Fajitas 
A sizzling platter of beef, chicken or a combination of both. Served with tortillas, cheddar-jack cheese, lettuce, salsa, guacamole, sour cream
Chicken or Beef – $17.49
Combo – $19.49
Honey-Ginger Glazed Salmon 
Stir-fried vegetables, mushrooms, garlic, ginger, coconut jasmine rice, toasted sesame, crispy wontons – $23.49
Guava BBQ Glazed Smoked Ribs
Seasoned rice, peppers, onions, jalapeno-lime slaw, crispy yucca, toasted sesame – $17.49
Pad Thai
Rice noodles stir-fried with chicken, shrimp, bean sprouts, and peanuts in a mildly spicy sauce – $19.49
Chicken Curry Chakra
Caribbean chicken curry, carrots, onions, peppers, raisins, coconut jasmine rice – $16.49
Plant-Based Chipotle Sausage with Orzo
Gardein Italian sausage crumbles, roasted red peppers, chipotle pesto, arugula – $16.49
Sandwiches
Traditional Cheeseburger (GF)
Housemade beef patty topped with crispy bacon, your choice of American, Swiss or cheddar cheese. Served on a fresh baked bun with French fries – $15.49
Black n' Blue Burger (GF)
Housemade beef patty, blue cheese, sauteed onions, crispy bacon. Served on a fresh baked bun with French fries – $15.49
Pico Avocado Burger (GF)
Housemade beef patty, chipotle mayo, pico de gallo, pepper jack cheese, crispy avocado, micro cilantro. Served on an onion brioche roll with French fries – $17.49
Buffalo Shrimp & Chicken Sandwich (GF)
Popcorn shrimp, grilled Buffalo chicken, creamy dill ranch, lettuce, tomato. Served on a fresh baked bun with French fries – $15.99
Original French Dip
Shaved roast beef, provolone cheese, au jus. Served on toasted French bread with French fries – $15.49
Chipotle Chicken Wrap (V)
Grilled chicken, romaine, cheddar-jack cheese, roasted corn, salsa, chipotle sour cream, fried Tabasco onions and crispy tortilla chips – $13.49
BLT Chicken Sandwich (GF)
Chicken breast, smoked mozzarella, crispy bacon. Served on a fresh baked bun with French fries – $14.49
Portobello Veggie Wrap (V)
Portobello mushroom, roasted red peppers, caramelized onions, cucumbers, spinach, hummus, balsamic glaze and crisp tortilla chips – $13.49
Croissant Moon Club Sandwich
Smoked turkey breast, crispy bacon, fresh leaf lettuce, tomatoes and balsamic mayonnaise on a fresh croissant with red bliss potato salad and fresh fruit; or 1/2 Sandwich & cup of soup or side salad – $13.99
GF- can be prepared Gluten Free V- can be prepared Vegan
** Confisco Grille Menu and Prices are Subject to Change Without Notice **

Planning a Universal Orlando Vacation?
For a Free no-obligation quote, contact our sponsor
The Magic For Less Travel
. Services are provided free of charge and their expert planning advice will help you make the most of your vacation time and money.