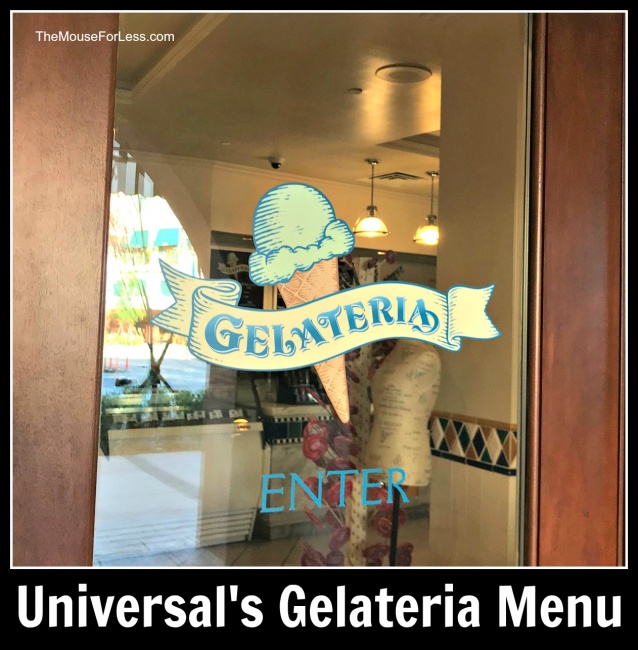 Relax with a view of the water as you indulge in Italian ice cream or an easy breakfast at Loews Portofino Bay Hotel. In the morning, the Gelateria menu offers breakfast sandwiches and continental breakfast items. Later in the day enjoy the creamy gelato options on the Gelateria menu.
Gelateria is located in the Loews Portofino Bay Hotel.  Find more Universal Orlando dining locations on our Universal Orlando Resort menus page.
Open daily: 6:00 am – 10:00 pm

Planning a Universal Vacation?
Gelateria Menu
Menu Date 08/2022
Gelati & Sorbetti
Gelati in a Waffle Cone – Two Scoops of Italian Ice Cream in a Waffle Cone. Choice of Chocolate, Vanilla, Pistachio, Cookies & Cream, Stracciatella, Amerena Cherry, Flavor of the Month – $8.50

Gelati in a Cup – Two Scoops of Italian Ice Cream in a Cup. Choice of Chocolate, Vanilla, Pistachio, Cookies & Cream, Stracciatella, Amerena Cherry, Flavor of the Month – $7.95
Sorbetti in a Waffle Cone – Two Scoops in a Waffle Cone. Choice of Lemon or Strawberry – $8.50
Sorbetti in a Cup – Two Scoops in a Cup. Choice of Lemon or Strawberry – $7.95
Gelati Floats
Naufrago – Root Beer, Vanilla Gelato – $9.00
Monella – Coca-Cola®, Vanilla Gelato – $9.00
Gelati Creations
Coppa Amarena – Vanilla, Amarena Cherry, Amaretto Cookies, Whipped Cream, Shaved Chocolate – $11.75
Coppa Del Nonno – Vanilla, Chocolate, Cookies & Cream, Chocolate Sauce, Whipped Cream, Amaretto Cookies – $11.75
"Affogato" Al Cioccolato – Homemade Hot Chocolate over Vanilla Gelato, Whipped Cream and a Pizzelle Cookie – $11.75
"Affogato" Expresso Gelato – Fresh Italian Espresso poured over Vanilla Gelato, Amaretto Cookies – $11.75
Pastiggeria
7-Layer Cake – Blue and White 7-Layer Cake topped with Chocolate Ganache and Gold Dust – $8.00
Cannoli Al Cioccolato – Crisp Pastry filled with Sweet Ricotta, Chocolate, and Candied Orange – $8.50
Zeppole – Ricotta Cheese Fritters – $9.00
Mocha Tiramisu – Mascarpone Cream, Espresso Coffee, Savoiardi Biscuits, Chocolate – $8.50
Frozen Beverages
Italian Margarita – Frozen blend of Limoncello, Tequila, and Margarita – $14.00
Frozen White Sangria – $11.00
Frozen Red Sangria – $11.00
Beer and Wine
Peroni Draft – $9.50
Pinot Grigro – $10.50
Chianti – $9.50
Prosecco – $10.50
Bellini – Peach Puree and Prosecco Sparkling Wine – $11.00
Rossini – Strawberry Puree and Prosecco Sparkling Wine – $11.00
Beverages
San Benedetto – Still or Sparkling – $4.00
Aranciata – Orange Sparkling Italian Soda – $5.50
Limontia – Lemon Sparkling Italian Soda – $5.50
Lemon Tea – $5.50
Peach Tea – $5.50
Assorted Fountain Beverages – $4.50
Coffee
Expresso – Single – $3.00
Expresso – Double – $4.50
Cappuccino – $6.00
Caffe Latte – $6.00
Cafe Americano – $5.00
Hot Beverages
Homemade Hot Chocolate – Hot Chocolate, Whipped Cream, Marshmallow – $9.50
***Gelateria Menu Items and Prices are Subject to Change***