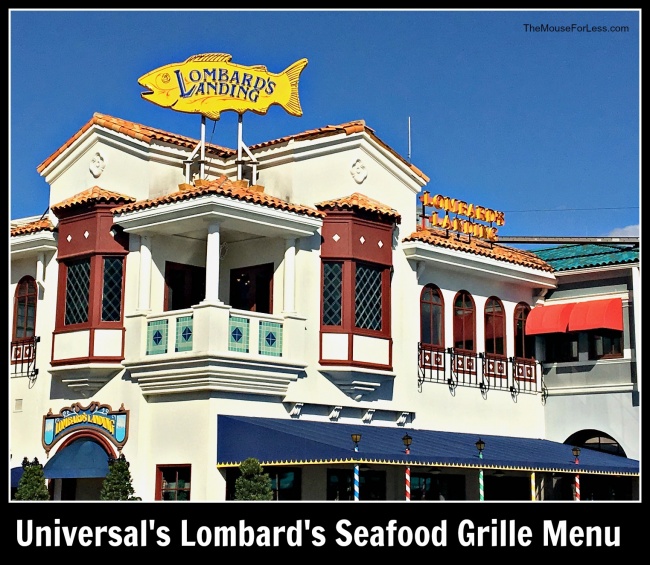 At Lombard's Seafood Grille seafood is the specialty with such dishes as clam chowder, fish tacos, burgers and a variety of salads and seafood specialties. But you'll find other items on the Lombard's Seafood Grille menu as well, including appetizers, sandwiches, salads, pasta, and incredible desserts. Lombard's Seafood Grille also has a children's menu, and wine and cocktails are available.
Lombard's Seafood Grille is located in the Universal Studios Florida theme park. Find more Universal Orlando dining locations on our Universal Orlando Resort menus page.
Hours of Operation
11:30 am – park close
Wharf Bar – open 11:00 am – 6:00 pm (weather permitting)
Universal Dining Plan participant.
Lombard's Seafood Grille Lunch and Dinner Menu
Menu Date 02/2020
Appetizers
Lombard's Spinach & Artichoke Dip
Four cheeses blended with spinach and artichokes, garnished with diced tomatoes and Parmesan cheese. Served with savory warm tortilla chips for dipping – $10
Lombard's Mussels
Steamed in ale, garlic, basil, and tomato served with rosemary focaccia toast – $14
Lombard's Cheese Bites
Fried Wisconsin white cheddar curds. Served with housemade marinara sauce – $10
Calamari
Lightly battered calamari, fried with pepperoncini and red peppers, served with marinara sauce and charred lemon – $11
Shrimp Cocktail (GF)
Ice-cold jumbo shrimp, served with classic cocktail sauce – $12
New England Clam Chowder
Cream style and full of tender ocean clams – $8
French Onion Soup
classic onion soup with seasoned croutons, melted Swiss cheese, and a sprinkle of parsley – $8
Tuna Poké
Sushi-grade Ahi tuna diced and marinated in a soy garlic sauce, over a bed of Frisée lettuce with scallions, tomatoes, avocado, wasabi, red onion, cucumber, crispy wonton chips. This item is served using raw or undercooked ingredients. Consumption of undercooked meats, poultry, seafood, shellfish or eggs may increase your risk of foodborne illness. – $14
Salads
San Francisco Cobb Salad (GF, V)
Chopped mixed greens, tomato, cucumber, avocado, carrots, bacon, hardboiled egg, and blue cheese crumbles served with a citrus vinaigrette on the side.
Smoked turkey – $17
Shrimp – $20
Caesar (GF)
A bed of romaine lettuce with our famous Caesar dressing, homemade croutons, topped with Parmesan cheese and thin crispy fried onions
Grilled or blackened chicken – $15
Shrimp or salmon – $18
Harvest Salad
Chicken, charred Brussels sprouts, bruleed figs, cherry tomatoes, roasted beets, kale, mixed greens, goat cheese, pomegranate vinaigrette – $19
Entrees
Lombard's Fresh Catch
Grilled, blackened, or baked with fingerling potatoes and fresh vegetables topped with a citrus buerre blanc and fresh tomatoes with basil – $27
Lemon Garlic Shrimp Penne (V)
Sautéed shrimp with zucchini, yellow squash, carrots, tomatoes, and penne pasta in a light butter lemon garlic sauce, finished with basil and lemon zest- $17
Lombard's Surf & Turf
Marinated tenderloin with shrimp, zucchini, squash, red onion, roasted red peppers, wild rice, Bearnaise sauce – $26
Maple Glazed Pork Chop
12oz bone-in pork chop, asparagus, oven roasted fingerling potatoes, Granny Smith apple, toasted bread crumbs, Bordelaise sauce – $23
Cioppino Ocean Bowl
Mussels, calamari, little neck clams, Atlantic cod, shrimp, tomato fennel broth, Fusilli pasta, rosemary focaccia toast – $21
Fish and Fries
Sustainable fresh wild Alaskan cod lightly fried in seasoned batter. Served with crispy French fries, and creamy tartar sauce – $19
Portobello Quinoa (GF, V)
Oven roasted Portobello mushroom slices with Monterey Jack cheese topped with quinoa and vegetables over a green chili pepper sauce garnished with thin crispy fried onions – $16
Grilled 10 oz  Striploin (GF)
An autumn blend of roasted vegetables, potato puree, Bordelaise sauce – $28
Fisherman's Basket
Sustainable fresh wild Alaskan cod, shrimp, calamari and oysters lightly fried in a seasoned batter. Served with French fries and creamy tartar sauce – $22
Plant-Based Penne Genovese
Beyond Sausage, roasted broccoli, cherry tomatoes, basil oil – $17
Sandwiches
Traditional Burger (GF)
Half pound of Black Angus beef on a toasted challah bun, choice of cheese, bacon, lettuce, tomato, and pickle. Served with French fries – $16
Grilled Chicken Sandwich (GF)
Grilled chicken breast layered with Swiss cheese, bacon, tomato, and lettuce on a toasted challah bun. Served with French fries – $16
Grilled Mahi-Mahi Sandwich (GF)
Grilled Mahi-Mahi with roasted tomatoes, bibb lettuce and gribiche sauce on a toasted challah bun. Served with French fries – $19
Lombard's Lobster Roll
100% North Atlantic lobster cut into bite-size chunks with Dijon mayonnaise on a toasted split bun with shredded lettuce. Served with housemade seasoned potato chips – $26
Fish Tacos
Sustainable fresh wild Alaskan cod on top of Jasmine rice, fresh shredded cabbage, flour tortillas, topped with Dragon Sauce. Served with potato salad and salsa – $18
GF – can be prepared Gluten Free     V– can be prepared Vegan
** Lombard's Seafood Grille Menu and Prices are Subject to Change Without Notice **