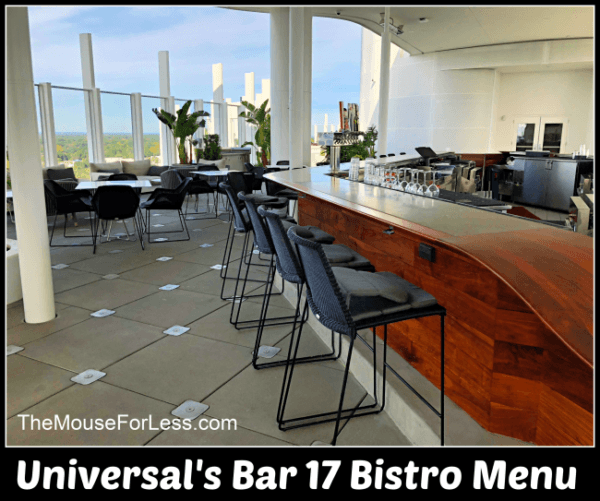 Enjoy a relaxing dinner at Bar 17 Bistro at Universal's Aventura Hotel. The rooftop location allows for spectacular sunset views as well as stunning views of the Universal Orlando Resort. The Bar 17 Bistro menu features an urban international flare along with fabulous cocktails for the adults. There's also a kids menu available so feel free to bring the entire family.
Bar 17 Bistro is located in Universal's Aventura Hotel. Find more Universal Orlando dining locations on our Universal Orlando Resort menus page.
Open daily:
Drinks
4:00 pm – 12:00 am Sunday – Wednesday
4:00 pm – 2:00 am Thursday – Saturday
Snacks and Dinner
4:00 pm – 10:00 pm

Planning a Universal Orlando Vacation?
For a Free no-obligation quote, contact our sponsor
The Magic For Less Travel
. Services are provided free of charge and their expert planning advice will help you make the most of your vacation time and money.
Bar 17 Bistro Menu – Dinner
Menu Date – 05/2019
Bao Buns
Braised Pork Belly
Green Onions, Cucumbers, Pickled Fresno Chili, Ginger Sesame, Chili Aioli – $4.00
Duck Confit
Cucumbers, Bean Sprouts, Carrots, Turmeric Citrus Aioli – $4.00
Firecracker Shrimp
Orange Chili Glaze, Green Onion, Cucumbers, Basil Lemon Aioli, Radish – $4.00
Lamb Satay
Soy, Cucumber, Seaweed Salad, Basil Lemon Aioli, Mint – $4.00
Mongolian Beef
Bbq, cucumbers, Asian Pear, Ginger Sesame – $4.00
Tempura Baby Vegetables
Curry Spiced Baby Carrots, Cauliflower, Cilantro Yogurt, Pickled Fresno Chili – $4.00
Bistro
Meat & Cheese Board
Market Hams & Cheeses, Accoutrements, Grilled Bread – $18.00
Fall Salad
Gem Lettuce, Shaved Asparagus, Asian Pear, Walnuts, Goat Cheese, Pear Vin – $12.00
Tuna Tartar
Seaweed, Ginger, Radish, Chili – $16.00
Prime Rib Grilled Cheese
Vermouth Cheddar, Pomme Frites – $14.00
Grilled Spanish Octopus
Grilled Broccolini, Confit Potatoes, Smoked Chili, Almond Romesco, Herb Oil – $14.00
Chili Glazed Wings
Maple Chili Sauce, Asian Pear Mint – $14.00
Wagyu Beef Sliders
Smoked Paprika Crème Fraiche, Garlic, Chick Peas, Shishito Peppers, Chives – $18.00
Hanger Steak
8 oz. Seared Steak, Hand Cut Pomme Frites, Herb Butter – $26.00
Rice and Noodles
Fried Rice, Charred Corn, Charred Brussels Leafs, Green Onion, Egg, Crispy Ham – $7.00
Egg Noodles, Olive Oil, Broccolini, Garlic, Watercress, Mint, Vegetable Soy Broth – $7.00
Egg Noodles, Ginger, Shiitake, Red Cabbage, Miso Butter, Black Sesame – $7.00
Sides
Kimchi
Korean Spicy Cabbage – $7.00
Pomme Frites
Hand Cut Fries, Herbs – $7.00
Desserts
Mini Cones
Quadrupole Ice Cream Mini Cones – $7.00
Chocolate Mousse Tart
Sea Salt, Ginger Ice Cream – $7.00
Bar 17 Bistro Menu – Drinks
Menu Date – 05/2019
Cocktails
Firebird
Patron 'Silver' Tequila, Triple Sec, Lime Juice, Strawberry, Jalapeño, Cilantro – $12.00
Dew Point Hooligan
Saké, Soda, Simple Syrup, Lemon, Cucumber, Raspberry – $12.00
Almost Sangria
Rosé, Peach Liqueur, Dry Vermouth, Thyme, Strawberry – $12.00
Volcano View
Suntory 'Toki' Whisky, Lemon, Shiso – $12.00
Complex Frozen:
The Barrel
Rebel Yell Bourbon, Grapefruit Juice, Maple Syrupbar 1 – $12.00
The Botanical
The Botanist Dry Gin, Campari, Simple Syrup, Orange Juice, Strawberry – $12.00
The Green Match-ine
Mount Gay 'Silver' Rum, Matcha Syrup, Lime Juice – $12.00
Mocktails
Hopped Hibiscus Soda
Hibiscus Water, Simple Syrup, Lemon Juice – $9.00
Pineapple Turmeric Lemonade
Lemon Juice, Turmeric Syrup, Pineapple Juice- $9.00
Draft Beer List
Light Lager, Michelob Ultra, St. Louis, Mo 4.2% Abv – $8.00
Blonde Pilsner, Stella Artois, Be 5.0% Abv – $8.00
Witbier, Blue Moon Belgian White, Be 5.4% Abv – $8.00
Hefeweizen, Funky Buddha Brewery, 'Floridian,' Oakland Park, Fl 5.2% Abv – $8.00
English Pale Ale, Boddingtons, 'Pub Ale,' Manchester, Uk 4.7% Abv – $8.00
India Pale Ale, Swamp Head, 'Big Nose,' Gainesville, Fl 7.5% Abv – $8.00
Light Lager, Bud Light, St. Louis, Mo 4.2% Abv – $8.00
Amber Ale, New Belgium Brewing, 'Fat Tire' – $8.00
Cider, Accomplice Ciderworks, Wa 4.3% Abv – $8.00
Can Beer List
Peroni – $6.00
Yuengling – $6.00
Stella Artois – $6.00
New Belgium 'Fat Tire' IPA – $6.00
Guinness – $6.00
Bud Light – $6.00
Wine List
Sparkling Wine, Prosecco, Lunetta, Veneto, It
Glass – $11 | Bottle – $41
Champagne, Piper-Heidsieck, 'Cuvée Brut,' Reims, Fr
Glass – $19 | Bottle – $75
Champagne, Taittinger, 'La Française,' Reims, Fr
Bottle – $110
Rosé, Jean-Luc Colombo, 'La Dame Du Rouet,' Provence, Fr
Glass – $10 | Bottle – $38
Chardonnay, Four Vines, 'Naked,' Central Coast, Ca
Glass – $10 | Bottle – $39
Chardonnay, La Crema, Monterey, Ca
Glass – $12 | Bottle – $46
Pinot Gris, A to Z Wineworks, Or
Glass – $11 | Bottle – $40
Sauvignon Blanc, Kim Crawford, Marlborough, Nz
Glass – $12 | Bottle – $46
Riesling, Saint M, Pfalz, De
Glass – $10 | Bottle – $38
Sparkling Rosé, Santa Margherita, Treviso, IT
Glass – $22 | Bottle – $85
Chardonnay, Natura, Bio Bio Valley, CL
Glass – $10 | Bottle – $36
Pinot Grigio, Banfi, 'LeRime' Tuscany, IT
Glass – $10 | Bottle – $36
Chardonnay, Landmark, 'Overlook,' Sonoma, Ca
Bottle – $55
Cabernet Sauvignon, Penfolds, 'Max's,' South Australia
Glass – $14 | Bottle – $55
Merlot, Benziger, Sonoma, Ca
Glass – $11 | Bottle – $43
Pinot Noir, Lyric By Etude, Santa Barbara, Ca
Glass – $13 | Bottle – $50
Cabernet Sauvignon, Simi, 'Landslide,' Alexander Valley, Ca
Glass – $15 | Bottle – $56
Pinot Noir, Domaine Carneros, 'Estate'
Bottle – $80
***Bar 17 Bistro Menu Items and Prices Subject to Change***