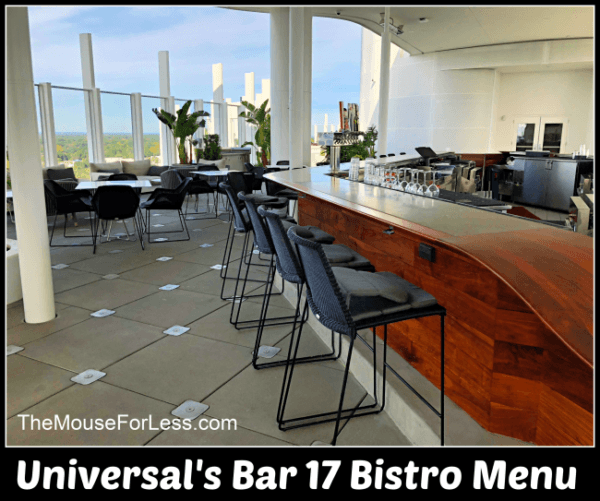 Enjoy a relaxing dinner at Bar 17 Bistro at Universal's Aventura Hotel. The rooftop location allows for spectacular sunset views as well as stunning views of the Universal Orlando Resort. The Bar 17 Bistro menu features an urban international flare along with fabulous cocktails for the adults. There's also a kids menu available so feel free to bring the entire family.
Bar 17 Bistro is located in Universal's Aventura Hotel. Find more Universal Orlando dining locations on our Universal Orlando Resort menus page.
Hours of Operation:
Drinks
Sunday – Wednesday: 4:00 pm – midnight
Thursday – Saturday: 4:00 pm – 2:00 am
Snacks and Dinner
4:00 pm – 10:00 pm
DJ
Thursday – Saturday: 8:00 pm – midnight

Planning a Universal Orlando Vacation?
For a Free no-obligation quote, contact our sponsor
The Magic For Less Travel
. Services are provided free of charge and their expert planning advice will help you make the most of your vacation time and money.
Bar 17 Bistro Menu – Dinner
Menu Date – 02/2020
Appetizers
Korean Fried Chicken Wings
Gochujang, garlic chives, pickled peppers – $13
Maitake Mushroom
Airy tempura, toasted sesame, scallion dressing – $12
Chef's Cheese Board
Regional and international cheeses, pickled veggies, whole grain mustard – $14
Warm Marinated Olives
Calabrian chili, Haynes City citrus, Cusano's bakery bread – $9
Signature Bao
Braised Pork Belly
Cucumber, spicy mayo, fresno peppers – $4
Duck Confit
Sprouts, sesame-soy sauce, pickled red onion – $4
Firecracker Shrimp
Sweet chili glaze, citrus aioli, scallion – $4
Mongolian Beef
Asian pear, ginger crumble, cilantro – $4
Salads
Roasted Baby Beets
Mdre tierra burrata, toasted pistachio, saba – $11
Chop Chop
Romaine lettuce, house made ranch, all the goods – $9
Heirloom Tomato Salad
Opal basil, ricotta salata, shallot vinaigrette – $10
Classic Caesar
Baby gem lettuce, parmigiano-reggiano, brioche croutons – $9
Proteins
Bistro Filet
Blistered heirloom tomatoes, garlic chimichurri, red wine jus – $16
60 South Salmon
Sunflower pesto, tomato confit, gremolata – $15
Joyce Farms Chicken Breast
All natural chicken, roasted pearl onions, chicken jus – $15
Starches
Crispy Fingerling Potatoes
Garlic duck fat, whipped creme fraiche, chives – $8
Fried Rice
Baby vegetables, shiitake mushrooms, fried egg – $7
Herbed French Fries
Picked thyme, chopped parsley, secret sauce #17 – $6
Veggies
Roasted Cauliflower
Golden raisins, toasted pepita seeds, muhammara – $8
Brussels Sprouts
Ginger vinaigrette, crispy shallots, torn herbs – $8
Steamed Broccolini
Virgin olive oil, lemon zest, fried garlic chips – $7
Rooftop Burger
Great Lakes aged cheddar, caramelized mushrooms and onions, applewood smoked bacon, fries – $15
Bar 17 Bistro Menu – Drinks
Menu Date – 02/2020
Cocktails
Firebird
Sauza Blue Tequila, Triple Sec, Lime Juice, Strawberry, Jalapeño, Cilantro – $12
Orlandos & Don'ts
Seagram's Gin, Sake, Lemon, Cucumber, Raspberry – $10
Almost Sangria
Rosé, Peach Liqueur, Dry Vermouth, Thyme, Strawberry – $12
Volcano View
Suntory 'Toki' Whisky, Lemon, Shiso – $14
One in a Melon
Tito's Handmade Vodka, St. Germain, Melon, Pear, Lemon – $12
Marg 17
Sauza Blue Tequila, Triple Sec, Lime, Agave – $10
Complex Frozens:
The Mesmerizer
New Amsterdam Vodka, Campari, Strawberry, Grapefruit – $12
Toasted Pina Colada
Cruzan Light Rum, Myer's Dark Rum, Pineapple, Toasted Coconut – $12
The Matcha-Mojito
Bacardi Rum, Matcha, Lime, Mint – $12
Mocktails
Hopped Hibiscus Soda
Hibiscus Water, Simple Syrup, Lemon Juice – $9
Pineapple Turmeric Lemonade
Lemon Juice, Turmeric Syrup, Pineapple Juice- $9
Draft Beer List
Happy Hour 10:00 pm – Close
Draft Beer & House Wine – $6
Light Lager, Michelob Ultra, St. Louis, Mo 4.2% Abv – $6
Blonde Pilsner, Stella Artois, Be 5.0% Abv – $8
Witbier, Blue Moon Belgian White, Be 5.4% Abv – $8
Hefeweizen, Funky Buddha Brewery, 'Floridian,' Oakland Park, Fl 5.2% Abv – $8
English Pale Ale, Boddingtons, 'Pub Ale,' Manchester, Uk 4.7% Abv – $8
India Pale Ale, Swamp Head, 'Big Nose,' Gainesville, Fl 7.5% Abv – $8
Light Lager, Bud Light, St. Louis, Mo 4.2% Abv – $6
Amber Ale, New Belgium Brewing, 'Fat Tire' – $8
Porter, Coppertail Brewing Co. 'Night Swim', FL 6.2% Abv – $8
Can Beer List
Peroni – $6
Yuengling – $6
Stella Artois – $6
New Belgium 'Fat Tire' – $6
Guinness – $6
Bud Light – $5
Wine List
White
Champagne, Piper-Heidsieck, 'Cuvée Brut,' Reims, Fr
Glass – $19 | Bottle – $75
Sparkling Wine, Prosecco, Lunetta, Veneto, It
Glass – $11 | Bottle – $41
Sparkling Wine, Moscato, Candoni, IT
Glass – $11 | Bottle – $41
Chardonnay, Natura, Bio Bio Valley, CL
Glass – $10 | Bottle – $36
Chardonnay, Four Vines, 'Naked,' Central Coast, Ca
Glass – $10 | Bottle – $39
Chardonnay, La Crema, Monterey, Ca
Glass – $12 | Bottle – $46
Chardonnay, Landmark, 'Overlook,' Sonoma, CA
Bottle – $55
Pinot Grigio, Banfi, 'LeRime,' Tuscany, IT
Glass – $10 | Bottle – $36
Pinot Gris, A to Z Wineworks, Or
Glass – $11 | Bottle – $40
Riesling, Saint M, Pfalz, De
Glass – $10 | Bottle – $38
Sauvignon Blanc, Benziger, CA
Glass – $10 | Bottle – $38
Sauvignon Blanc, Kim Crawford, Marlborough, Nz
Glass – $12 | Bottle – $46
Red
Merlot, Benziger, Sonoma, Ca
Glass – $11 | Bottle – $43
Pinot Noir, Domaine Carneros, 'Estate'
Bottle – $80
Pinot Noir, Lyric By Etude, Santa Barbara, Ca
Glass – $13 | Bottle – $50
Cabernet Sauvignon, Silver Palm, CA
Glass – $15 | Bottle – $56
Cabernet Sauvignon, Penfolds, 'Max's,' AU
Glass – $14 | Bottle – $55
Cabernet Sauvignon, Simi, 'Landslide,' Alexander Valley, Ca
Glass – $15 | Bottle – $56
Red Blend, The Prisoner, CA
Bottle – $85
Rose
Rose, Jean-Luc Colombo, 'La Dame Du Rouet,' Provence, FR
Glass – $10 | Bottle – $38
Sparkling Rose, Santa Margherita, Treviso, IT
Glass – $22 | Bottle – $85
***Bar 17 Bistro Menu Items and Prices Subject to Change***