Lunch & Dinner Menu   Vegetarian & Gluten-Free Menu Kids' Menu Drinks Menu
The music and laid back island attitude of Jimmy Buffett comes to life at this popular landmark restaurant. The focal point inside Jimmy Buffett's Margaritaville is a volcano that erupts occasionally, spewing margaritas instead of lava. The restaurant often features live music, has an outdoor dining area called the Porch of Indecision and merchandise for the Jimmy Buffet fan. Jimmy Buffett's Margaritaville Menu includes island cuisine plus the best cheeseburgers in paradise. The Jimmy Buffett's Margaritaville Menu also offers a variety of tropical cocktails, beer, and a full bar.
Open Sunday – Thursday: 10:30 am – midnight; Friday – Saturday: 10:30 am – 1:00 am
Universal Dining Plan participant.
Jimmy Buffett's Margaritaville Menu — Lunch & Dinner
Menu Date 04/2019
Starters
Lava Lava Shrimp
Golden fried and drizzled with our chili and lime spiked aioli – $14.00
Pretzel Sticks
Served warm with mustard sauce and our house-made queso – $10.50
Onion Rings
Crispy beer battered onion rings, creamy island BBQ sauce, cool avocado ranch – $8.25
House-Made Guacamole
Crispy plantain and tortilla chips – $8.95
Conch Fritters
House-made island sauce – $12.95
Coconut Shrimp
Orange marmalade horseradish, grilled pineapple avocado salsa – $16.95
Boneless Chicken Bites or Traditional Wings
Served with fresh veggie chips and your choice of sauce. – $13.95
Clipper -Buffalo Style
Jamaica Mistaica – Jerk–glazed
White Cheddar Cheese Curds
Served with Landshark Lager BBQ and marinara – $11.95
Key West Chicken Quesadilla
Griddled flour tortilla, Oaxaca and Monterey Jack cheese served with sour cream, guacamole, and pico de gallo – $15.95
Volcano Nachos
Tortilla chips layered with chili, cheese, pico de gallo, fresh guacamole, sour cream, and jalapeños – $16.95
Salads & Soups
Chicken Caesar Salad
Hearts of romaine tossed in creamy lime Caesar dressing, topped with Cajun chicken, house-made crostini croutons, Parmesan cheese and fried onions – $15.45
Fried Chicken Cobb Salad
Hand-breaded fried chicken, applewood smoked bacon, avocado, tomato, blue cheese, hard-boiled eggs, honey mustard dressing – $16.25
Taco Salad
Chopped greens, volcano chili, tortilla chips, mixed cheese, sour cream, pico de gallo, and guacamole. Served with creamy lime ranch dressing – $15.45
Caribbean Blackened Salmon
Fresh blackened salmon, mixed greens, papaya, mango, avocado, cucumber, red peppers, crispy tortillas, queso fresco. Served with passion fruit vinaigrette dressing – $16.45
Chicken Tortilla Soup
Lime crema, crispy tortilla strips, fresh cilantro – $6.95
Entrées
Add a side mixed green salad or a side Caesar Salad to any entree for $5.95
Fish Tacos
Crispy fried in our LandShark batter, topped with avocado, cilantro lime coleslaw, and key lime crema. Served with black beans, rice and pico de gallo – $18.95
Jimmy's Jammin' Jambalaya
Cajun rice loaded with shrimp, chicken, and andouille sausage simmered in a spicy broth – $19.95
Buttermilk Fried Chicken
Fried chicken breasts served with Yukon Gold mashed potatoes, green beans, and chicken gravy – $18.45
Island Kabobs
Beef and chicken skewers with a chipotle demi. Served with island rice and sweet plantains – $19.95
Shrimp Scampi Pasta
Sautéed shrimp, herbed butter, roasted garlic, fresh tomato, spaghetti – $20.95
Crispy Coconut Shrimp
Jumbo shrimp crusted with coconut and fried. Served with horseradish-orange marmalade dipping sauce, French fries, and cilantro lime coleslaw – $21.45
Landshark Lager Fish and Chips
Hand-dipped in our LandShark batter, fried and served with jalapeño tartar sauce, French fries, and cilantro lime coleslaw – $18.95
Beach Tacos
Choice of marinated carne asada steak or simmered chicken tinga topped with queso fresco. Served with black beans, rice, key lime crema, guacamole, and pico de gallo – $17.95
Jerk Alfredo Chicken Pasta
Grilled chicken, spicy Alfredo sauce, cavatappi pasta, sautéed peppers – $18.95
Blackened Salmon
Blackened and served with island rice, black beans and pineapple avocado salsa, cilantro – $24.45
Seafood Mac & Cheese
Shrimp and lump crabmeat with a cavatappi pasta in a Boursin cream sauce – $22.45
New York Strip Steak
A 12 oz New York strip steak with green beans and Yukon Gold mashed potatoes loaded with cheese, applewood smoked bacon, sour cream, and green onions – $30.45
Grilled Chicken Breast
Marinated and seasoned with our special blend of spices and topped with mango salsa. Served with island rice and fire-roasted corn – $19.95
Southernmost Shrimp & Grits
Sautéed shrimp, cheesy grits, tasso ham gravy, roasted sweet peppers – $23.45
Burgers in Paradise
Our burgers are half pound, 100%, fresh, premium, Black Angus beef. Served on a homemade brioche bun with your choice of French fries or mixed green salad.  Substitute sweet potato fries for $1.50.  Substitute turkey or veggie burger for any selection.
Cheeseburger In Paradise
American cheese, lettuce, sliced tomato, pickles, paradise island sauce – $14.95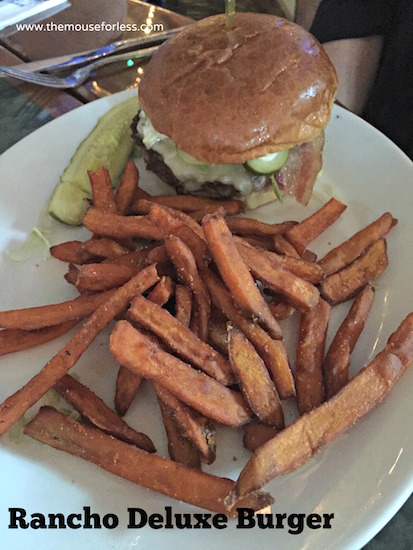 Rancho Deluxe Burger
Monterey Jack cheese, applewood smoked bacon, lettuce, sliced tomato, pickles, ranch dressing – $15.45
Black & Bleu Burger
Applewood-smoked bacon, chunky bleu cheese dressing, lettuce, sliced tomato – $15.45
Turkey Burger
House-made turkey burger, smoked Gouda, pineapple salsa. lettuce, tomatoes, brioche bun – $15.25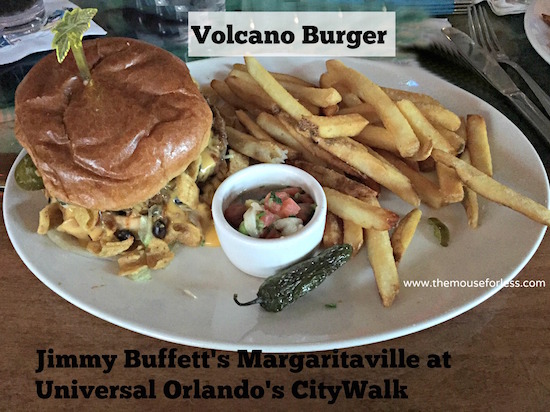 Volcano Burger
Volcano chili, lava cheese sauce, jalapeños, guacamole, and Fritos original corn chips – $16.45
Cheddar BBQ Burger
Cheddar cheese, applewood smoked bacon, fried onions, lettuce, BBQ aioli – $15.45
Southern Burger Stack
Beef patty, pulled pork, aged cheddar, guava BBQ sauce, onion rings, coleslaw, brioche bun – $16.45
Sandwiches
Served with your choice of French fries or mixed green salad.  Substitute sweet potato fries for $1.50
Crab Cake Sandwich
Lump crab, house-made lava lava sauce, island slaw – $15.95
Florida Grouper Sandwich
Florida grouper, tomato, caper aioli, grilled red onions, avocado, coleslaw, French fries. Choice of grilled or fried – $18.45
Grilled Chicken Sandwich
Grilled chicken breast, Monterey Jack cheese, applewood smoked bacon, lettuce, sliced tomato, Dijon aioli – $14.95
Cuban Sandwich
Ham, pulled pork, Swiss cheese, mustard, sliced pickles – $14.95
Beach Club
Sliced turkey and ham, Swiss cheese, applewood smoked bacon, lettuce, sliced tomato, and dijon aioli on toasted country white bread – $14.95
Sides
Vegetable of the Day – $4.95
Cilantro Lime Coleslaw – $4.45
Mixed Green Salad – $7.00
Caesar Salad – $7.00
Black Beans & Island Rice – $7.00
Desserts
Key Lime Pie
As cool and refreshing as an ocean breeze. Graham cracker crust with sweet and tart key lime filling
Chocolate Banana Bread Pudding
Our bread pudding made with chocolate chips and fresh bananas, topped with vanilla ice cream and chocolate sauce
Dessert Shots
Enjoy a smaller version of your favorite dessert!
Carrot Cake
Chocolate Cake
Dirt 'n Worms
Peanut Butter
Red Velvet
Jimmy Buffett's Margaritaville Menu – Gluten Free
Menu Date 04/2019
Starters
Volcano Nachos
Tortilla chips layered with chili, cheese, pico de gallo, fresh guacamole, sour cream, and jalapeños
House-Made Guacamole
Crispy plantain and tortilla chips
Salads
Chicken Caesar Salad
Hearts of romaine tossed in creamy lime Caesar dressing, topped with Cajun chicken, and Parmesan cheese
Grilled Chicken Cobb Salad
Grilled chicken, applewood smoked bacon, avocado, tomato, bleu cheese, and hard-boiled eggs served with honey mustard dressing
Taco Salad
Chopped greens, volcano chili, tortilla chips, mixed cheese, sour cream, pico de gallo, and guacamole served with creamy lime ranch dressing
Entrées
Add a side mixed green salad or a side Caesar salad to any entree for additional cost
New York Strip Steak
A 12 oz New York strip steak with green beans and Yukon Gold mashed potatoes loaded with cheese, applewood smoked bacon, sour cream, and green onions
Island Kabobs
Beef and chicken skewers served with island rice and sweet plantains
Blackened Salmon
Blackened and served with island rice, black beans and grilled pineapple avocado salsa
Grilled Chicken Breasts
Marinated and seasoned with our special blend of spices and topped with mango salsa. Served with island rice and fire-roasted corn
Burgers and Sandwiches
Cheeseburger In Paradise
Our signature burger, topped with American cheese, lettuce, sliced tomato, pickles, and paradise island sauce on a gluten free bun
Florida Grouper Sandwich
Grilled Florida grouper, tomato, caper aioli, grilled red onions, avocado, coleslaw, French fries. On a gluten free bun
Grilled Chicken Sandwich
Grilled chicken breast, melted Monterey Jack cheese, applewood smoked bacon, lettuce, sliced tomato on a gluten free bun and a side of dijon aioli
Dessert
Gluten Free Brownie Sundae
Warm gluten free brownies with Heath bar crusted vanilla bean ice cream, macadamia nuts, whipped cream, and chocolate sauce
Jimmy Buffett's Margaritaville Menu – Vegetarian
Menu Date 04/2019
Starters
Pretzel Sticks
Served warm with mustard sauce and our homemade queso
White Cheddar Cheese Curds
Served with Landshark Lager BBQ and marinara sauce
Key West Quesadilla
Griddled flour tortilla, Oaxaca and Monterey Jack cheese served with sour cream, guacamole, and pico de gallo
Entrées
Black Bean and Roasted Corn Tacos
White rice, pico de gallo, avocado, and lime crema served in flour tortillas with chips and salsa
Veggie Burger
Topped with lettuce and tomatoes on a toasted brioche bun served with a side of chimichurri and your choice of French fries, sweet potato fries, or mixed green salad
Margarita Pasta
Roasted red and green bell peppers, onions and garlic in lime cilantro butter tossed with cavatappi pasta topped with queso fresco cheese
Veggie Cobb Salad
Fresh greens tossed in honey mustard dressing, topped with veggie burger strips, cucumber, tomato, hard boiled eggs, avocado and bleu cheese dressing
Sides
Cilantro Lime Coleslaw
Vegetable of the Day
Black Beans & Island Rice
Mixed Green Salad
Caesar Salad
Jimmy Buffett's Margaritaville Menu – Kids
Menu Date 04/2019
For kids 12 and under. All meals include choice of milk, soda, or juice
Jr. Cheeseburger in Paradise 
Fish & Chips 
Fried Shrimp Dinner
Hand-Breaded Chicken Strips 
The above meals are served with your choice of apples & caramel dip, french fries, sweet potato fries, carrot chips & ranch dressing, green beans, or rice
Cavatappi Pasta
Choice of marinara or butter sauce
Mac & Cheese 
Jimmy Buffet's Margaritaville Menu – Drinks
Menu Date 04/2019
Booze in the Blender
There's booze in the blender and soon it will render that concoction that helps me hang on! Ask for our Who's to Blame or Tropical Fruit Margarita in a 22 oz take home blender cup – $21.25
#BlenderCup
Tequilas
Served with sangrita, our house-made spicy tomato based chaser and a lime wedge
1800 Silver  – $10.50
1800 Reposado – $10.50
Avion Silver – $11.50
Cabo Wabo Blanco – $10.50
Casamigos Blanco – $11.00
Corazon Añejo – $11.50
Don Julio Blanco – $11.50
Herradura Reposado – $10.50
Jose Cuervo Tradicional Reposado – $9.50
Margaritaville Gold – $10.00
Margaritaville Silver – $10.00
Milagro Silver – $10.00
Patron Silver – $11.00
Sauza Tres Generaciones Añejo (certified organic) – $11.00
Maestro Dobel Reposado – $10.50
Margaritas
Ask your server how to enjoy your specialty drink or draft beer in a take-home Margaritaville souvenir blender cup for an additional cost
Margarita Flight
A sampling of some of our favorite margaritas – Who's to Blame, Wildberry, Watermelon, and Mango – $20.00
Who's to Blame
Margaritaville Gold Tequila, triple sec, and our house margarita blend – $11.00
Mango Margarita
Margaritaville Last Mango tequila, triple sec, orange juice, house margarita mix, agave.  Served on the rocks – $12.00
Shark Fin
RumHaven Coconut Water Rum, Milagro Silver tequila, citrus sour – $12.00
Sunburnt Margarita
Ancho Reyes Verde Chile liqueur, mango puree, lime juice, ginger beer – $13.50
Lemon Blueberry Margarita
Milagro Silver tequila, citrus sour, blueberry puree, lemon – $12.50
Livin' It Up
Sauza Tres Generaciones Añejo Tequila (certified organic), Grand Marnier, and our house-made agave margarita mix. Served on the rocks – $13.50
Blackberry Margarita
Chinaco Reposado tequila, Cointreau orange liqueur, blackberry brandy, sweet & sour, house margarita blend. blackberries, muddled basil, agave – $13.00
Watermelon Margarita
Margaritaville Silver Tequila, triple sec, watermelon purée, house margarita blend, agave – $12.00
Uptown Margarita
Margaritaville Gold Tequila, Cointreau orange liqueur, our house margarita blend topped with a Gran Gala float.  Excellent on the rocks – $13.00
Tropical Fruit Margarita
Margaritaville Gold Tequila, triple sec, and your choice of all-natural fruit purée: strawberry, raspberry, or mango.  Served frozen – $11.00
Blackberry Moonshine Margarita
Old Smoky® White Lightnin' and blackberry moonshine, house margarita blend – $12.50
Boat Drinks
Rocks
Ask your server how to enjoy your specialty drink or draft beer in a take-home Margaritaville souvenir blender cup for an additional cost
5 O'Clock Somewhere
Margaritaville Silver Rum and Paradise Passion Fruit tequila, Bacardi 151° rum, orange and pineapple juices with sweet & sour, and a splash of grenadine. Served on the rocks – $12.00
Tranquil Waters
Cruzan® Mango rum, blue curaçao, pineapple juice, and mango – $12.00
Watermelon Agave Fresca
Margaritaville Silver Tequila, watermelon purée, agave nectar, fresh lime juice and our house-made sweet & sour. Topped with soda water – $11.00
Bahama Mama
Margaritaville Spiced and Coconut Rums, Cruzan Aged Dark rum, crème de banana, pineapple and orange juices with a splash of grenadine – $12.00
Key Lime Pomegranate Margarita
Milagro Silver tequila, citrus sour, lime and pomegranate juices, lemon – $12.50
Passion Fruit Guava Cocktail
Margaritaville Paradise Passion Fruit and Silver tequilas, guava purée, house-made sweet & sour – $12.00
Planters Punch
Appleton Rum VX, Sailor Jerry Spiced rum, our house-made sweet & sour, pineapple juice, pomegranate and a dash of bitters – $12.50
Key West
Milagro Silver tequila, citrus sour, raspberry puree, Coca Cola – $11.50
Zombie
Margaritaville Silver rum, Bacardi 151° rum, apricot brandy, our house-made sweet & sour, orange and pineapple juices – $12.50
Paloma
Casamigos® Blanco tequila, fresh lime juice, and grapefruit soda – $12.50
Frozen
Bama Breeze
Cruzan® Vanilla rum, Margaritaville Silver rum, orange juice, coconut and mango purée – $11.00
Rum Runner
Margaritaville Silver rum blended with mixed berry and banana purées. Topped with Myers's® Dark rum – $12.00
Havanas & Bananas
Cruzan® dark rum, banana liqueur, Baileys Irish Cream, pina colada mix – $13.00
Don't Stop the Carnival
Margaritaville Silver rum blended with strawberry, banana and mango purées – $11.00
Premium Fruit Daquiris
Conch Republic® Light rum and your choice of any all-natural fruit purée: strawberry, raspberry, mango, banana or piña colada – $11.00
Non-Alcoholic
House-made Strawberry Lemonade
Our 20 oz house-made lemonade with strawberry purée – $3.95
Off to the Virgin Islands
Our 20 oz non-alcoholic daiquiri made with all-natural fruit purée. Your choice of: strawberry, raspberry, mango, banana or piña colada – $4.75
Beverages
Coca-Cola, Diet Coke,Coke Zero, Pibb Xtra, Hi-C Fruit Punch, Barq's Root Beer, Sprite, Minute Maid Lemonade, Gold Peak Iced Tea, Hot Tea, Margaritaville Coffee, Bottled Water – $3.95
Red Bull – $5.00
Sugar Free Red Bull – $5.00
Wine – White
Riesling, Jekel, Monterey, California
Glass – $9 | Bottle – $36
Pinot Grigio, Banfi Le Rime, Tuscany, Italy
Glass – $9 | Bottle – $36
White Zinfandel, Beringer, Napa, California
Glass – $7 | Bottle – $28
Chardonnay, Chalk Hill, Sonoma California
Glass – $11 | Bottle – $44
Wine – Red
Pinot Noir, King Estate, Eugene, Oregon
Glass – $11 | Bottle – $44
Zinfandel, Cline, Sonoma, California
Glass – $9 | Bottle – $36
Cabernet Sauvignon, Sebastiani, Sonoma, California
Glass – $9 | Bottle – $36
Sangria
Red Wine, brandy, Gran Gala, apple and orange juices, ginger ale – $10.50
Beer – Draft
LandShark Lager – $9.00
Blue Moon – $9.00
Bud Light – $8.00
Bell's Two Hearted Ale – $9.00
Kona Big Wave Golden Ale – $8.50
Yuengling  – $8.50
Loaded Landshark
LandShark Lager topped off with Margaritaville Island Lime Tequila – $10.50
Beer – Bottle
American Premium
Budweiser – $7.00
Bud Light – $7.00
Coors Light – $7.00
Miller Lite – $7.00
O'Doul's – $7.00
Pabst Blue Ribbon – $7.00
Michelob Ultra – $7.00
Craft & Imports
Landshark Lager – $8.00
Corona – $7.75
Corona Light – $7.75
Dogfish Head 60 Minute IPA – $8.00
Full Sail Session – $8.00
Heineken – $7.75
Red Stripe – $7.75
Sierra Nevada Pale Ale – $8.00
Stella Artois – $7.75
Angry Orchard Hard Cider – $8.00
** Jimmy Buffett's Margaritaville Menu and Prices are Subject to Change Without Notice **