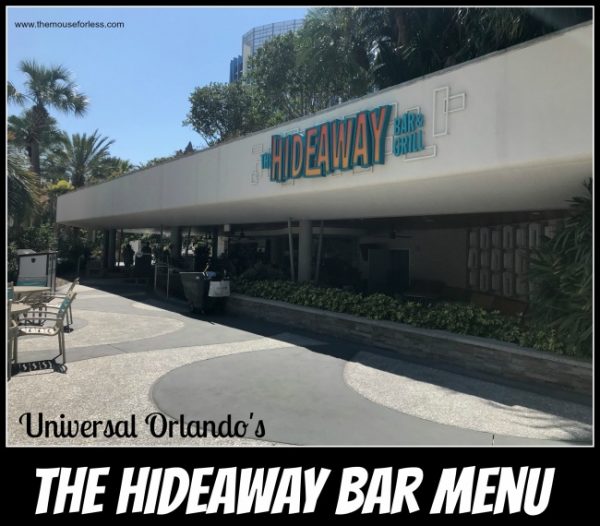 When you're ready for a break from the lazy river, you can stop and grab a bite or a drink at The Hideaway Bar & Grill that is steps away. The upstairs deck has a quiet seating area with a view if you prefer some seclusion. Enjoy food from the grill, snacks, or sandwiches at Hideaway Bar & Grill.  Quench your thirst with a wide selection of frozen drinks or cocktails on the rocks.
The Hideaway Bar & Grill is located in the Cabana Bay Beach Resort.  Find more Universal Orlando dining locations on our Universal Orlando Resort menus page.
Lunch & Dinner Menu  Drink Menu
Hours of Operation
Restaurant open daily 11:00 am – 10:00 pm
Bar open daily 11:00 am – 11:00 pm

Planning a Universal Orlando Vacation?
For a Free no-obligation quote, contact our sponsor
The Magic For Less Travel
. Services are provided free of charge and their expert planning advice will help you make the most of your vacation time and money.
The Hideaway Bar & Grill Menu – Lunch & Dinner
Menu Date 06/2019
Appetizers & Salads
Ultimate Nachos
With Chicken or Beef – $8.99
Side of Fries – $2.99
Cheese Fries – $3.99
Chips with Salsa – $4.50
Hummus with Pita Bread – $7.99
Hideaway Salad
Mixed Greens with Tomatoes and Cucumber – $4.99
Caesar Salad – $4.99
With Grilled Chicken – $7.99
Caprese Salad
Tomato, Mozzarella, Basil and Balsamic Glaze – $6.99
Chicken Wings
Buffalo or BBQ style, with celery and ranch or blue cheese dressing
6 – $8.50
12 – $14.99
Honolulu Hot Dog Company
Jumbo artisan sausage in a no-mess sweet Hawaiian bread pocket.
The Original Honolulu Hot Dog
Pineapple, bacon, sausage, passion fruit mustard, and lemon garlic sauce – $8.49
Big Kahuna Beef Dog
Beef sausage, mustard, and ketchup – $7.99
Hot Dog Combo
Any Hot Dog & 16oz Fountain Drink or Ice Cream – $10.50
Sandwiches & More
All burgers and sandwiches served with choice of French fries, coleslaw or fresh fruit.
Classic Burger
Beef Patty, Topped with Signature Sauce, Iceberg Lettuce, Vine Ripe Tomatoes on a Toasted Bun – $8.50
Cheeseburger
With American, Swiss or Provolone Cheese – $8.99
Add Bacon – $0.50
Three Grain Vegetable Burger
Vegetarian Burger with Signature Sauce, Served with Crisp Lettuce and Vine Ripe Tomatoes on a Toasted Bun – $8.99
Fish Tacos
Fried Grouper, Tomato, and Cucumber Slaw, Chipotle Remoulade on two Flour Corn Tortillas – $9.99
Hot Pressed Hawaiian Pork Sandwich
Slow Roasted Pulled Pork with Asian Slaw on a Luau Roll – $9.50
Turkey Club Wrap
Made to Order with Crunchy Lettuce, Fresh Tomato, Crispy Bacon and Topped with our Special Avocado Ranch Sauce – $8.50
Chicken Tenders
Five Pieces with Honey Mustard Sauce or BBQ Sauce – $8.99
Buffalo Chicken Wrap
Lettuce, Tomato, Chicken Tenders, Blue Cheese Dressing, and Buffalo Sauce – $9.50
Desserts
Fresh Fruit Salad – $3.75
Ice Creams – $2.50
Choice of Whole Fruit
Orange, apple, or banana – $.99
Kids' Menu
Under 9 years of age. All kids' meals are served with French Fries, Carrots or Apple Slice and Drink
Chicken Tenders
With Honey Mustard – $7.99
Kids' Burger or Cheeseburger – $5.99
Uncrustables Peanut Butter and Jelly Sandwich  – $6.50
Whole Grain Fish Sticks – $4.99
Beverages
Fountain Soda  – $3.00
Milk – $1.75
Juice Box – $1.45
Dasani – $2.50
The Hideaway Bar & Grill Menu – Drinks
Menu Date 06/2019
On The Rocks
All cocktails below blast off with a 16 oz. Cabana Bay Pool Cup – $14 | Refills – $10.50
Add a floater of Myers's Dark Rum or 360 Vodka flavor to any drink below for $3 or add a pump of flavored Strike Force for a shot of energy to any drink for $1.99
Melon Breeze
Don Q Coco Rum, Melon Liqueur, Pineapple Juice
Fun in the Sun
360 Mango Vodka, Mango Puree, Sour, Pineapple Juice
Roadie
Bacardi Dragon Berry Rum, Watermelon Pucker, Sour, Soda
The King
Three Olives Coconut Water Vodka, Strawberries, Pineapple Juice, Lime Juice
It's Been Real
Deep Eddy Cranberry Vodka, Deep Eddy Grapefruit Vodka, Mint, Lime Juice, Soda
Cloud Nine
Bacardi Pineapple Rum, Pineapple Juice, Sour, Grenadine, Flor de Caña Añejo Oro Rum Floater
Let It All Hang Out
Rebel Yell Bourbon, Grand Marnier, Lemonade
Aloha Punch
Heroes Vodka, Don Q Coco Rum, St. Augustine Gin, Blue Curacao, Pineapple Juice, Lemon-Lime Soda
Sailor's Delight
Bacardi Banana Rum, Sailor Jerry Spiced Rum, Orange Juice, Grenadine
Gin-Ger Mojito
St. Augustine Gin, Barrow's Intense Ginger Liqueur, Agave Nectar, Mint, Lime, Soda
Florida Flower
Deep Eddy Orange Vodka, Malibu Coconut Rum, Triple Sec, Orange Juice, Cranberry Juice
Americana Lemonade
Heroes Vodka, Watermelon Pucker, Lemonade, Fresh Blueberries
Frozen
Copasetic
Deep Eddy Lemon Vodka, Lemonade Island Oasis, Raspberry Island Oasis Lava Flow, Blue Curacao Floater
Funky Monkey
Margaritaville Spiced Rum, Malibu Coconut Rum, Banana Island Oasis
Hideaway Colada
Cruzan Black Cherry Rum, Piña Colada Island Oasis, Strawberry Island Oasis Lava Flow
Blue Palm Margarita
El Jimador Silver Tequila, Blueberry-Pomegranate Island Oasis, Margarita Island Oasis
Wine
Red Sangria
Glass – $8 | Bottle – $30
Sauvignon Blanc
Glass – $8 | Bottle – $30
Pinot Grigio
Glass – $8 | Bottle – $30
Chardonnay
Glass – $8 | Bottle – $30
Merlot
Glass – $8 | Bottle – $30
Pinot Noir
Glass – $8 | Bottle – $30
Cabernet Sauvignon
Glass – $8 | Bottle – $30
Prosecco
Glass – $9 | Bottle – $34
Beer
Draft Beer
16 oz. $6.50 – $7.00
24 oz $9.00 – $9.50
Bottled Beer – $6.50 – $7.25
Buckets of Beer
6 Pack – $32.50 – $36.25
Non-Alcoholic
Smoothies
Strawberry, Mango, Peach, Raspberry, Vanilla, Lemonade, Banana, Piña Colada, Wildberry, Blueberry Pomegranate, Mojito – $5.00
All That Razz Mocktail
Raspberry Puree, Sprite, Cranberry Juice – $4.00
Classic Mocktail
Orange Juice, Cranberry Juice, Apple Juice, Sprite – $4.00
Soft Drinks
Good for 2 hours of refills – $3.50
***Hideaway Bar & Grill Menu Items and Prices are Subject to Change***