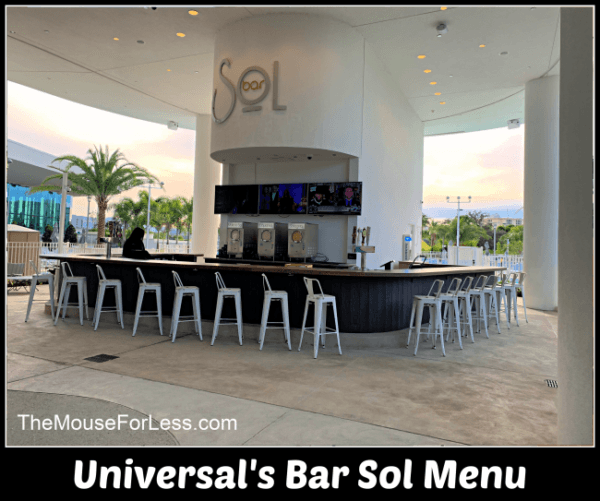 Make sure to enjoy a beverage or two while relaxing poolside at Universal's Aventura Hotel. Bar Sol offers their own spin on your favorite cocktails and mocktails as well as beer and wine if you prefer to keep things simple.
Bar Sol is located in Universal's Aventura Hotel. Find more Universal Orlando dining locations on our Universal Orlando Resort menus page.
Open daily from 10:00 am – 10:00 pm

Planning a Universal Vacation?
Bar Sol Drink Menu
Menu Date 01/2020
Bar Sol Cocktails
Mule De Sol
Q-Ginger beer, Lime, Berry, Choice of Vodka, Rum or Bourbon – $12
Summer Lovin
Cruzan Rum, Q-Grapefruit, Sparkling Wine, Cucumber, Lime – $12
Marg Sol
Sauza Blue Tequila, Triple Sec, Lime, Agave – $12
Spritz
New Amsterdam Vodka, Aperol, Moscato, Strawberry – $12
Arnold Palmer's Day Off
Deep Eddy's Lemonade, Deep Eddy's Sweet Tea, Cherry – $12
Unconventional Coconut
Coconut rum, lime, coconut water, mint – $12
Frozens
Sol Blush
Blush Wine, New Amsterdam Vodka – $12
Pina Solada
Blush Wine, New Amsterdam Vodka – $12
Liquid Sol
Rum & Citrus Flavors – Peach, Mango, Coconut, Strawberry, Passion Fruit, Raspberry- $12
Non-Alcoholic
Sol Smoothie
Strawberry, Peach, Mango, Raspberry, Passion Fruit, Coconut – $7
Thyme Out
Orange juice, cherry, thyme – $5
Pineapple Turmeric Lemonade
Lemon Juice, Turmeric Syrup, Pineapple Juice – $9
Bar Sol Draft Beer
Light Lager, Bud Light, St. Louis, MO, 4.2% ABV– $8
Amber Lager, Yuengling, Pottsville, PA, 4.5% ABV – $8
Light Lager, Michelob Ultra, St. Louis, Mo 4.2% Abv – $8
Witbier, Blue Moon Belgian White, Belgium 5.4% Abv – $8
American Blonde Ale, Big Storm 'Tropic Pressure', (Hibiscus & Cinnamon) Tamap Bay, FL, 4.4% ABV – $8
Tiki Sangria, NY, 6% ABV– $8
Brown Ale, Bold City, 'Duke's Cold Nose,' Jacksonville, Fl 6.0% Abv  – $8
Bar Sol Can Beer
Bucket: 5 for $25 (Excludes Voodoo Ranger)
Corona Light – $6
Coors Light – $6
Bud Light – $6
Corona Extra – $6
Stella Artois – $6
Fat Tire 'Voodoo Ranger' IPA – $6
Heineken – $6
White Claw – $6
Bar Sol Wines
Sparkling Wine, Prosecco, Lunetta, Veneto, It
Glass – $11 | Bottle $41
White Wine, Moscato, Candoni, Pavia, IT
Glass – $11 | Bottle $41
Invitation Wine: Chard, Cab Sav, Pinot Noir, Sauv Blanc
Glass – $9 | Bottle $32
***Bar Sol Menu Items and Prices are Subject to Change***