Universal Studios Orlando | CityWalk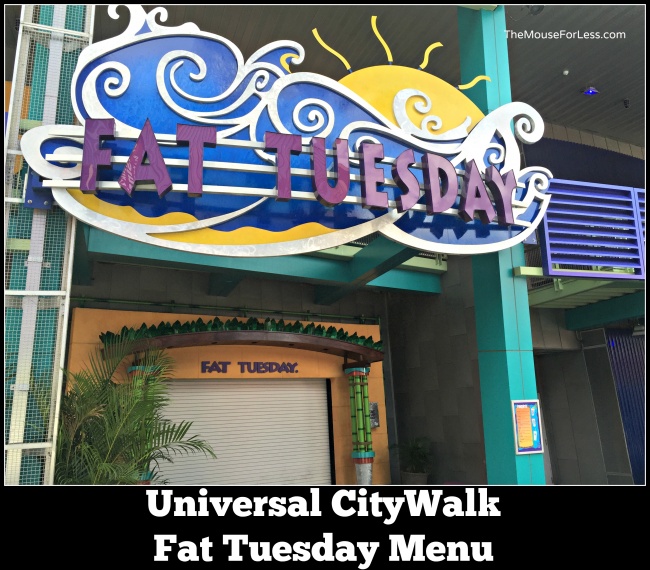 Visit Universal Studios version of Bourbon Street in New Orleans! Fat Tuesday serves up famous frozen drinks and concoctions that are internationally recognized.  Fat Tuesday's number one flavor 190 Octane is available as well as classic favorites and custom combos.  Beer and Soda are also available for those who prefer something simpler.
Open Daily: 4:00 p.m. – 1:45 a.m.
Fat Tuesday Menu
Menu Date 5/2017
Non-Alcoholic Beverages
Soda – $3.29
Bottled Water – $4.50
Alcoholic Beverages
16 oz Heineken – can – $7.50
16 oz Yuengling – aluminum bottle – $7.50
16 oz Coors Light – aluminum bottle – $7.50
16 oz Miller Lite – $7.50
16 oz Corona – can – $7.50
16 oz Daiquiri – $8.00
Tooters/Floaters – Alcohol shot in a tube that can be released into your drink – $2.00
Souvenir Cups
16 oz Daiquiri Souvenir Cup– $11.00
16 oz Refill – $7.00
24 oz Daiquiri Souvenir Cup– $16.00
24 oz Refill – $10.00
** Fat Tuesday Menu and Prices are Subject to Change Without Notice **