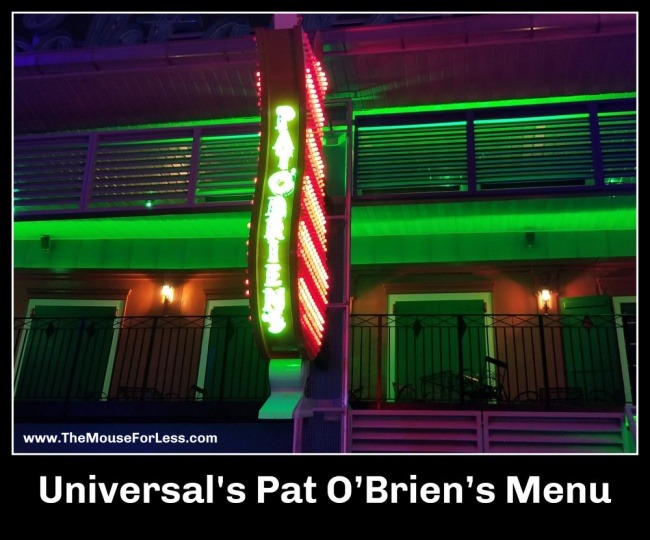 It's Mardi Gras 365 days a year at this reproduction of New Orleans' favorite haunt. Pat O'Brien's is also the home of dueling pianos, where you can sing along with two piano players performing nightly.
Pat O'Brien's is located in Universal Orlando's Citywalk.  Find more Universal Orlando dining locations on our Universal Orlando Resort menus page.
Open Daily: 4:00 pm – 2:00 am
Universal Dining Plan Participant

Planning a Universal Orlando Vacation?
For a Free no-obligation quote, contact our sponsor
The Magic For Less Travel
. Services are provided free of charge and their expert planning advice will help you make the most of your vacation time and money.
Pat O'Brien's Dinner Menu
Menu Date 02/2020
Pat O'Brien's Specialty Drinks
Pat O'Brien's Hurricane
The house specialty made with Pat O'Brien's 151 rum and Hurricane mix served in a souvenir glass
Category 5 Margarita
1800 Reposado tequila, orange curaçao, orange juice and a splash of Hurricane mix
Pat O's Rainstorm
Van Gogh vodka, Midori melon liqueur, Don Q coconut rum, pineapple juice, and blue curaçao
Bloody Mary
Three Olives vodka, Pat O'Brien's Bloody Mary Mix, garnished with beef jerky straw, bacon slices, and romaine lettuce stalk
Typhoon
Three Olives vodka, Chambord, peach schnapps, cranberry, and pineapple juice
Mint Julep
Buffalo Trace bourbon and simple syrup muddled with fresh mint
Fuzzy Leprechaun
Tito's vodka, peach schnapps, blue curaçao, orange, and pineapple juice
Pat O's Lemonade
Pat O'Brien's Hurricane Rum, Bacardi O Orange rum, grenadine, and sour mix
Tropical Depression
Van Gogh vodka, Don Q coconut rum, Southern Comfort, crème de almond, orange, and pineapple juice
Starters
Blackened Chicken Nachos
Tortilla chips, chicken breast, red beans, Cajun cheese sauce, tomatoes, fresh jalapeños, scallions, shredded cheddar, sour cream – $13.95
Crawfish Dip
A blend of crawfish, cream cheese, cheddar cheese, fresh jalapeños, melted provolone cheese, tortilla chips – $11.45
Pat O'Brien's Wings
Crispy wings, signature sauce, blue cheese, celery – $13.95
Cajun Garlic Shrimp
Crispy shrimp, garlic sauce, fresh slaw – $9.95
Combo Platter
A selection of favorites: wings, Cajun garlic shrimp, crawfish dip, onion rings – $16.95
Soups & Salads
Blackened Chicken Caesar
Romaine lettuce, blackened chicken breast, crispy Tabasco onions – $13.95
Mardi Gras Gumbo
Rich with New Orleans flavors, topped with white rice and shrimp – $6.45
Shrimp Cobb Salad
Crispy shrimp, avocado, egg, tomato, cucumbers, blue cheese, bacon, Louisiana ranch dressing – $14.95
Entrées
Coppertop Steak
Beef medallions, house-made mashed potatoes, seasonal vegetables, crispy Tabasco onions, gravy – $20.95
Shrimp & Grits
Blackened shrimp, andouille sausage, grits, cream, parmesan cheese – $17.95
Cajun Mac N Cheese
Penne pasta, blackened chicken, shrimp, Cajun cheese sauce – $14.95
Bayou Blackened Redfish
Fresh redfish, red beans, rice, seasonal vegetables, muffaletta butter – $18.95
Crawfish Etouffee
New Orleans sauce, andouille sausage, crawfish, white rice – $16.95
Vegetable Jambalaya
White rice, corn, bell peppers, okra, onion, black-eyed peas, zucchini, squash, creole sauce – $13.95
Jambalaya
Slow cooked Cajun rice, andouille sausage, shrimp, chicken, Creole sauce – $16.95
Creole Chicken
Blackened chicken breast, rice, red beans, creole sauce – $14.95
Sandwiches
All sandwiches served with seasoned fries or onion rings can be substituted for $1.95
Voodoo Burger
Beef patty, andouille, crispy shrimp, cheddar cheese, lettuce, tomato, toasted challah bun – $16.45
N'awlins Shrimp Po'Boy
Crispy shrimp, Cajun mayo, lettuce, tomato, pickles, hoagie roll – $11.95
Chicken Sandwich
Blackened chicken breast, cheddar cheese, bacon, lettuce, tomato, Cajun mayo, toasted challah bun – $11.95
Courtyard Cheeseburger
Beef patty, lettuce, tomato, choice of cheese, toasted challah bun – $14.95
Muffaletta
Salami, mortadella, ham, provolone, and Swiss cheese, olive tapenade, muffaletta bread – $13.95
Vegetarian Black Bean Burger
Black bean patty, lettuce, tomato, pickle, cheddar cheese, toasted challah bun – $11.95
Sides
Garden Salad – $4.45
Seasonal Vegetables – $3.95
Red Beans & Rice – $3.95
Mashed Potatoes – $3.95
Desserts
Bag O' Beignets
New Orleans style doughnuts, powdered sugar, chocolate dipping sauce – $4.95
Bread Pudding
Homemade bread pudding, vanilla ice cream, cinnamon – $6.45
Strawberry Hurricane Cheesecake
New York Style Cheesecake, Hurricane strawberry sauce – $6.45
Pat O'Brien's Kids' Menu
Menu Date 02/2020
Chicken Fingers
Crispy tenders, choice of side – $6.99
Cheeseburger
Beef patty, lettuce, tomato, sesame seed bun, choice of side – $6.99
Mac & Cheese
Penne pasta, cheese sauce, choice of side – $6.99
Grilled Chicken
Grilled chicken breast, white rice, choice of side – $6.99
Grilled Shrimp
Grilled jumbo shrimp, white rice, choice of side – $6.99
Sides
Apple sauce, grapes, or seasoned fries
** Pat O'Brien's Menu and Prices are Subject to Change Without Notice **