Universal Orlando | Islands of Adventure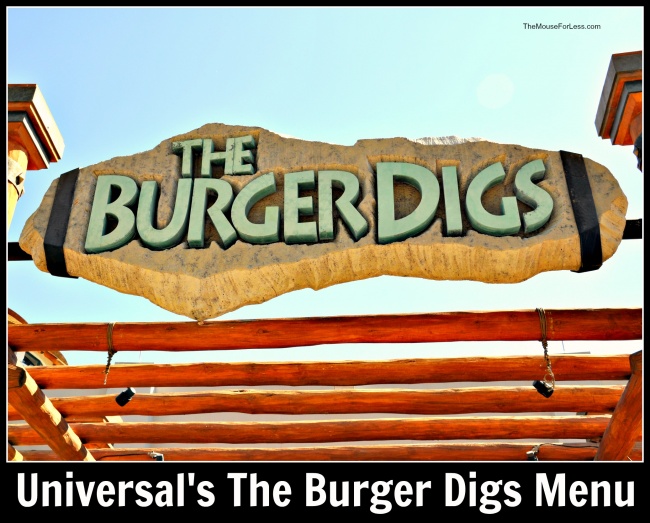 Digging up fossils and exploring the Jurassic era can work up quite an appetite. When you're ready to eat, the Burger Digs menu offers you choices ranging from burgers, sandwiches, or chicken tenders. Wash it all down with a cold soda or brew.  The Burger Digs is just a few steps away from the Jurassic Park Discovery Center.
Open daily during park hours.
Universal Dining Plan participant.
The Burger Digs Menu
Menu Date 02/2019
Combos and Platters
Combos are served with fries and a regular shake. Platters are served with fries.
BBQ Burger Combo
Mango BBQ sauce, smoked gouda, seared beefsteak tomato and coleslaw. Substitute chicken or vegan patty – $18.99
BBQ Burger Platter – $15.49
Bacon Cheeseburger Combo – $16.49
Bacon Cheeseburger Platter – $12.99
Chicken Tenders Combo – $14.49
Chicken Tenders Platter – $10.99
Grilled Chicken Sandwich Combo – $14.99
Grilled Chicken Sandwich Platter – $11.49
Vegan Cheeseburger Platter
brown rice and mushroom patty with vegan cheese and fries – $11.49
Chick'n Avocado Sandwich Platter
Plant-based Gardein Chick'n and Follow Your Heart American cheese. Served with a side of fries – $12.49
Spring Salad
fire roasted corn, peppers, black beans, pineapple vinaigrette  – $9.99
Add fried or grilled chicken for $2.00
Sides
French Fries – $3.49
Onion Rings – $4.49
Cheese Sauce – $1.69
Chili Cheese Fries – $5.59
Beverages
Fountain Soda
Coca-Cola, Coke Zero Sugar, Diet Coke, Sprite, Fanta Orange, Minute Maid Lemonade – $3.69
Powerade
Choice of Fruit Punch or Mountain Berry Blast – $5.00
Minute Maid Juices
Choice of Apple or Orange – $2.39
Milk
Choice of 2% or Chocolate – $2.99
Hot Drinks
Coffee, Hot Cocoa, Hot Tea – $3.29
H20+ Premium Water – $5.00
Unlimited Refill Souvenir Cups
Coca-Cola freestyle Souvenir Cup
Unlimited self-serve refills on your favorite Coke products with over 100 combinations. Discounts available when purchasing multiple cups.
Extra day of refills for Coca-Cola freestyle Souvenir Cup
Add an extra day of free refills to your previously purchased Coca-Cola freestyle Souvenir Cup – $8.99
Milkshakes & Desserts
Shakes
Chocolate, Vanilla or Swirled
Regular – $3.99
Large – $5.99
Brookie – $3.29
Apple Pie – $3.99
Beer
Draft Beer
Bud Light, Miller Lite – $7.99
Blue Moon, Samuel Adams – $8.99
Souvenir Pilsner
Bud Light, Miller Lite – $10.49
Blue Moon, Samuel Adams – $11.99
***Burger Digs Menu Items and Prices are Subject to Change***