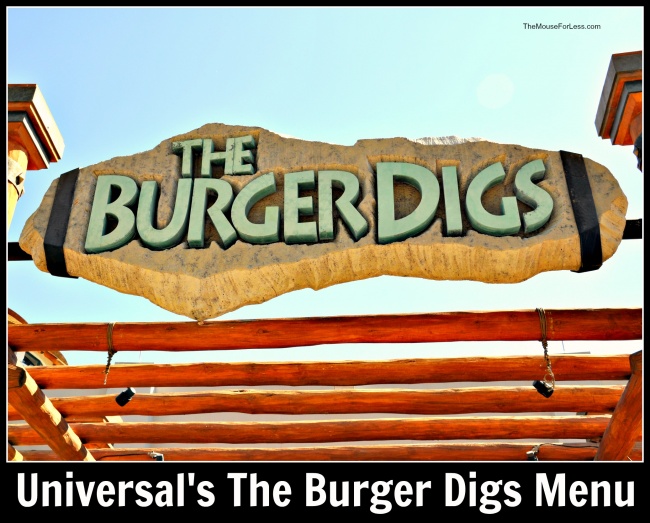 Digging up fossils and exploring the Jurassic era can work up quite an appetite. When you're ready to eat, the Burger Digs menu offers you choices ranging from burgers, sandwiches, or chicken tenders. Wash it all down with a cold soda or brew.  The Burger Digs is just a few steps away from the Jurassic Park Discovery Center.
The Burger Digs is located in the Islands of Adventure Theme Park. Find more Universal Orlando dining locations on our Universal Orlando Resort menus page.
Open daily during park hours.
The Burger Digs Menu
Menu Date 4/2022
Platters
1/2lb. Creekstone Farms Premium Black Angus beef
Platters are served with fries.
Bacon Cheeseburger Platter 
Premium Black Angus beef patty, cheddar cheese and bacon. – $14.99
Casado Burger Platter
Costa Rican inspired black angus patty, sweet plantains, avocado, pork belly, garlic mayonnaise on a raptor scored brioche bun – $17.49
available in 'Protein Style'- lettuce instead of buns  
Herbivore Burger Platter
Balsamic marinated roasted Portobello mushroom, smoked tempeh bacon, vegan Swiss cheese, vegan secret sauce, Kalera Krunch lettuce and sliced tomatoes on a toasted kaiser roll, served with fries – $13.99
Grilled Chicken Sandwich Platter
Grilled chicken breast – $12.49
Spring Salad 
Fire roasted corn, peppers, black beans, pineapple vinaigrette  – $9.99
Add fried or grilled chicken for $4.99
Sides
French Fries – $3.99
Onion Rings – $4.99
Cheese Sauce – $1.99
Chili Cheese Fries – $6.49
Unlimited Refill Souvenir Cups
Coca-Cola freestyle Souvenir Cup
Enjoy more than 100 drink choices and refills thru the day* with the Coca-Cola Freestyle® souvenir cup. Get 3–6 souvenir cups for $13.99 each, 2 for $15.99 each, or 1 for $16.99 at participating Coca-Cola Freestyle® locations.  – $16.99
*Valid Coca-Cola Freestyle® Souvenir Cup required to dispense Coca-Cola Freestyle®. Refills are limited to no more than one (1) pour from the Coca-Cola Freestyle® machine per 10 minutes and valid day of purchase only. Sharing is not permitted. Additional restrictions may apply which are subject to change without notice.
Extra day of refills for Coca-Cola freestyle Souvenir Cup
Add an extra day of free refills to your previously purchased Coca-Cola freestyle Souvenir Cup – $9.99
Beverages
Single Serve Coca-Cola freestyle cup
Enjoy more than 100 drink choices with the Coca-Cola freestyle single-serve cup – $4.29
Powerade
Fruit Punch, Mountain Berry Blast – $5.50
Minute Maid Juices
Apple, Orange – $2.89
Milk
2%, Chocolate – $3.29
Hot Drinks
Coffee, Hot Cocoa, Hot Tea – $3.49
H20+ Premium Water – $5.00
Desserts
Milkshakes
Chocolate, Vanilla or Swirled
Regular – $3.99
Large – $5.99
Brookie – $3.29
Apple Pie – $3.99
Beer and Wine
Assorted Draft Beer – $9.50 – $11.00
Upgrade to a souvenir Pilsner – $12.50 – $14.00
Assorted Canned Beer – $9.00
Wine
Beringer Founder's Estate Chardonnay – $8.50
Spellbound Cabernet Sauvignon – $8.50
***Burger Digs Menu Items and Prices are Subject to Change***