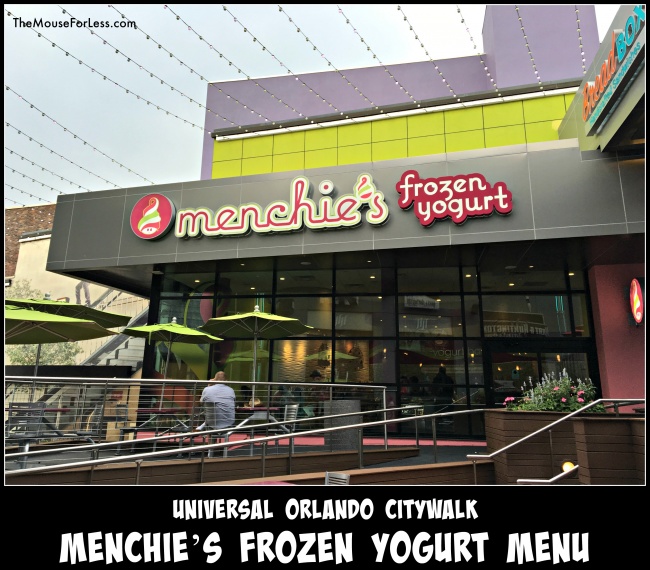 Menchie's Frozen Yogurt features a build your own yogurt menu where you can choose whichever toppings you want. Cost is based on the weight of the cup of yogurt.
Menchie's Frozen Yogurt is located in Universal Orlando's Citywalk.  Find more Universal Orlando dining locations on our Universal Orlando Resort menus page.
Open Sunday – Thursday 11:00 am – 11:00 pm; Friday – Saturday 11:00 am – midnight
Menchie's Frozen Yogurt Menu
Menu Date: 5/2017
Yogurt
Frozen Yogurt and Toppings – $0.59 per pound
Nonfat Flavors – pure chocolate, fresh shredded coconut, crisp Irish mint, strawberry burst, premier pistachio, vanilla snow, rockin salted caramel, and more!
Lowfat Flavors – chocolate dunked banana, I dream of cookies n' cream, creamy peanut butter, dreamy dulce de leche, mudslide pie, ice cream sandwich, red velvet royale, and more!
Regular Flavors – reese's peanut butter cup, creamy cocoa hazelnut made with nutella
Tart Flavors – the art of green apple tart, the art of original tart, the art of blue raspberry tart, the art of black cherry tart, the art of blueberry pomegranate tart, the art of pineapple tart, the art of peach mango tart
Sorbet – paradise fruit punch, fresh honeydew, island mango, strawberry kiwi twist, pomegranate razz, sweet pink lemonade, juicy grape, and more!
No Sugar Added – dark chocolate bar, strawberry banana breeze, iced coffee, strawberry, pecan praline surprise, midnight chocolate mint, very vanilla bean
Low Carb – boysenberry, butterscotch, juicy raspberry, marshmallow, pecan praline, white chocolate raspberry, devil's food cake
Low Carb/No Sugar Added – angel food cake, banana, cappucino, caramel, coffee royale, grasshopper, new york cheesecake, and more!
Beverages
Resource Natural Spring Water – $4.00
Fruit Water – Sparkling Kiwi – $4.00
** Menchie's Frozen Yogurt Menu and Prices are Subject to Change Without Notice **

Planning a Universal Orlando Vacation?
For a Free no-obligation quote, contact our sponsor
The Magic For Less Travel
. Services are provided free of charge and their expert planning advice will help you make the most of your vacation time and money.