Epcot | Future World
Description Ride Information Restrictions Location Fun Facts Top 5 Tips
On July 15, 2017, Disney announced that Universe of Energy: Ellen's Energy Adventure would permanently close. The ride officially closed on August 13, 2017 to prepare for a new attraction based on Marvel's Guardians of the Galaxy franchise.
Universe of Energy Description
Universe of Energy:  Ellen's Energy Adventure is located in Future World at Epcot.  Join Bill Nye "The Science Guy" as he explores the world of energy with Ellen DeGeneres in this elaborate presentation.
Universe of Energy Ride Information
Opening Day: September 15, 1996
Type of Ride: Roaming theater presentation
Age Recommendation: All ages, though probably more interesting for adults
Duration of Ride: About 40 minutes
Typical Queue Time: Short; usually less than 10 minutes
Single Rider Line: No
Chicken Exit Available: Yes
Baby Swap Available: Yes
Type of Vehicle: Mobile theater
Type of Restraint: None
Attraction Open During Early Theme Park Entry: No. See our Early Theme Park Entry page for more information.
Ride Photo Available For Purchase: No
Universe of Energy Ride Restrictions
Height Requirements: None
Flash Photography or Video Allowed: No
Universe of Energy Location
Shopping: An assortment of souvenirs, including shirts, hats, plush toys, and pins, can be purchased nearby at "Mouse Gear," Epcot's premier gift shop.
Dining/Refreshment: none
Restroom: Facilities convenient to Universe of Energy are located on the east side of "Spaceship Earth," and between "Mouse Gear" and Test Track.
Smoking Location: Smoking is permitted in designated smoking areas only. Epcot smoking areas can be found on our Walt Disney World Designated Smoking Areas page.
Universe of Energy: Ellen's Energy Adventure Fun Facts
Did You Know?
 Universe of Energy: Ellen's Energy Adventure replaced the original Universe of Energy, which had operated since Epcot's opening day, October 1, 1982, in late 1996. The attraction was briefly titled "Universe of Energy: Ellen's Energy Crisis."
The location of Universe of Energy and the situation of its roof were chosen to maximize sunlight exposure. A collection of 80,000 solar collectors in the roof are used to furnish some of the energy needed to power the batteries in the attraction's vehicles. References to the innovations of the pavilion proper were included in the original show.
Celebrities featured in Universe of Energy: Ellen's Energy Adventure include Ellen DeGeneres, Bill Nye, Jamie Lee Curtis, and Alex Trebek.
Universe of Energy: Ellen's Energy Adventure involves Bill Nye taking Ellen DeGeneres on a trip through space and time to augment her knowledge of energy.
Topics covered in Universe of Energy: Ellen's Energy Adventure include the Big Bang theory; the conversion of plants and animals into fossil fuels, such as coal, natural gas, and oil; dinosaurs; the discovery of fire; the benefits and detriments of renewable energy sources, such as sunlight, wind, and water; global warming; oil; atomic energy; and brain power.
Universe of Energy utilizes six vehicles that seat up to 97 people. These vehicles, unchanged from the original Universe of Energy attraction, transport guests through the different show scenes, most of which involve video projections on large screens.
Consisting of a plethora of dinosaur animatronics, the attraction's impressive Primeval Diorama segment is about six minutes in length and debuted with the original Universe of Energy attraction in 1982. With the 1996 overhaul, animatronic figures of Bill Nye and Ellen DeGeneres were created and inserted among the existing dinosaurs, which were visually enhanced. The Primeval Diorama is based on Fantasia's "Rite of Spring" segment and two similar dioramas, one at the 1964 New York World's Fair and another on Disneyland Park's railroad between Tomorrowland and Main Street U.S.A.  Disneyland's diorama debuted in 1966.
Corny humor pervades the experience.
The Universe of Energy pavilion was sponsored by Exxon, later ExxonMobil, from opening day until 2004.
The original version of Universe of Energy was a more straightforward and serious presentation than Ellen's Energy Adventure. It commenced with a preshow that summarized energy generally; its various forms, such as nuclear energy, chemical energy, electrical energy, mechanical energy, heat energy, and light energy; and its utilization by mankind. The preshow screen was visually appealing with rotating panels creating a mosaic. The preshow culminated with a catchy song, "Energy (You Make the World Go 'Round)." On the ride proper, a presentation ranging from the creation of fossil fuels to the state of energy throughout the world in the early 1980s was projected onto large screens, with the Primeval Diorama also included. The attraction ended with relevant light projections accompanied by an upbeat musical number, "Universe of Energy."
Top 5 Tips for Universe of Energy: Ellen's Energy Adventure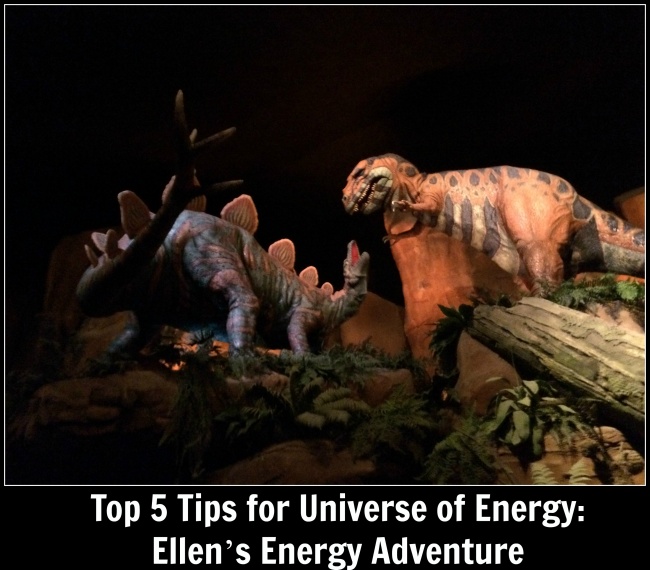 With uninterrupted dinosaur roars and intense lighting effects, the Primeval Diorama segment of Ellen's Energy Adventure may frighten young children.
Do not expect an up-to-date attraction. Ellen's Energy Adventure has not been significantly altered since 1996, and many of its show elements feel old, especially those in the preshow.
With a large capacity, short wait times, and a long duration, Universe of Energy: Ellen's Energy Adventure is a great attraction to experience during the crowded middle part of the day.
Be prepared to laugh.
Fans of Jeopardy should make Ellen's Energy Adventure a priority.