July 27 – November 1, 2023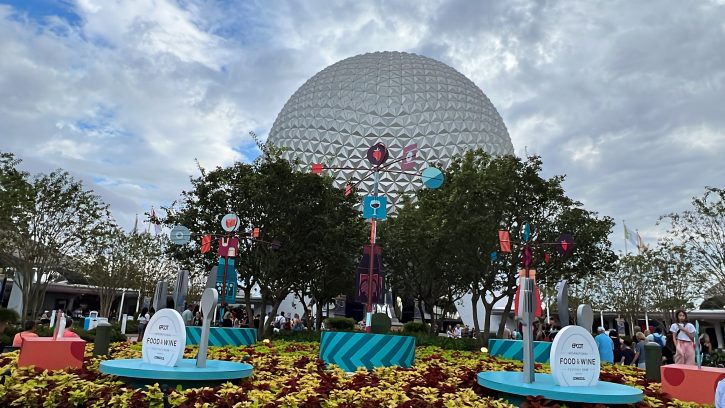 This annual event transforms EPCOT into a food and wine lover's paradise! Try delicious foods, wines and beers from around the world at special marketplaces set up throughout the park.
Growing in scope as one of America's top food festivals each year since 1996, the Epcot festival will feature inspired sips and bites throughout the park's World Showcase and Future World. Guests will have a chance to take a taste tour across six continents and more! You won't want to miss it!
Epcot Food and Wine Festival Overview
Marketplace Food Booth Menus Special Event Booking Information Shopping & Merchandise For the Kids Other Highlights  Travel Deal 
EPCOT International Food and Wine Festival Marketplace Food Booths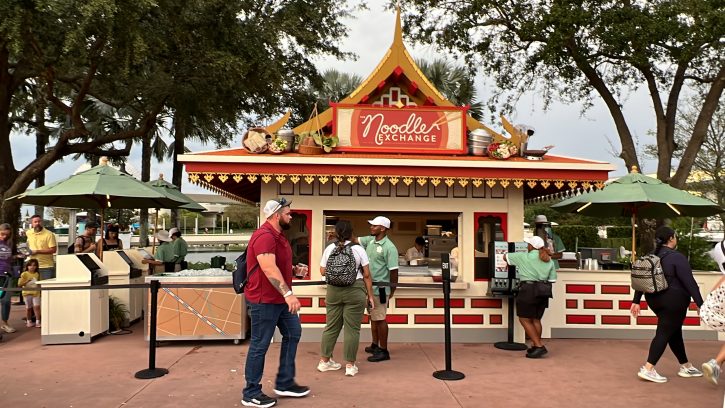 International marketplace food kiosks serve up regional specialties beginning at 11:00 a.m. each day of the festival. Countries feature their most mouthwatering foods and beverages! Marketplaces serve tapas-sized portions which range in cost from about $4 to $8. Each kiosk offers suggested pairings of beer, wine or cocktails.
MouseForLess Tips:
To enjoy the shortest lines, get there at opening (11:00 a.m.), before the lunch crowd, and avoid the weekends when the lines can get impossibly long! Typically, the lightest crowds will be Monday through Thursday. To save time, plan your visit by checking out the menus for each kiosk. To save on your feet, remember to pace yourself; it's 1-1/3 miles around World Showcase, so take it slow and enjoy some of the entertainment offered at individual pavilions in between sampling Marketplace offerings. And, to get the most from your food budget, consider picking a few extra choices and sharing menu items with others in your group.
A complimentary Marketplace Discovery Passport is available to be stamped at each international marketplace visited for the perfect scrapbook souvenir. Each marketplace has its own unique sticker design. Ask at the Marketplaces kiosks to receive your Marketplace Discovery Passport. It's a great way to remember what you ate!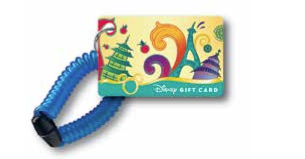 Pick up a Food & Wine themed mini Disney Gift Card — a fast, easy and secure way to carry your money on your wrist, and simply the best way to experience the Festival. The Disney Gift Card is offered as a convenient mini-sized wristlet, or as a full-sized card. Just load or reload the card with any amount you desire starting with as little as $15 and swipe – you're spared the trouble of getting out your credit card or cash any time you want to pay for food, merchandise and more. You can reload your card as many times as you wish using cash, credit, or debit at the majority of festival kiosks. Disney Gift Cards are available throughout EPCOT.
Normally Guests can snack their way around the World with Disney Dining Plan Snack Credits! Currently the Disney Dining Plan is not being offered however. Normally, snack credits can be used to purchase select food items at international Marketplaces around World Showcase during the EPCOT Food & Wine Festival. Look for the Disney Dining Plan Snack Symbol to identify snack items available with Disney's Dining Plan snack credit.
EPCOT Food & Wine Festival Shows
Eat to the Beat Concert Series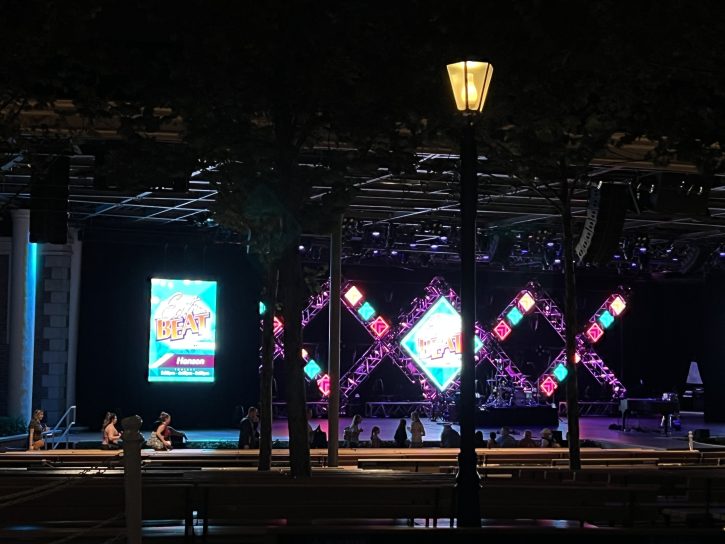 During the Eat to the Beat Concert Series enjoy the savory sounds of favorite musical acts, live on stage at World Showcase, America Gardens Theatre. Crowd favorites and new performers will rock the stage. The Eat to the Beat Concert Series takes place three times per evening during the EPCOT Food and Wine Festival and are free with EPCOT admission.
And, if your favorite band is performing at the Eat to the Beat Concert Series during the EPCOT International Food and Wine Festival, consider purchasing the Eat to the Beat Dining Package. These packages not only guarantee a spot for one of the Eat to the Beat Concerts, but guests will also be able enjoy a delicious meal at select EPCOT restaurants for either lunch or dinner.
More details about the Eat to the Beat Concert Series can be found in our handy guide.
Spaceship Earth Show
Each night, a special Beacon of Magic show takes place on Spaceship Earth that celebrates the EPCOT International Food and Wine Festival. In 2022, the show revolved around the song "Be Our Guest."

Planning a Walt Disney World Vacation?
For a Free no-obligation quote, contact our sponsor
The Magic For Less Travel
. Services are provided free of charge and their expert planning advice will help you make the most of your vacation time and money.
Epcot International Food and Wine Festival Shopping and Merchandise
During the Epcot International Food & Wine Festival, you can find merchandise that celebrates the annual event. While you're in the park, you'll be able to find many spots offering commemorative gifts, specialty kitchen items, and more.  You can also visit the shops located around World Showcase Promenade for additional Festival merchandise offerings and artisans. Guests will want to commemorate your visit and bring the culinary magic home with limited-edition special event merchandise. You'll find apparel, home décor, trading pins, and much more!
For the Kids (And Kids at Heart)
Remy's Ratatouille Hide & Squeak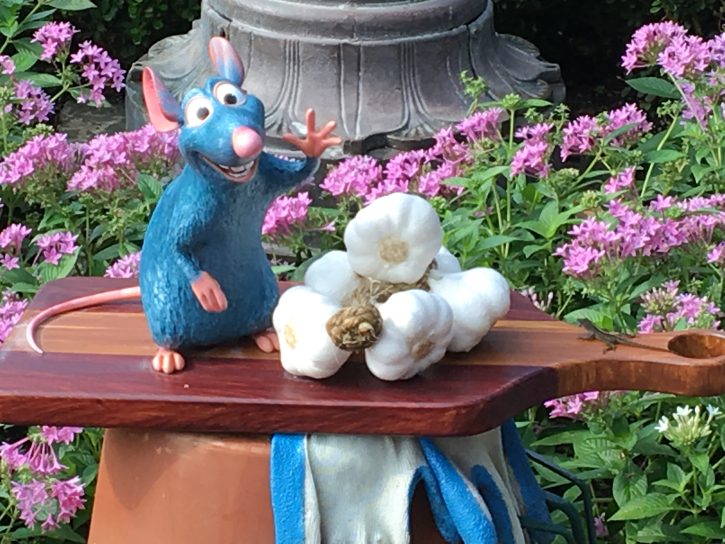 Everyone will enjoy this scavenger hunt for Remy statuettes hidden around World Showcase. The goal is to help Remy as he ventures around World Showcase collecting ingredients for his signature dish, ratatouille. Use the World Showcase map to locate the statues, mark your location with a sticker, and even receive a prize.  You will then use the map to record your discoveries while helping Remy, by placing the corresponding ingredient sticker on the map.
Locations selling map/stickers: DisneyTraders, Port of Entry (Plaza Towers), Creations Shop, Festival Merchandise Kiosks, and World Traveler (International Gateway)
Redemption location: Creations Shop, Disney Traders or World Traveler. Map does not have to be completed to redeem prize.
Theme park admission is not included, however is required to participate. Maps/stickers and surprise available while supplies last. Information subject to restrictions and change without notice.
Emile's Fromage Montage
The whole family will enjoy Emile's Fromage Montage, where Guests can sample a variety of delicious cheeses served in inventive ways. Purchase any 5 cheese dishes from select Global Marketplaces listed in the Festival Passport. You'll want to be sure to collect a stamp for each purchased dish. Once you've collected all 5 stamps, bring the stamped Festival Passport to Shimmering Sips for a specialty prize unique to the Epcot International Food & Wine Festival.
Locations and Menu Items
India Marketplace
Curry-Spiced Crispy Cheese with Mango-Curry Ketchup
Germany Marketplace
Schinkennudeln: Pasta Gratin with Ham, Onions and Cheese
Greece Marketplace
Griddled Cheese with Pistachios and Honey
Brazil Marketplace
Pão de Queijo: Brazilian Cheese Bread
Canada Marketplace
Canadian Cheddar and Bacon Soup served with a Pretzel Roll
Flavors from Fire Marketplace
Smoked Corned Beef with House-made Potato Chips, Cheese Curds, Pickled Onions and Beer-Cheese Fondue
Hawaii Marketplace
Passion Fruit Cheesecake with Toasted Macadamia Nuts
The Alps Marketplace
Warm Raclette Swiss Cheese with Shaved Ham, Baby Potatoes, Cornichons and Baguette
Warm Raclette Swiss Cheese with Baby Potatoes, Cornichons and Baguette
Spain Marketplace
Charcuterie in Cup with a selection of imported Spanish Meats, Cheeses, Olives and an Herbed Vinaigrette
Wine & Wedge – NEW!
Assorted Artisanal Cheeses and Accoutrements
Boursin Fig and Balsamic Soufflé with Fig Tapenade
Southern Pimento Cheese with Bread and Butter Pickled Vegetables and Grilled Bread
Pluto's Pumpkin Pursuit
Celebrate the Halloween season in this very special pumpkin hunt from September 29 to October 31, 2023 (or while supplies last). Guests will be able to purchase a special map and stickers at select merchandise locations, including Creations Shop, Port of Entry, Festival Merchandise Kiosks, and World Traveler at International Gateway.
Have fun hunting for hidden decorative pumpkins based on Disney characters. Once you've found a character, place the corresponding stickers on your Pluto's Pumpkin Pursuit map. Guests may return your map to Disney Traders or World Traveler for a spooky surprise.
Disney Wine & Dine Half Marathon
During the runDisney Wine & Dine Half Marathon Weekend, Guests can run around the parks from November 2-5, 2023! The Disney Wine & Dine Half Marathon features a challenge, 5K, 10K, Half, and more! Plus runners and their friends will be able to enjoy a private after party at the EPCOT International Food & Wine Festival!
Other "Foodie" Events Taking Place During the Epcot Food & Wine Festival
• Annual Swan and Dolphin Food & Wine Classic
November 10-11 2023
The Walt Disney World Swan and Dolphin showcases a passion for food and beverage during the Annual Swan and Dolphin Food & Wine Classic. Elevate your knowledge of wine appreciation in a series of beverage seminars or just enjoy great food as your stroll the Causeway. Live entertainment is included.
The Mouse For Less Tips
Typically, EPCOT park remains open until 10 p.m. on both Friday and Saturday nights during EPCOT International Food and Wine Festival. Additionally, the fireworks move to an hour later, taking place at 10:00 p.m. rather than 9:00 p.m.
Parking at Disney's Yacht and Beach Club Resorts lots will be strictly limited every Friday, Saturday and Sunday during the Epcot International Food and Wine Festival. Only the following guests will be permitted to park during this time period: resort guests, those with confirmed dining, recreation or spa reservations, and guests attending a wedding or convention at Disney's Yacht and Beach Club Resort.