Mid-January – Mid-February 2023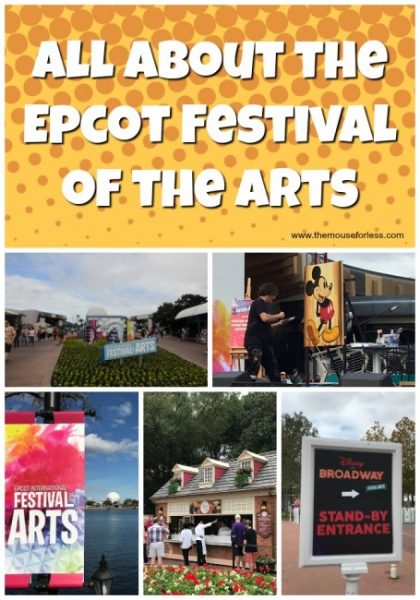 The EPCOT International Festival of the Arts celebrates visual, culinary and performing arts inspired from all around the world set against the incomparable backdrop of EPCOT. This festival features gallery exhibits, foodie experiences with art-inspired menus, live Broadway-style entertainment and more. The Festival features live performances, artist appearances and experiences for art lovers of all ages. The EPCOT Festival of the Arts is included with regular EPCOT theme park admission.
Galleries and Featured Artists Broadway Showcase Food Studios Menus Shopping More EPCOT Festival of the Arts Fun Festival Tips
The following are details from 2022 to assist with pre-planning. 2023 information will be posted when released. 
Take a look at the fun from 2021 via our video on our YouTube channel.
Galleries and Featured Artists
Browse carefully curated collections from up-and-coming and established artists.
ACME Archives: Catch a glimpse of mesmerizing artwork inspired by the entertainment industry.
Disney Fine Art by Collectors Editions: Delight to magnificent artwork inspired by timeless Disney animation.
Disney Art Festival Market: Enjoy works featuring a variety of artistic styles and media created by Disney Cast Members and visiting artists.
James Coleman Studios: Step inside to see works by this former Disney animator—now bringing his magic to fine artwork you can enjoy at home.
POP Gallery: View one-of-a-kind works by groundbreaking artists—representing an exciting variety of styles and subject matter.
Thomas Kinkade Studios: Capture the timeless magic of classic Disney stories and their captivating characters. Behold enchanting works of art where each painting tells a story in one image.
WonderGround Gallery: See favorite Disney characters and themes brought to life through these artists' inventive styles.
Wyland Galleries: Discover fine works of art––depicting Disney themes and nature themes––by world-renowned artists in a variety of distinctive styles.a
Disney on Broadway Showcase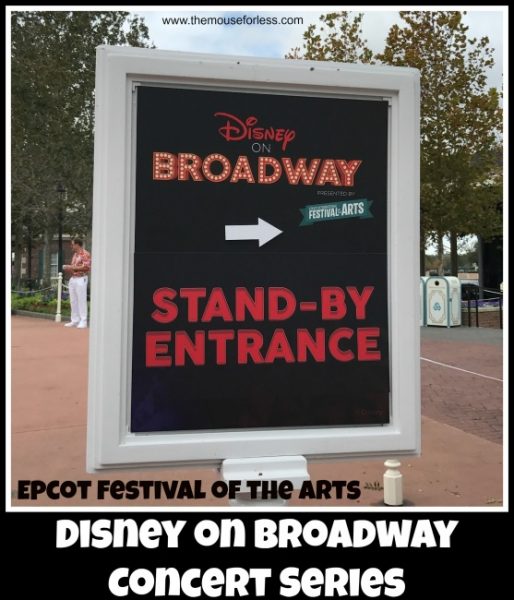 During the EPCOT International Festival of the Arts, due to a collaboration with Disney Theatrical, Guests will be able to experience a showcase of favorite music and Broadway talent to the America Gardens Theatre stage, as different pairings of phenomenal Broadway talent perform in concert, singing songs from some of Disney on Broadway's award-winning shows, including ‪The Lion King‪, Newsies, and Aladdin. Showtimes are 5:30 p.m., 6:45 p.m. and 8:00 p.m. Click here to see the full list of performers.
EPCOT International Festival of the Arts Dining Packages
Disney will also offer a Disney on Broadway Concert Series Dining Package to enjoy. Guests can choose from either lunch or dinner options. The dining package includes a three-course meal or full buffet and priority seating for a concert at participating Epcot restaurants. Prices will range from $57-$69+ tax for adults, $22-$43+tax for children.
Reserve dining packages by calling (407) WDW-DINE or (407) 939-7463.
Food Studios Marketplace Booths Menus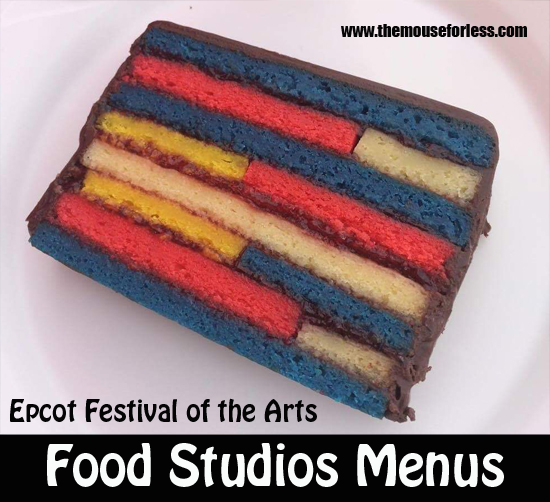 At the Food Studios kiosks, Guests will be able to enjoy delicious and intricate culinary creations. Marketplaces feature tapas-sized portions, as well as beer, wine and cocktails. Prices average from $4 – $8 per dish. When offered, many of the marketplace menu items will be available for snack credits on the Disney Dining Plan.
For the full list of menus, take a look at our Food Studios kiosks menus page.

Guests can also take part in the Wonderful Walk of Colorful Cuisine, where you'll use the Festival Passport as a guide to purchase five vibrant food items and receive a complimentary treat.
EPCOT International Festival of the Arts Shopping
Commemorate your visit with artwork and colorful gift items. It's the perfect way to make your memories last forever.
First, there will be artists representing Disney and visiting galleries who will assemble during the course of the Festival to demonstrate their skills while exhibiting original art, providing a unique experience for collectors as well as Disney enthusiasts to meet and greet the artists, purchase original pieces and watch creativity come to life on the spot! One-of-a-kind "art on demand" as well as original paintings and reproductions will be available at the Art of Disney and throughout the park.
In addition, you can stop by locations throughout World Showcase and Future World Plaza for special merchandise featuring the Festival's logo—from mugs to tee shirts, totes and more.
More EPCOT International Festival of the Arts Fun
In addition, Future World Plaza will also be filled with unique live performances including Living Statues, performances by Central Florida high schools and university and college talent appearing through a partnership with Disney Performing Arts.
Figment's Brush with the Masters Scavenger Hunt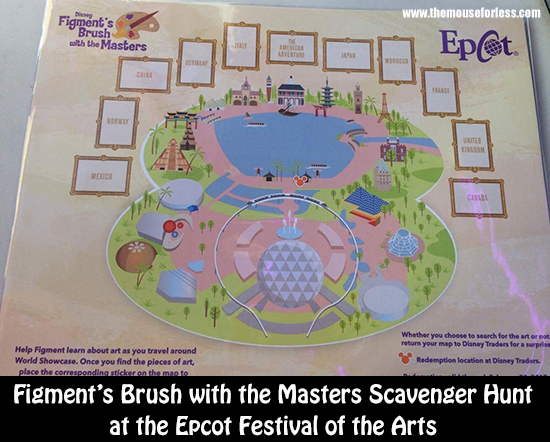 Can you find Figment? Search for clues that lead to the elusive little dragon—leave no painting in World Showcase unturned! Purchase a World Showcase map and stickers at Pin Central, Disney Traders or World Traveler. Visit each country's pavilion in the World Showcase to find artwork in a Figment-themed frame, then locate the popular purple dragon within the picture. Once you've found Figment, simply attach the corresponding location sticker to the correct pavilion on your map. Turn in your completed map at Disney Traders for an artsy surprise!
EPCOT International Festival of the Arts Photo Opportunities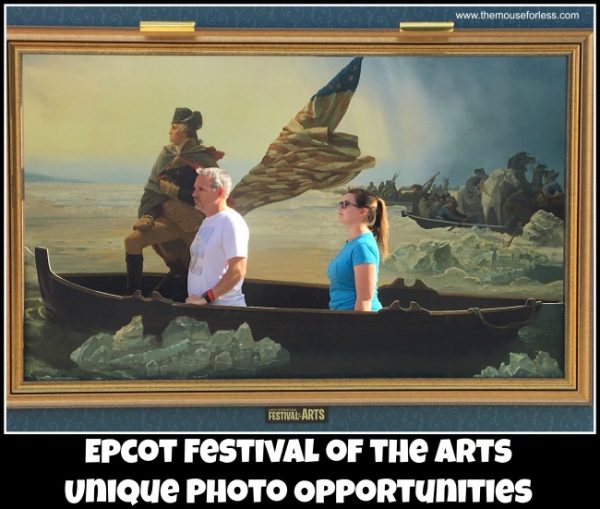 With unique and artistically-inclined photo ops throughout the park, Guests will be able to Cross the Delaware with George Washington, scream along with Edvard Munch and flash your best Mona Lisa smile at immersive photo stops that let you "step into" some of the most-admired artwork from around the world. These photo opportunities will be located throughout World Showcase.
Expression Section: A Paint By Number Mural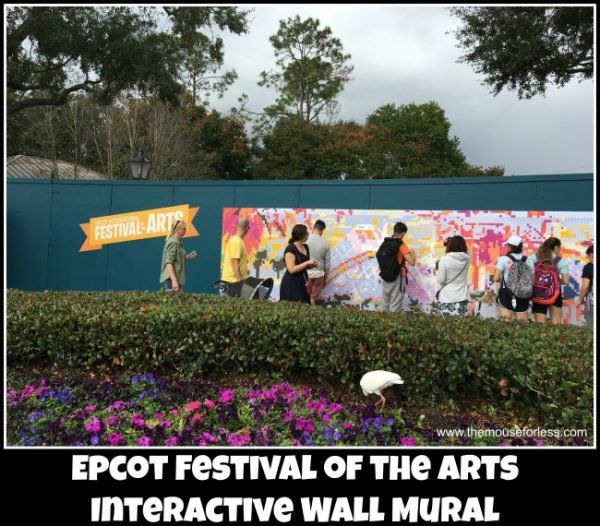 Head over to the World Showcase Plaza to watch creativity come alive as Disney artists create a giant mural—or grab a paintbrush and join the fun from 11:00 a.m. to 5:00 p.m.
Animation Academy
Head over to the America Gardens Theatre and learn how to draw a Disney Character from an animation artist.
Chalk Full of Character
Go on the hunt for some EPCOT International Festival of the Arts fun! Charming chalk drawings of Disney characters—from Abu to Jiminy Cricket—are waiting to be discovered in tucked away corners throughout World Showcase.
Art Defying Gravity
Enjoy the spectacle of thrilling acts of strength—defying gravity and imagination.
Visual Art in Performance
Watch in wonder as a guest visual artist paints favorite Disney characters—images magically appear in minutes during this fun, must-see show!
Mouse For Less EPCOT International Festival of the Arts Tips
To enjoy the shortest lines, get there at World Showcase opening (11:00 a.m.), before the lunch crowd. To save time, plan your visit by checking out the menus for each kiosk. To save on your feet, remember to pace yourself; it's 1-1/3 miles around World Showcase, so take it slow and enjoy some of the entertainment offered at individual pavilions in between sampling Marketplace offerings. And, to get the most from your food budget, consider picking a few extra choices and sharing menu items with others in your group.
A complimentary Festival Passport is available to help you plan your trip. Each marketplace has its own unique sticker design. Visit the Festival Welcome Center or ask at the Food Studios to receive your Festival Passport. It's a great way to remember what you ate!
Pick up a Epcot Festival of the Arts themed mini Disney Gift Card — a fast, easy and secure way to carry your money on your wrist, and simply the best way to experience the Festival. The Disney Gift Card is offered as a convenient mini-sized wristlet, or as a full-sized card. Just load or reload the card with any amount you desire starting with as little as $15 and swipe – you're spared the trouble of getting out your credit card or cash any time you want to pay for food, merchandise and more. You can reload your card as many times as you wish using cash, credit, or debit at the majority of festival kiosks. Disney Gift Cards are available throughout Epcot.
Snack your way around the World with Disney Dining Plan Snack Credits! Snack credits can be used to purchase select food items at Food Studios around World Showcase during the Epcot Festival of the Arts. Look for the Disney Dining Plan Snack Symbol to identify snack items available with Disney's Dining Plan snack credit. (Not available in 2022.)
Make sure to stop by the many different character stops around World Showcase. Each one features artwork sketches of that particular character.
Some Disney PhotoPass photographers have special Epcot Festival of the Arts frames that you can get your photograph taken with.
There is an official hashtag for the EPCOT International Festival of the Arts event. Make sure to tag all social posts with #ArtfulEpcot.