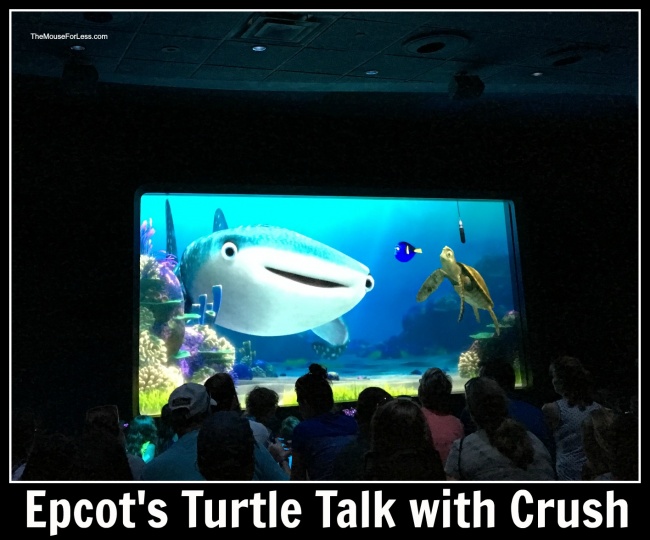 At Turtle Talk with Cruch, guests can converse with Crush the sea turtle and other old friends from Disney and Pixar's Finding Nemo (2003); and, now, with new friends from Finding Dory (2016) at this interactive theater presentation in The Seas with Nemo & Friends pavilion.
Ride Information  Restrictions  Location  Fun Facts  Top 5 Tips
Ride Information
Opening Day: November 16, 2004
Type of Ride: Interactive show
Age Recommendation: All ages
Duration of Ride: About 15 minutes
Typical Queue Time: Short; usually the duration until the next show, except on the busiest days
Single Rider Line: No
Chicken Exit Available: No
Baby Swap Available: No
Type of Vehicle: Guests sit on benches or on the floor
Type of Restraint: None
Attraction Open During Early Theme Park Entry: No. See our Early Theme Park Entry page for more information.
Ride Photo Available For Purchase: No

Planning a Walt Disney World Vacation?
For a Free no-obligation quote, contact our sponsor
The Magic For Less Travel
. Services are provided free of charge and their expert planning advice will help you make the most of your vacation time and money.
Turtle Talk with Crush Ride Restrictions
Height Requirements: None
Flash Photography or Video Allowed: No
Turtle Talk with Crush Location
Shopping: Merchandise related to Finding Nemo, including Crush plush dolls, are available for purchase at the "SeaBase Gift Shop," conveniently located in The Seas with Nemo & Friends pavilion.
Dining/Refreshment: Lunch and dinner are served daily across The Seas with Nemo & Friends pavilion at the Coral Reef Restaurant. Steaks and seafood dishes highlight the menu.
Restroom: Facilities are conveniently situated in The Seas with Nemo & Friends pavilion.
Smoking Location: Smoking is permitted in designated smoking areas only. Disney parks are smoke free.
Turtle Talk with Crush Fun Facts
Did you know?
The show was the first Finding Nemo-based attraction in The Seas with Nemo & Friends pavilion, having debuted in 2004, prior to the renovation that transformed the more educational The Living Seas pavilion into its current whimsical self.
Turtle Talk with Crush was the first Disney attraction that allowed guests to vocally interact with animated characters on a screen. The animation is synchronized such as to move in tandem with the words spoken by a Cast Member behind the scenes.
Crush, the 150-year-old sea turtle from Finding Nemo, hosts Turtle Talk with Crush. Because the dialogue depends on questions and answers from audience members, the show is largely unscripted and will be different each time.
Crush interacts with guests through a "hydrophone," which allows sound to travel between ocean and land.
With the release of Finding Dory in May 2016, a plethora of other characters including Marlin the clownfish, Nemo the clownfish, Squirt the sea turtle, Hank the "septopus," Destiny the whale shark, and Bailey the beluga whale joined Crush and Dory.
Turtle Talk with Crush was one of the biggest surprise hits in Disney theme park history. Immense crowds forced the show to relocate into a larger theater. The show was cloned throughout the world, debuting at Disney's California Adventure in 2005, Tokyo DisneySea in 2009, and the Children's Hospital of Orange County (California) in 2013. Disney's donation of Turtle Talk to the Children's Hospital marked the first time that a Disney theme park attraction operated outside one of the company's theme parks.
Turtle Talk with Crush's technology also appears in Monsters, Inc. Laugh Floor at the Magic Kingdom, "Stitch Encounter" at Hong Kong Disneyland Park and Tokyo Disneyland Park, and "Stitch Live!" at Walt Disney Studios Park Paris.
Top 5 Tips for Turtle Talk with Crush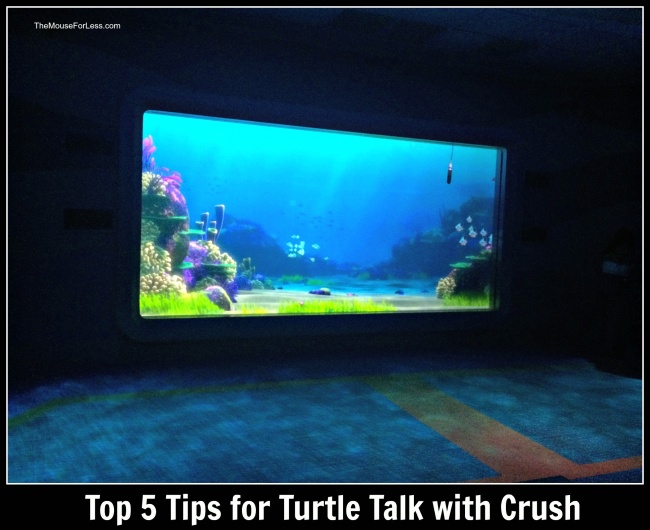 Consider watching Finding Nemo and/or Finding Dory prior to your visit such as to better appreciate this attraction.
Encourage your children to sit on the floor and participate in the show.
If you enjoy the characters in this show, consider seeing Finding Nemo: The Big Blue…and Beyond at Disney's Animal Kingdom.
If you enjoy the concept of Turtle Talk with Crush, consider seeing Monsters Inc. Laugh Floor at the Magic Kingdom.
Take some time to explore the pavilion to observe sea life after the show.  See if your family can spot the sea turtles!