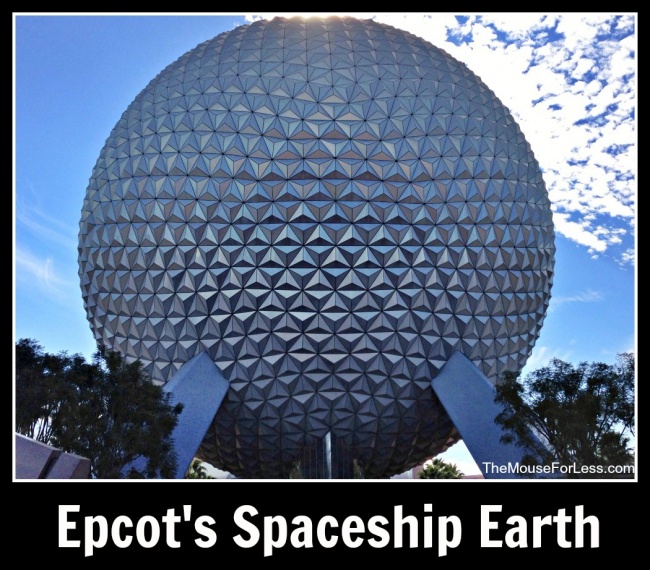 Aboard Spaceship Earth, you can immerse yourself in the history of human communication on this classic attraction located inside Epcot's iconic geodesic sphere.
Ride Information  Restrictions  Location  Fun Facts  Top 5 Tips
Spaceship Earth will close for a massive refurbishment beginning May 26, 2020. More details can be found here. 
Ride Information
Opening Day: October 1, 1982
Type of Ride: Omnimover
Age Recommendation: All ages
Duration of Ride: About 15 minutes
Typical Queue Time: Moderate to long; usually peaks at about 40 minutes except on the busiest days
Single Rider Line: No
FastPass+: Yes, visit our FastPass+ Guide for more information on FastPass+.
Chicken Exit Available: No
Baby Swap Available: No
Type of Vehicle: Track car
Type of Restraint: None
Attraction Open During EMH: Yes; both morning and evening. See our Extra Magic Hours page for more information.
Ride Photo Available For Purchase: No

Planning a Walt Disney World Vacation?
For a Free no-obligation quote, contact our sponsor
The Magic For Less Travel
. Services are provided free of charge and their expert planning advice will help you make the most of your vacation time and money.
Ride Restrictions
Height Requirements: None
Flash Photography or Video Allowed: No
Location
Shopping: Disney-related apparel, plush dolls, and candy can be purchased aside Spaceship Earth at "Gateway Gifts." At "Pin Traders – Camera Center" Guests can buy Disney apparel, accessories, camera and media, gifts and housewares, pins, Memory Maker, and MagicBands.
Dining/Refreshment: None
Restroom: Facilities are conveniently located on the left (east) side of Spaceship Earth.
Smoking Location: Smoking is permitted in designated smoking areas only. Disney parks are smoke free.
Fun Facts
Did you know?
Spaceship Earth is a geodesic sphere rather than a geodesic dome because it is elevated, at a minimum height of 15 feet, above the ground and forms a complete sphere. Six legs, embedded deep in the ground, hold the structure above the surface and keep it stable in the event of hurricane-force winds. The structure, 180 feet tall, is actually composed of two spheres, separated by as many feet.
Spaceship Earth sits above Epcot's main entrance. "Spaceship Earth" refers to both the structure and the embedded ride.
Spaceship Earth's façade incorporates 11,324 triangles, situated and formed such that rain water, a daily trial in central Florida during the summer months, absorbs into an elaborate interior drainage system rather than cascading off the side of the structure.
Spaceship Earth has been sponsored by Siemens since 2005. The attraction was previously sponsored by Bell System from 1982 to 1984 and AT&T from 1984 to 2003.
The Spaceship Earth attraction transpires inside the inner geodesic sphere. Moving slowly over an omnimover track in vehicles called "time machines," guests are transported through space and time before descending back to earth.
During the course of Spaceship Earth, guests experience the past and future of communication through a series of elaborate dioramas, animatronics, props, and narration by actress Judi Dench. The past is connected with the future whenever possible. Scenes depict prehistoric hunting, cave paintings, ancient Egypt and the invention of papyrus, the Phoenicians and the invention of the common alphabet, ancient Greece and the incorporation of mathematics, ancient Rome and the creation of roads, the collapse of ancient Rome and the corresponding "loss" of knowledge, the preservation of Roman books by scholars in the Middle East, Johannes Gutenberg's invention of the printing press, the Renaissance, newspapers during the American Civil War, the completion of the transcontinental railroad in 1869, the invention of the telephone, the launch of Apollo 11 in 1969, the invention of the computer, and the future.
The scene of Rome's destruction is accompanied by a distinctive burning smell.
Disney utilized the expertise of numerous consultants in creating Spaceship Earth's original script, including science fiction writer Ray Bradbury, university professors, and museum curators. The letter being transcribed via hieroglyphics in the Egypt scene was taken from an actual pharaoh's letter, and the Bible page being examined by Johannes Gutenberg prior to the Renaissance scene is a replica of a page seen in the Gutenberg Bible displayed at the Huntington Library in San Marino, California.
Spaceship Earth opened with Epcot, then called EPCOT Center, on October 1, 1982. The attraction has since received three major updates, complete with new narrators and altered scripts, most recently in 2007-08, when Dench assumed the narration, which had been conducted by actor Jeremy Irons since 1994. The Spaceship Earth narration was one of Irons's two major voice roles for Disney in 1994, the other being his portrayal of the evil Uncle Scar in The Lion King. The attraction was previously narrated by a contested voice from opening day to 1986 and by journalist Walter Cronkite from 1986 to 1994. The original narration is often credited to actor Vic Perrin, but former Disney Imagineer Marty Sklar contends that actor Lawrence Dobkin performed the honors.
Since 2008, the "time machines" have been equipped with interactive touch-screen monitors, which allow for a more personalized experience. At the beginning of the ride, guests are asked to select their hometown, or any other location of their choosing, for a virtual display on a map in the attraction's post show area; a photograph is immediately taken for the latter purpose. Then, at the end of the ride, guests can choose to see the imaginary future of their "home," "work," "health," or "leisure" through a related cartoon.
Following the attraction proper, guests experience a post show area, "Project Tomorrow: Inventing the Wonders of the Future," with numerous interactive activities presented by Siemens. Here, guests can view their photograph at the location selected on the touch-screen monitor on a virtual globe; create a digital human body; experience a driving simulator emphasizing accident avoidance; and learn about urban power and energy management. A private lounge for Siemens employees and their guests sits above Project Tomorrow.
Prior to "Project Tomorrow: Inventing the Wonders of the Future," Spaceship Earth's sponsor-based post show area was called "Earth Station" from opening day until 1994, "Global Neighborhood" from 1994 to 1999, and "New Global Neighborhood" from 1999 to 2004.
Several of the animatronics used in the original version of Spaceship Earth were moved from the Magic Kingdom's Hall of Presidents and repurposed. For example, the Johannes Gutenberg animatronic was previously that of James Buchanan; the animatronic of Gutenberg's assistant was previously that of Andrew Jackson; an Egyptian Priest animatronic was previously that of William Howard Taft; and the Roman centurion animatronic was previously that of Zachary Taylor.
From 1999 to 2007, a 240-foot Sorcerer Mickey arm stood aside and above Spaceship Earth. The arm, created for Epcot's Millennium Celebration, initially held the number "2000" before changing its text to "Epcot" upon the Millennium Celebration's culmination.
Hidden Mickeys:
A Hidden Mickey can be seen as fruit in a bowl in a painting during the attraction's Renaissance segment.
Sponsored Ad: Learn more about Hidden Mickey details and location throughout Walt Disney World in A Field Guide to Walt Disney World's Best Kept Secrets
.
Top 5 Tips for Spaceship Earth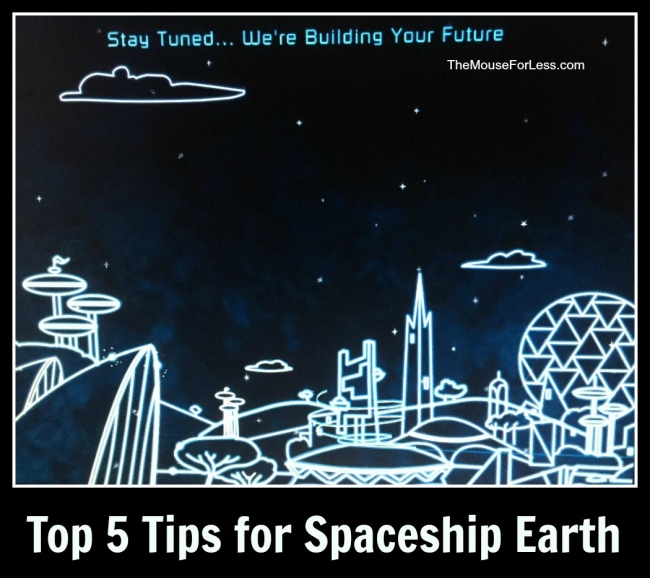 Consider making a FastPass+ reservation for a shorter wait time. Standby wait times for Spaceship Earth are usually longer early in the day because of its location at the park's entrance.
Spaceship Earth is a must-ride attraction for history buffs because of the subject matter and details.
Take some photographs of the Spaceship Earth sphere.
Check out the Project Tomorrow exhibits following the attraction proper, and consider emailing your on-ride photograph to family or friends through one of the area's kiosks.
Avoid looking at the touch-screen monitors for prolonged periods if you are prone to motion sickness, especially during the backwards descent at the end of the ride.