November 27 – December 30, 2020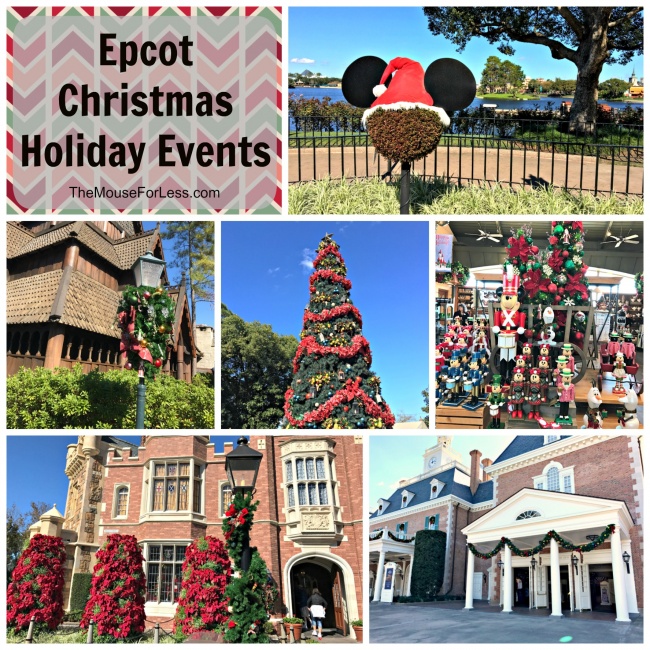 Epcot International Festival of the Holidays | Epcot Christmas Events
During the Epcot Festival of the Holidays, which takes place from November 27 through December 30, 2020, discover a festival featuring the joyous holiday traditions of the 11 World Showcase nations. The event surrounds you in the wondrous sights, sounds and flavors of the season as celebrated by cultures near and far.
Guests will be able to enjoy live musical productions, savor seasonal food & beverage specialties at the expanded Holiday Kitchens, and take a festive global tour as costumed performers bring time-honored traditions to life throughout World Showcase!
Candlelight Processional Holiday Kitchen Marketplaces Holiday Storytellers Meet Santa Holiday Character Topiaries Entertainment Holiday Scavenger Hunt MFL Tips
Candlelight Processional
Candlelight Processional will not be occurring in 2020. 
Normally showing nightly to park guests at 5:00 p.m., 6:45 p.m. and 8:15 p.m., the Candlelight Processional is a breathtaking retelling of the Christmas story in words and music complete with a 50 piece orchestra, choir and celebrity guest narrator. Candlelight Processional Dining Packages with reserved seating may be booked by calling (407) WDW-DINE.
Holiday Kitchens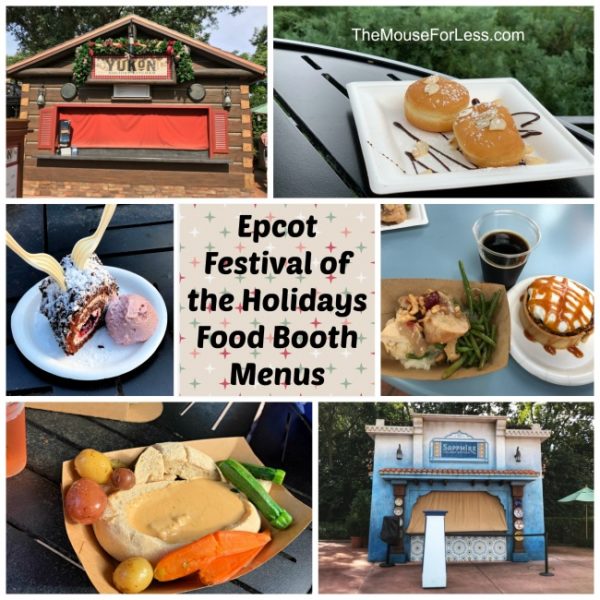 During the Epcot Festival of the Holidays there are delicious Holiday Kitchens food and beverage kiosks. There will be 12 kiosks in total. These will be similar to what Guests experience during the Epcot Food and Wine Festival and the Epcot Flower and Garden Festival.
This year there will be a special Cookie Stroll around the World Showcase. Guests can purchase cookies at several festival booths and keep track of these cookies in the Festival Passport with stamps. After collecting and sampling 5 different cookies, guests can collect a special complimentary cookie from Holiday Sweets and Treats. The Cookie Stroll can be completed all on one day, or you can take several visits to complete the adventure. Once you have collected 5 stamps then you get to sample the complimentary completer cookie!
Holiday Storytellers at World Showcase

The Holiday Storytellers will not be occurring for 2020. 
International holiday traditions unfold when storytellers such as Pere Noel in France, La Befana in Italy, and others, share the traditions of the season and spread the message of goodwill in short presentations that take less than 15 minutes. Storytellers appear in each country's pavilion throughout the day. Check the times guide for a daily schedule.


Canada: The Canadian Holiday Voyageurs will take guests on a musical journey across the Great White North, exploring unique holiday traditions from the various regions of Canada.

United Kingdom: Father Christmas tells tales of Christmas past dating back to 15th century England.

France: Pere Noel awaits your visit as he unfolds magic of Christmas with a letter from a child.

Japan: Daruma vendor tells the story of the Daruma doll and the Japanese customs of the New Year.

American Adventure:  Don't miss the Voices of Liberty Dickens Carolers. This outstanding a cappella group brings in the holidays with a special repertoire of holiday songs. See Santa info below.

Italy: La Befana is Italy's good Christmas witch. She comes down the chimney of the little bambinos (children) and leaves them treats. La Befana remembers the Epiphany and her first Christmas 2,000 years ago.

China: Enjoy the Chinese Lion Dance, which brings good fortune during the celebrations of Lunar New Year and Lantern Festival.

Norway: Sigrid, a beautiful farm girl, will give you all details of celebrating Christmas in Norway, and tell you of the mischievous Julenissen, or Christmas Gnome. Be forewarned though, Julenissen has been known to play a little trick or two on the storyteller herself.

Mexico: Celebrate with mariachis and dances with a holiday fiesta. Share in the music, dance and traditions of the season.
Santa Meet and Greet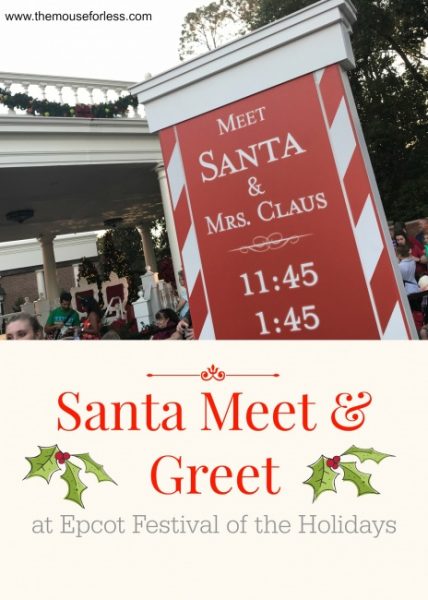 While Guests won't be able to tell Santa what's on their wish list this year, they can catch him in the Santa Claus Promenade as the big man takes a grand tour around World Showcase in his horse-drawn carriage from November 27 – December 24.
Holiday Promenades
Mickey and Friends World Tour: Around World Showcase, Mickey and his friends will be dressed in their holiday finest from November 27 – December 30.
Frozen Promenade: Queen Anna and Elsa will discover the spirit of the holidays from November 27 – December 30.
Holiday Character Topiaries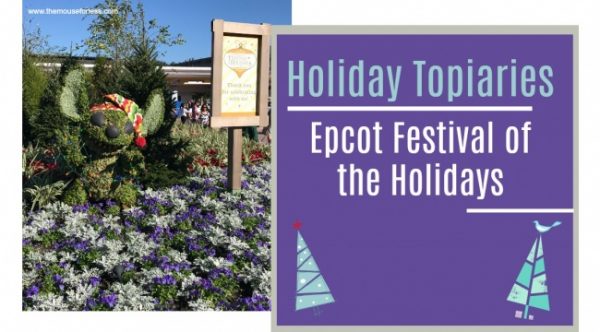 These festive red, white and green topiaries feature beloved Disney characters and can be found in several locations in the Future World section of the park.
Entertainment
Various entertainment artists perform throughout World Showcase and Future World.
World ShowPlace
Taking place at the World ShowPlace, this holiday show features the group Joyful. The show blends Gospel music and inspirational music. Our video above shows what Guests can expect during their performance.
America Gardens Theatre
Guests will be able to catch both Voices of Liberty – Voices of the Season who will perform festive a cappella holiday music dressed as Dickens Carolers, as well as Las Posadas with Mariachi Cobre with colorful dancers joining the band for Las Posadas, a celebration of Mexican holiday customs.
Canada Pavilion
Enjoy the JAMMitors at the Mill Stage who will perform with playful percussion.
Olaf's Holiday Tradition Expedition
New for this year, will be a scavenger hunt themed around Olaf. (No Chip and Dale….boo!) Guests will search around World Showcase hunting for holiday traditions that Olaf has gathered for Anna and Elsa—and lost—along the way! To help him Guests can purchase a Scavenger Hunt map and stickers ($7.99) at participating locations, including Disney Traders, Mouse Gear, World Traveler, Port of Entry, Stroller Rental locations at the Main Entrance and at International Gateway, as well as the merchandise cart in the Canada Pavilion. Guests can search for Olaf in each pavilion, then match the tradition on his sleigh to the location on your sticker map. Once you have found all of the traditions, visit Disney Traders, Mouse Gear or World Traveler to redeem your map for a gift (while supplies last).
TheMouseForLess Epcot Tips

You can read more about the Epcot Festival of the Holidays on our MFL Blog.

Epcot's holiday tree is located at the entrance of World Showcase Plaza. Its ornaments represent the various countries around World Showcase. You can find another large holiday tree at the American Adventure Pavilion in the center of Santa's Village.

If you'll be visiting Epcot during the very busy week between Christmas and New Years, it's a great time to take in some of the less popular attractions like American Adventure, Impressions de France, and Reflections of China where crowds will be more manageable.

If you only have time to visit a few holiday storytellers at World Showcase, be sure to stop by Norway, China, Italy and Canada.

Visit Port of Entry for holiday themed keepsakes or visit Santa's Village near American Adventure for all of your holiday trimmings.

Check out the gingerbread holiday display in the World ShopPlace.

Disney offers a holiday edition of its World Showcase Passport. The Holiday Passport features holiday treat and beverage locations, holiday merchandise, and holiday entertainment for each country around World Showcase, as well as any holiday photo ops. There's also a place to collect the tradition country stamps. You can even get ask the Epcot Storytellers to sign each country of your Holiday Passport (or your autograph book), and don't forget to get your photo taken with them. Pickup the booklet at holiday snack & beverages kiosks around World Showcase.
Click if you are curious about holiday events at the Magic Kingdom, Disney's Hollywood Studios, Disney's Animal Kingdom, Disney Springs, and the Disney Resort Hotels.